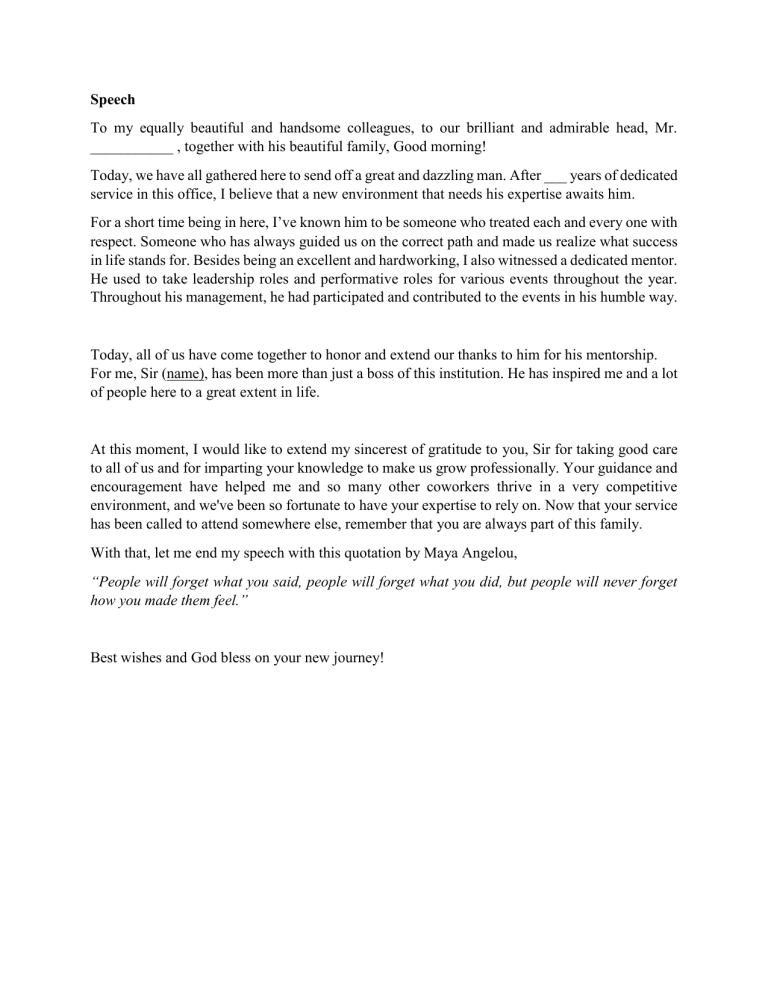 Speech
To my equally beautiful and handsome colleagues, to our brilliant and admirable head, Mr.
___________ , together with his beautiful family, Good morning!
Today, we have all gathered here to send off a great and dazzling man. After ___ years of dedicated
service in this office, I believe that a new environment that needs his expertise awaits him.
For a short time being in here, I've known him to be someone who treated each and every one with
respect. Someone who has always guided us on the correct path and made us realize what success
in life stands for. Besides being an excellent and hardworking, I also witnessed a dedicated mentor.
He used to take leadership roles and performative roles for various events throughout the year.
Throughout his management, he had participated and contributed to the events in his humble way.
Today, all of us have come together to honor and extend our thanks to him for his mentorship.
For me, Sir (name), has been more than just a boss of this institution. He has inspired me and a lot
of people here to a great extent in life.
At this moment, I would like to extend my sincerest of gratitude to you, Sir for taking good care
to all of us and for imparting your knowledge to make us grow professionally. Your guidance and
encouragement have helped me and so many other coworkers thrive in a very competitive
environment, and we've been so fortunate to have your expertise to rely on. Now that your service
has been called to attend somewhere else, remember that you are always part of this family.
With that, let me end my speech with this quotation by Maya Angelou,
"People will forget what you said, people will forget what you did, but people will never forget
how you made them feel."
Best wishes and God bless on your new journey!
Prayer
Dear Lord, we are all present in this venue to celebrate this send-off program.
We thank you for the blessings you have made possible for its successful
preparation.
Bless the hands that had prepared this place, to make it comfortable and safe for us.
Bless the people who have prepared the food diligently and lovingly with their
hands.
Bless the organizers of this party so they may have more strength and zest to
continue bringing your love through parties like these.
We also pray that you bestow your blessing to everyone present in this room and all
our loved ones left at home. We know that you will keep them safe for us.
May we find joy and love through our meaningful interaction in this event.
We are aware that nothing is possible without your blessings. May we ask therefore
that your generosity be accorded to all those who are sick, lost and lonely.
As we enjoy this program, we are rest assured that you will be there for them, as
you are here with us in our celebration and joy.
We ask all these blessings in your might y name, Oh Lord. Amen.
EMCEE Intro
As Richard Bach said "Don't be dismayed by good-byes. A farewell is necessary before you can
meet again. And meeting again, after moments or lifetimes, is certain for those who are friends."
Good morning everyone, I would like to extend a warm welcome to these passionate colleagues
of mine and most importantly, to our marvelous and knowledgeable head, Sir ___________.
Today, you may smile or even cry. But forgetting these memories, you dare not try!
We wish to make this day a memorable one for someone who's not just a boss but someone who
already stolen a part in our hearts. Without much ado, let us begin this day.