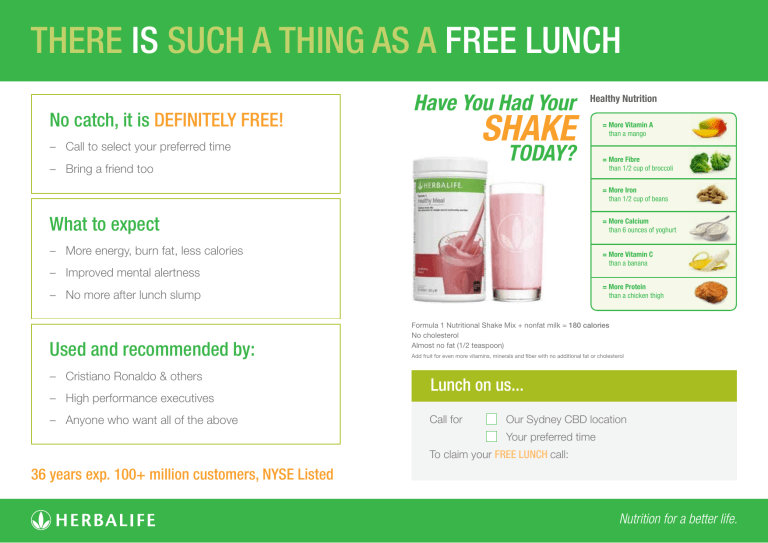 THERE IS SUCH A THING AS A FREE LUNCH
No catch, it is DEFINITELY FREE!
Have You Had Your
Healthy Nutrition
SHAKE
– Call to select your preferred time
TODAY?
– Bring a friend too
= More Vitamin A
than a mango
= More Fibre
than 1/2 cup of broccoli
= More Iron
than 1/2 cup of beans
What to expect
= More Calcium
than 6 ounces of yoghurt
– More energy, burn fat, less calories
= More Vitamin C
than a banana
– Improved mental alertness
= More Protein
than a chicken thigh
– No more after lunch slump
Used and recommended by:
– Cristiano Ronaldo & others
– High performance executives
– Anyone who want all of the above
Formula 1 Nutritional Shake Mix + nonfat milk = 180 calories
No cholesterol
Almost no fat (1/2 teaspoon)
Add fruit for even more vitamins, minerals and fiber with no additional fat or cholesterol
Lunch on us...
Call for
Our Sydney CBD location
Your preferred time
To claim your FREE LUNCH call:
36 years exp. 100+ million customers, NYSE Listed
Nutrition for a better life.