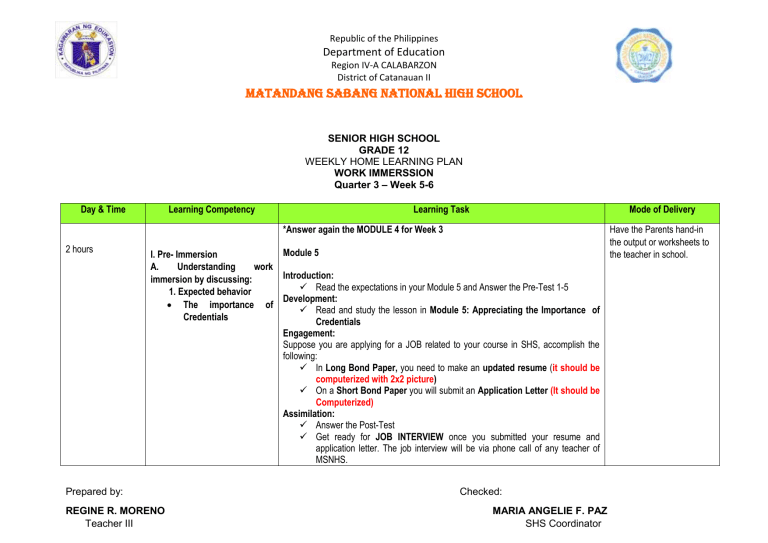 Republic of the Philippines
Department of Education
Region IV-A CALABARZON
District of Catanauan II
MATANDANG SABANG NATIONAL HIGH SCHOOL
SENIOR HIGH SCHOOL
GRADE 12
WEEKLY HOME LEARNING PLAN
WORK IMMERSSION
Quarter 3 – Week 5-6
Day & Time
Learning Competency
Learning Task
Mode of Delivery
*Answer again the MODULE 4 for Week 3
2 hours
Module 5
I. Pre- Immersion
A.
Understanding
work
Introduction:
immersion by discussing:
 Read the expectations in your Module 5 and Answer the Pre-Test 1-5
1. Expected behavior
Development:
 The importance of
 Read and study the lesson in Module 5: Appreciating the Importance of
Credentials
Credentials
Engagement:
Suppose you are applying for a JOB related to your course in SHS, accomplish the
following:
 In Long Bond Paper, you need to make an updated resume (it should be
computerized with 2x2 picture)
 On a Short Bond Paper you will submit an Application Letter (It should be
Computerized)
Assimilation:
 Answer the Post-Test
 Get ready for JOB INTERVIEW once you submitted your resume and
application letter. The job interview will be via phone call of any teacher of
MSNHS.
Prepared by:
REGINE R. MORENO
Teacher III
Checked:
MARIA ANGELIE F. PAZ
SHS Coordinator
Have the Parents hand-in
the output or worksheets to
the teacher in school.