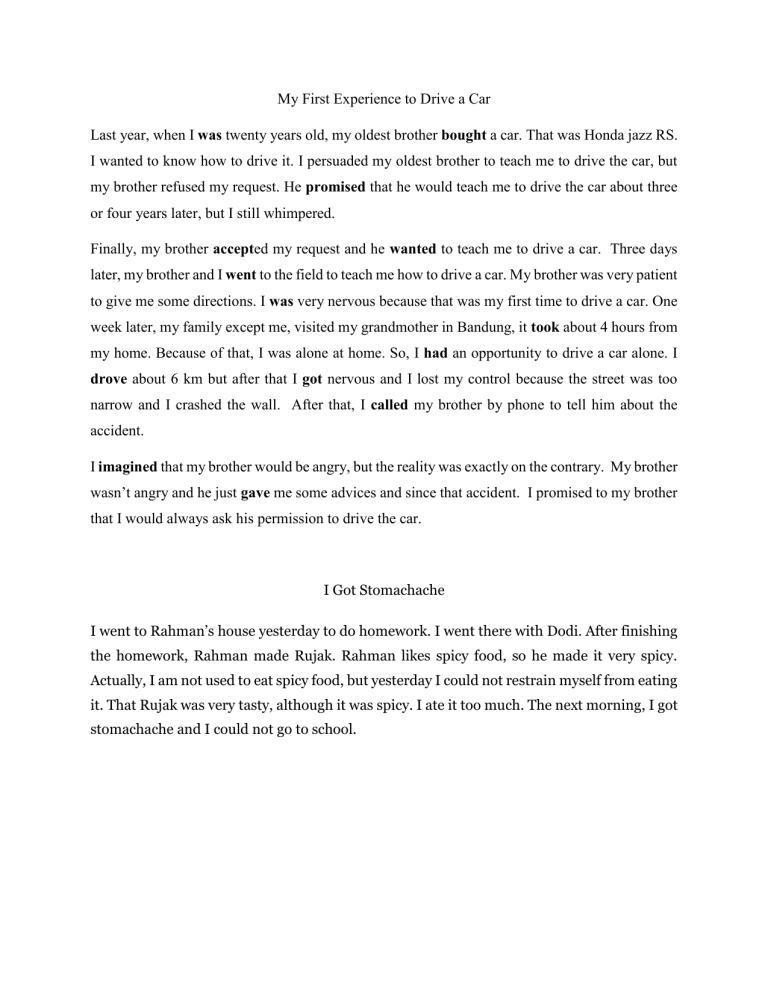 My First Experience to Drive a Car
Last year, when I was twenty years old, my oldest brother bought a car. That was Honda jazz RS.
I wanted to know how to drive it. I persuaded my oldest brother to teach me to drive the car, but
my brother refused my request. He promised that he would teach me to drive the car about three
or four years later, but I still whimpered.
Finally, my brother accepted my request and he wanted to teach me to drive a car. Three days
later, my brother and I went to the field to teach me how to drive a car. My brother was very patient
to give me some directions. I was very nervous because that was my first time to drive a car. One
week later, my family except me, visited my grandmother in Bandung, it took about 4 hours from
my home. Because of that, I was alone at home. So, I had an opportunity to drive a car alone. I
drove about 6 km but after that I got nervous and I lost my control because the street was too
narrow and I crashed the wall. After that, I called my brother by phone to tell him about the
accident.
I imagined that my brother would be angry, but the reality was exactly on the contrary. My brother
wasn't angry and he just gave me some advices and since that accident. I promised to my brother
that I would always ask his permission to drive the car.
I Got Stomachache
I went to Rahman's house yesterday to do homework. I went there with Dodi. After finishing
the homework, Rahman made Rujak. Rahman likes spicy food, so he made it very spicy.
Actually, I am not used to eat spicy food, but yesterday I could not restrain myself from eating
it. That Rujak was very tasty, although it was spicy. I ate it too much. The next morning, I got
stomachache and I could not go to school.