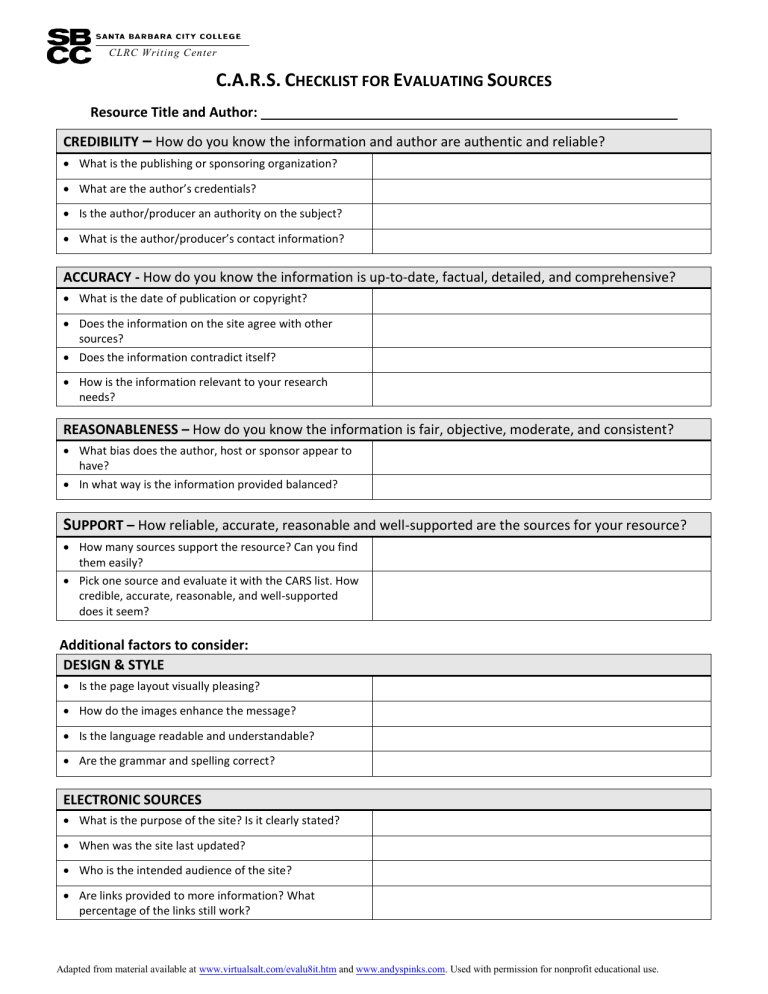 CLRC Writing Center
C.A.R.S. CHECKLIST FOR EVALUATING SOURCES
Resource Title and Author:
CREDIBILITY – How do you know the information and author are authentic and reliable?
 What is the publishing or sponsoring organization?
 What are the author's credentials?
 Is the author/producer an authority on the subject?
 What is the author/producer's contact information?
ACCURACY - How do you know the information is up-to-date, factual, detailed, and comprehensive?
 What is the date of publication or copyright?
 Does the information on the site agree with other
sources?
 Does the information contradict itself?
 How is the information relevant to your research
needs?
REASONABLENESS – How do you know the information is fair, objective, moderate, and consistent?
 What bias does the author, host or sponsor appear to
have?
 In what way is the information provided balanced?
SUPPORT – How reliable, accurate, reasonable and well-supported are the sources for your resource?
 How many sources support the resource? Can you find
them easily?
 Pick one source and evaluate it with the CARS list. How
credible, accurate, reasonable, and well-supported
does it seem?
Additional factors to consider:
DESIGN & STYLE
 Is the page layout visually pleasing?
 How do the images enhance the message?
 Is the language readable and understandable?
 Are the grammar and spelling correct?
ELECTRONIC SOURCES
 What is the purpose of the site? Is it clearly stated?
 When was the site last updated?
 Who is the intended audience of the site?
 Are links provided to more information? What
percentage of the links still work?
Adapted from material available at www.virtualsalt.com/evalu8it.htm and www.andyspinks.com. Used with permission for nonprofit educational use.