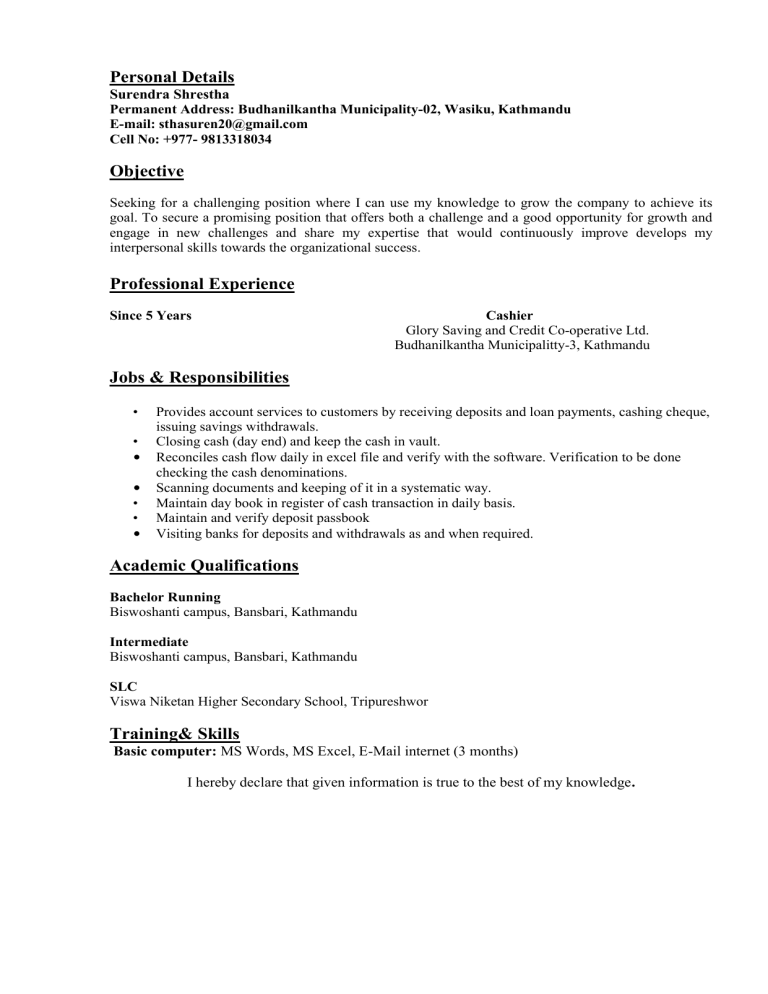 Personal Details
Surendra Shrestha
Permanent Address: Budhanilkantha Municipality-02, Wasiku, Kathmandu
E-mail: sthasuren20@gmail.com
Cell No: +977- 9813318034
Objective
Seeking for a challenging position where I can use my knowledge to grow the company to achieve its
goal. To secure a promising position that offers both a challenge and a good opportunity for growth and
engage in new challenges and share my expertise that would continuously improve develops my
interpersonal skills towards the organizational success.
Professional Experience
Since 5 Years
Cashier
Glory Saving and Credit Co-operative Ltd.
Budhanilkantha Municipalitty-3, Kathmandu
Jobs & Responsibilities
•
•
•
•
•
•
•
Provides account services to customers by receiving deposits and loan payments, cashing cheque,
issuing savings withdrawals.
Closing cash (day end) and keep the cash in vault.
Reconciles cash flow daily in excel file and verify with the software. Verification to be done
checking the cash denominations.
Scanning documents and keeping of it in a systematic way.
Maintain day book in register of cash transaction in daily basis.
Maintain and verify deposit passbook
Visiting banks for deposits and withdrawals as and when required.
Academic Qualifications
Bachelor Running
Biswoshanti campus, Bansbari, Kathmandu
Intermediate
Biswoshanti campus, Bansbari, Kathmandu
SLC
Viswa Niketan Higher Secondary School, Tripureshwor
Training& Skills
Basic computer: MS Words, MS Excel, E-Mail internet (3 months)
I hereby declare that given information is true to the best of my knowledge.