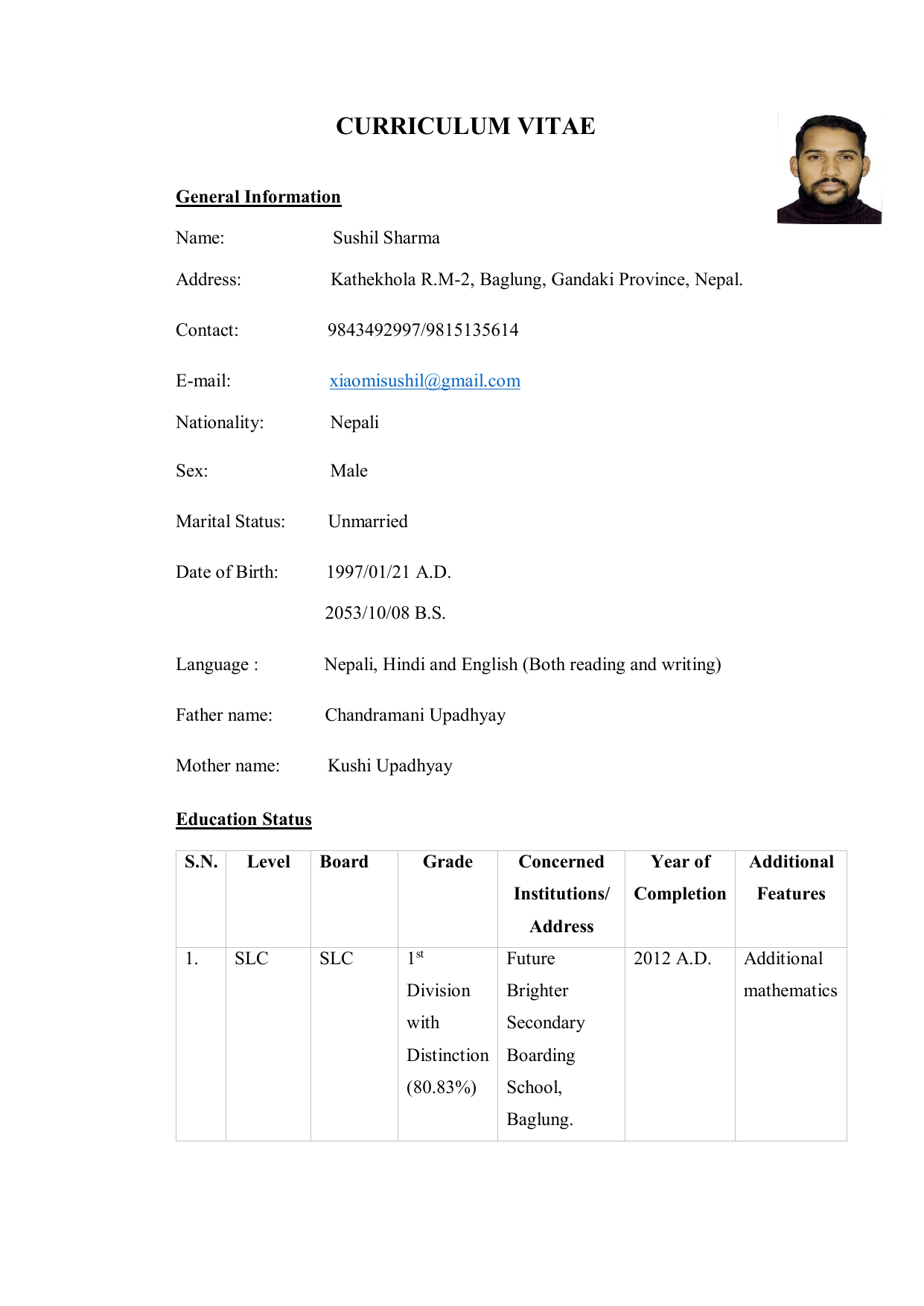 CURRICULUM VITAE
General Information
Name:
Sushil Sharma
Address:
Kathekhola R.M-2, Baglung, Gandaki Province, Nepal.
Contact:
9843492997/9815135614
E-mail:
[email protected]
Nationality:
Nepali
Sex:
Male
Marital Status:
Unmarried
Date of Birth:
1997/01/21 A.D.
2053/10/08 B.S.
Language :
Nepali, Hindi and English (Both reading and writing)
Father name:
Chandramani Upadhyay
Mother name:
Kushi Upadhyay
Education Status
S.N.
Level
Board
Grade
Concerned
Year of
Additional
Institutions/
Completion
Features
Address
1.
SLC
SLC
1st
Future
Division
Brighter
with
Secondary
Distinction Boarding
(80.83%)
School,
Baglung.
2012 A.D.
Additional
mathematics
2.
+2
H.S.E.B.
1st
(Science) Division
(64%)
Gyan Niketan
2014 A.D.
College,
Major
Biology
Shankhamool,
Kathmandu.
3.
Under
Po.U
Graduate (BPH)
CGPA=
School of
2018 A.D.
Research
3.37
Health and
Oriented
Allied
Subjects
Sciences,
Kaski
Additional Information

Basic skills on health related software like EPI-DATA, SPSS and Microsoft
Office.

Experience on data collection, processing, management and analysis in research.

One month Community Health Diagnosis (CHD) experience in Jaljala Rural
Municipality, Parbat.

A Comprehensive District Health Management Field Practice (CFP) at District
Health Office, Parbat for one month.

Worked as Vice president at Association of Pokhara University Public Health
Students (APPS).
References
S.N.
Name of the
Designation
Person
Representative
Contact
Institution and
Address
1.
2.
Mr.
Principal.
Future Brighter
Balkrishna
Secondary
Sharma
Boarding School
Mr. Ajay
Rana Bhat
Co-ordinator
9857620411
Gyan Niketan
9851090051
College,
[email protected]
Shankhamool,
m
Kathmandu.
3.
Dr. Tulsi
Associate
School of Health
9851240961
Ram
Professor
and Allied
[email protected]
Sciences, Pokhara
m
Bhandari
University.