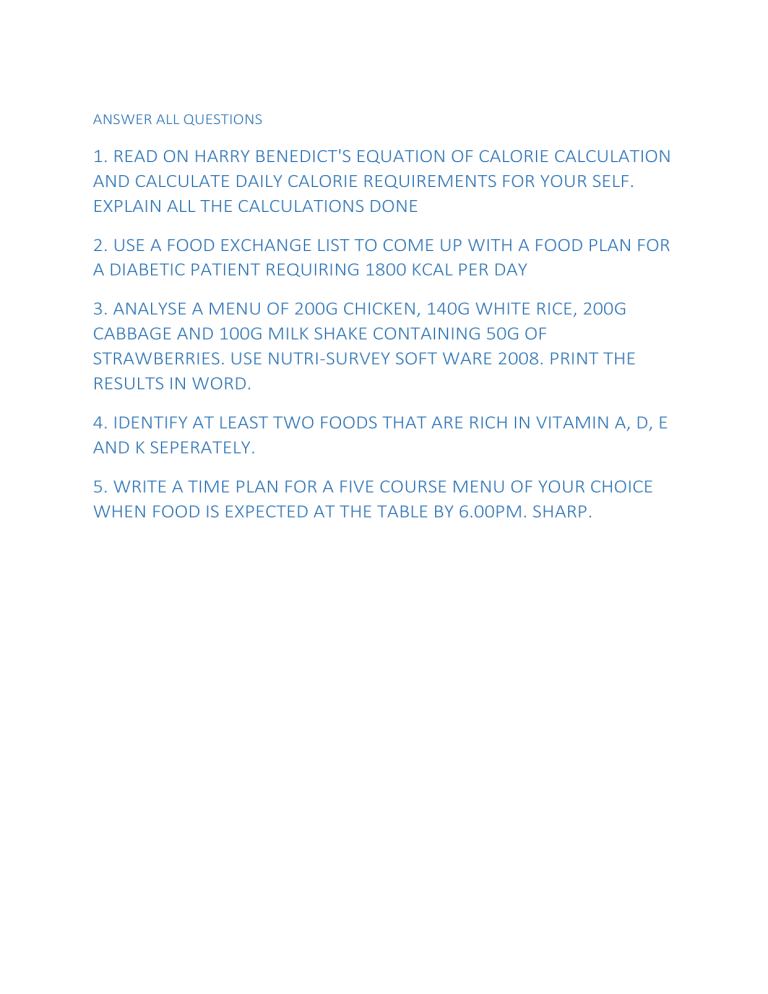 ANSWER ALL QUESTIONS
1. READ ON HARRY BENEDICT'S EQUATION OF CALORIE CALCULATION
AND CALCULATE DAILY CALORIE REQUIREMENTS FOR YOUR SELF.
EXPLAIN ALL THE CALCULATIONS DONE
2. USE A FOOD EXCHANGE LIST TO COME UP WITH A FOOD PLAN FOR
A DIABETIC PATIENT REQUIRING 1800 KCAL PER DAY
3. ANALYSE A MENU OF 200G CHICKEN, 140G WHITE RICE, 200G
CABBAGE AND 100G MILK SHAKE CONTAINING 50G OF
STRAWBERRIES. USE NUTRI-SURVEY SOFT WARE 2008. PRINT THE
RESULTS IN WORD.
4. IDENTIFY AT LEAST TWO FOODS THAT ARE RICH IN VITAMIN A, D, E
AND K SEPERATELY.
5. WRITE A TIME PLAN FOR A FIVE COURSE MENU OF YOUR CHOICE
WHEN FOOD IS EXPECTED AT THE TABLE BY 6.00PM. SHARP.