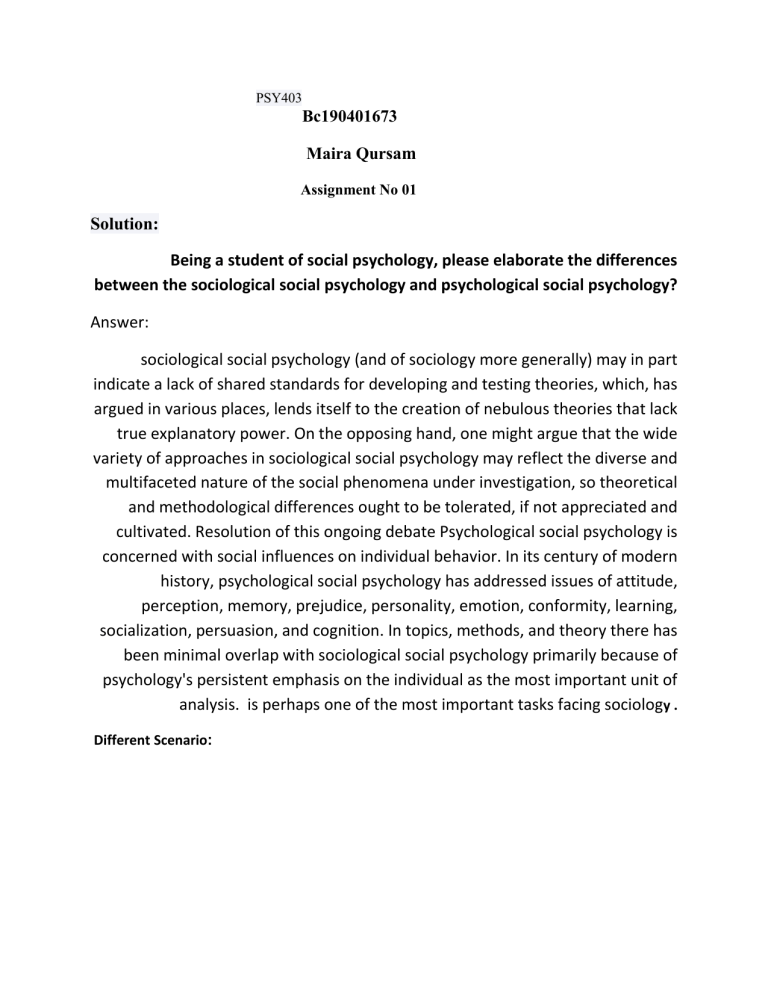 PSY403
Bc190401673
Maira Qursam
Assignment No 01
Solution:
Being a student of social psychology, please elaborate the differences
between the sociological social psychology and psychological social psychology?
Answer:
sociological social psychology (and of sociology more generally) may in part
indicate a lack of shared standards for developing and testing theories, which, has
argued in various places, lends itself to the creation of nebulous theories that lack
true explanatory power. On the opposing hand, one might argue that the wide
variety of approaches in sociological social psychology may reflect the diverse and
multifaceted nature of the social phenomena under investigation, so theoretical
and methodological differences ought to be tolerated, if not appreciated and
cultivated. Resolution of this ongoing debate Psychological social psychology is
concerned with social influences on individual behavior. In its century of modern
history, psychological social psychology has addressed issues of attitude,
perception, memory, prejudice, personality, emotion, conformity, learning,
socialization, persuasion, and cognition. In topics, methods, and theory there has
been minimal overlap with sociological social psychology primarily because of
psychology's persistent emphasis on the individual as the most important unit of
analysis. is perhaps one of the most important tasks facing sociology .
Different Scenario:
Justification
Identification of variables
Scenario
Dependent
variable
Independent
variable
Violent TV, programs
is independent
variable because they
are causing the
aggressive behavior.
Aggressive
behavior
Violent TV
programs
Children who are
more exposed to
violent TV programs,
show more aggressive
behavior.
External environment
is independent
variable because it
cause illness that name
is anxiety.
Anxiety
disorder
External
environments
People who are more
exposed to external
environments are more
vulnerable to illness
anxiety disorders now
days.
Homesickness is
Feeling of Homesickness
causing the dependent
being
variable the feeling of discriminated
being discriminated.
Homesickness
increases the feeling
of being discriminated
in international
students in United
states of America.
Same as
Less donated
money
Socially
excluded
Same as
Altruistic
behavior
High selfesteem
Socially excluded
people donate less
money to fund for
poor students.
Children with high selfesteem are more altruistic in
behavior.