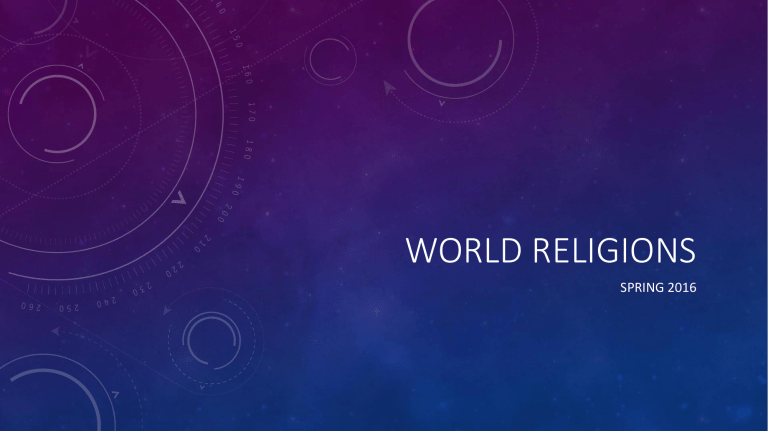 WORLD RELIGIONS
SPRING 2016
Q3
SEATING
CHART
COOPERATIVE
WORKING
GROUPS
DO NOW
1) GO TO CLASS MOODLE PAGE
2) MAKE SURE YOU ARE ENROLLED
3) DOWNLOAD SYLLABUS
SWBAT…
1) Name two main goals of course
2) Familiar with syllabus and course
structure
3) Create logins and backup password
list
• Stay on top of online assignments, and ASK
FOR HELP ON PAPERS. RE-WRITE, RE-WRITE,
RE-WRITE.
•
• I would say to the next World Religion class
that do your work on time because there is a
lot of work and shouldn't fall behind
the drafts seriously, and make sure you have
actual stuff to write about.
• piece of advice: do your work on time!
My advice is to focus on the essays because
they seem to be the core of our grades.
Essays over any other homework.
•
Get ready to defend your opinion in the face
of opposition! Be principled but open to new
ideas, and for god sakes do the homework on
time it plies up fast!
• Stock up on caffine- you're gonna need a lot
to write the papers until 5am.
(Or just don't start the papers at the last
• Advice: do the work when it's assigned.
minute.)
Good luck kiddos, make sure you do all the
don't fall behind on work, there is a lot more
work in advance and not leave it to last
coming
minute because you will get a lot of essays
and assignments.
• Just accept your essay grade
• Never start the essays the night before, take
ADVICE FROM FALL 2015
STUDENTS…
SYLLABUS
•OPEN SYLLABUS
FROM MOODLE
LOGINS & PASSWORDS
• FIND EMAIL FROM ME WITH THREE WEBSITES/APPS THAT
WE WILL USE IN CLASS.
• FOLLOW LINKS AND THEN CREATE ACCOUNTS USING
YOUR LOYOLA EMAI.
• WRITE DOWN YOUR USERNAMES AND PASSWORDS ON
SHEET PROVIDED
• HAND INTO ME.
EXIT TICKET
• IN 5 GOOD SENTENCES,
• EMAIL ME YOUR REASONS FOR SIGNING UP FOR
WORLD RELIGIONS.
• INDICATE IF YOU FREELY PRACTICE A RELIGION
PERSONALLY & IF YOU ARE COMFORTABLE SHARING
THAT TRADITION WITH THE CLASS.
• INDICATE WITH WHICH RELIGIONS YOU ARE FAMILIAR
AND HOW.