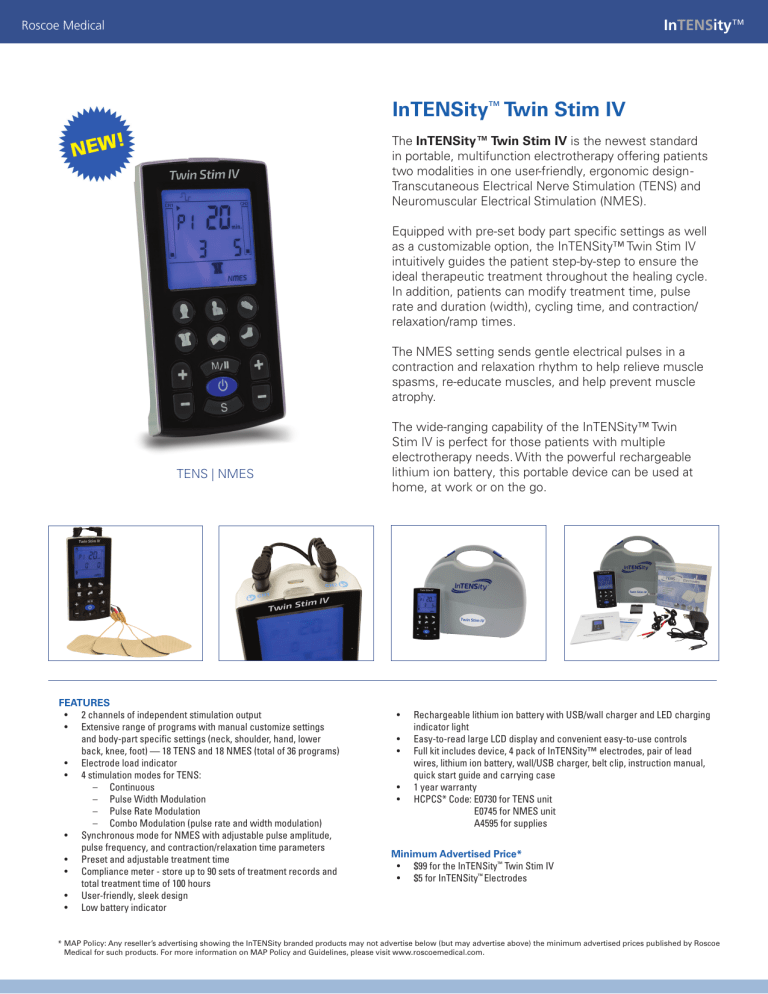 InTENSity™
Roscoe Medical
InTENSity™ Twin Stim IV
!
NEW
The InTENSity™ Twin Stim IV is the newest standard
in portable, multifunction electrotherapy offering patients
two modalities in one user-friendly, ergonomic design Transcutaneous Electrical Nerve Stimulation (TENS) and
Neuromuscular Electrical Stimulation (NMES).
Equipped with pre-set body part specific settings as well
as a customizable option, the InTENSity™ Twin Stim IV
intuitively guides the patient step-by-step to ensure the
ideal therapeutic treatment throughout the healing cycle.
In addition, patients can modify treatment time, pulse
rate and duration (width), cycling time, and contraction/
relaxation/ramp times.
The NMES setting sends gentle electrical pulses in a
contraction and relaxation rhythm to help relieve muscle
spasms, re-educate muscles, and help prevent muscle
atrophy.
TENS | NMES
FEATURES
• 2 channels of independent stimulation output
• Extensive range of programs with manual customize settings
and body-part specific settings (neck, shoulder, hand, lower
back, knee, foot) — 18 TENS and 18 NMES (total of 36 programs)
• Electrode load indicator
• 4 stimulation modes for TENS:
– Continuous
– Pulse Width Modulation
– Pulse Rate Modulation
– Combo Modulation (pulse rate and width modulation)
• Synchronous mode for NMES with adjustable pulse amplitude,
pulse frequency, and contraction/relaxation time parameters
• Preset and adjustable treatment time
• Compliance meter - store up to 90 sets of treatment records and
total treatment time of 100 hours
• User-friendly, sleek design
• Low battery indicator
The wide-ranging capability of the InTENSity™ Twin
Stim IV is perfect for those patients with multiple
electrotherapy needs. With the powerful rechargeable
lithium ion battery, this portable device can be used at
home, at work or on the go.
•
•
•
•
•
Rechargeable lithium ion battery with USB/wall charger and LED charging
indicator light
Easy-to-read large LCD display and convenient easy-to-use controls
Full kit includes device, 4 pack of InTENSity™ electrodes, pair of lead
wires, lithium ion battery, wall/USB charger, belt clip, instruction manual,
quick start guide and carrying case
1 year warranty
HCPCS* Code: E0730 for TENS unit
E0745 for NMES unit
A4595 for supplies
Minimum Advertised Price*
• $99 for the InTENSity™ Twin Stim IV
• $5 for InTENSity™ Electrodes
* MAP Policy: Any reseller's advertising showing the InTENSity branded products may not advertise below (but may advertise above) the minimum advertised prices published by Roscoe
Medical for such products. For more information on MAP Policy and Guidelines, please visit www.roscoemedical.com.
TECHNICAL SPECIFICATIONS
Number of Channels:
Dual, Isolated
Treatment Time:
5-90 min, adjustable
Power Supply:
3.7V lithium rechargeable battery pack
Dimensions:
11.7 x 6 x 2.1 cm
Weight:
3.5 oz (without battery)
UPC:
092237614143
TENS
Waveform:
Symmetrical Biphasic Rectangular
Pulse Amplitude:
0-100 mA each channel adjustable
Pulse Width:
50 - 400µ sec, adjustable
Pulse Frequency:
1-150 Hz adjustable
NMES
Waveform:
Symmetrical Biphasic Rectangular
Pulse Amplitude:
0-100 mA, each channel adjustable
Pulse Width:
200 - 400µ sec, adjustable
Pulse Frequency:
1-100 Hz, adjustable
Contraction Time:
5 to 30 seconds
Relaxation Time:
5 to 60 seconds
Ramp Up/Down Time:
1 to 9 seconds
Cycle Time:
1 ~ 20 seconds
INDIVIDUAL SHIPPING SPECIFICATIONS
Individual Ship Dims:
10" x 10" x 4" or #5 mailer
Individual Ship Weight:
2 lbs.
- PACK SHIPPING SPECIFICATIONS
Case Qty:
32 units/case
Case Ship Dimensions:
20" x 18.5" x 19"
Case Ship Weight:
42 lbs.
Toll Free: 1.800.376.7263
www.roscoemedical.com
Item #
Description
Qty
Case Qty
DI2717
InTENSity™ Twin Stim IV Portable TENS & NMES Pain Relief System
each
32/case
EP2020TC2-INT
InTENSity™ 4 Pack Electrodes - 5 cm (2") Tan Cloth, Tyco Gel, Poly Bag
each
400/case
** Prescription Required: This is a Class II Medical Device. Federal law restricts these devices to sale by or on the order of a licensed health care professional. Providers are responsible for
determining appropriate billing codes for Medicare Program claims. This information is included for your convenience and is not intended, nor should it be considered billing advice.