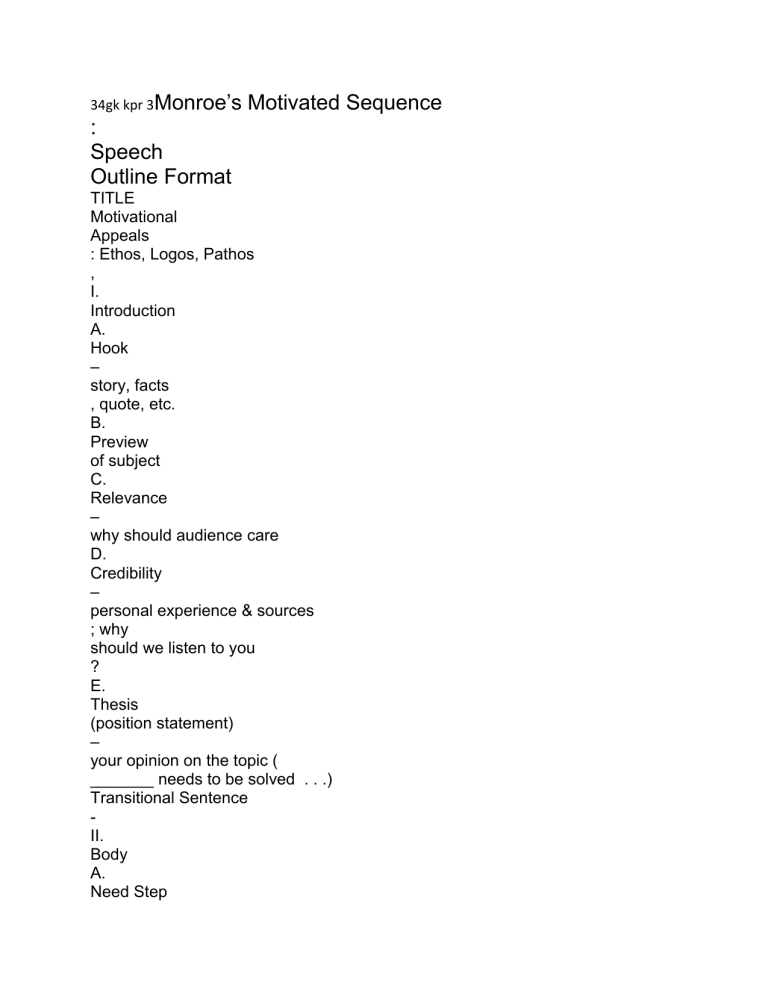 34gk kpr 3Monroe's
Motivated Sequence
:
Speech
Outline Format
TITLE
Motivational
Appeals
: Ethos, Logos, Pathos
,
I.
Introduction
A.
Hook
–
story, facts
, quote, etc.
B.
Preview
of subject
C.
Relevance
–
why should audience care
D.
Credibility
–
personal experience & sources
; why
should we listen to you
?
E.
Thesis
(position statement)
–
your opinion on the topic (
_______ needs to be solved . . .)
Transitional Sentence
II.
Body
A.
Need Step
1.
statement
–
state the problem
2.
illustration
–
use examples to clarify the problem
3.
ramification
–
us
e facts & testimony to clarify the problem
4.
pointing
–
how is the audience directly affected by the problem?
Transitional Sentence
B.
Satisfaction Step
1.
statement
–
state the
most viable
solution
2.
explanation
–
explain the solution in detail
3.
theoretical demon
stration
–
show reasoning behind the solution
4.
reference to practical experience
–
show how this has worked in the past
5.
meeting objections
–
clarify any objections that the audience might have
Transitional Sentence
C.
Visualization Step
1.
positive
–
if the pr
oblem is solved, what will the world look like?
2.
negative
–
if the problem is not solved, what will the world look like?
Transitional Sentence
D.
Action Step
1.
specific action to be taken
–
phone numbers, website, etc.
2.
specific action to be taken
–
sign a pet
ition, donate money, etc.
Transitional Sentence
III.
Conclusion
A.
Summary of Main Points
–
summarize
main points
B.
Restatement of Thesis
–
restate your position on the topic
C.
Memorable Close
–
tie in your attention step (story, fact, quote, etc.)
** Cite 3
sour
ces in the body of your speech!
** Citations should include: author, publication, date
Example: According to Joe Schmoe
in Time Magazine's March of 2010
article titled "Keeping Fit", ....