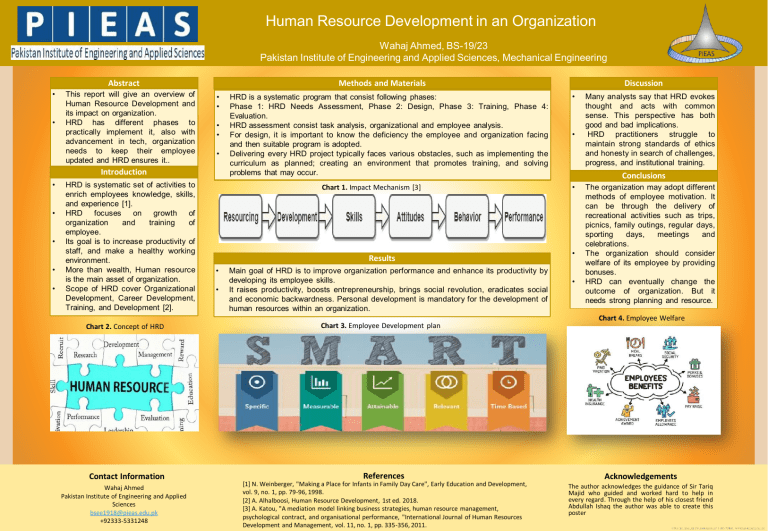 Human Resource Development in an Organization
Wahaj Ahmed, BS-19/23
Pakistan Institute of Engineering and Applied Sciences, Mechanical Engineering
Abstract
•
•
This report will give an overview of
Human Resource Development and
its impact on organization.
HRD has different phases to
practically implement it, also with
advancement in tech, organization
needs to keep their employee
updated and HRD ensures it..
•
•
•
•
•
Introduction
•
•
•
•
•
HRD is systematic set of activities to
enrich employees knowledge, skills,
and experience [1].
HRD focuses
on growth
of
organization
and
training
of
employee.
Its goal is to increase productivity of
staff, and make a healthy working
environment.
More than wealth, Human resource
is the main asset of organization.
Scope of HRD cover Organizational
Development, Career Development,
Training, and Development [2].
Chart 2. Concept of HRD
Contact Information
Wahaj Ahmed
Pakistan Institute of Engineering and Applied
Sciences
bsee1918@pieas.edu.pk
+92333-5331248
Discussion
Methods and Materials
HRD is a systematic program that consist following phases:
Phase 1: HRD Needs Assessment, Phase 2: Design, Phase 3: Training, Phase 4:
Evaluation.
HRD assessment consist task analysis, organizational and employee analysis.
For design, it is important to know the deficiency the employee and organization facing
and then suitable program is adopted.
Delivering every HRD project typically faces various obstacles, such as implementing the
curriculum as planned; creating an environment that promotes training, and solving
problems that may occur.
Chart 1. Impact Mechanism [3]
Results
•
•
Main goal of HRD is to improve organization performance and enhance its productivity by
developing its employee skills.
It raises productivity, boosts entrepreneurship, brings social revolution, eradicates social
and economic backwardness. Personal development is mandatory for the development of
human resources within an organization.
•
•
Many analysts say that HRD evokes
thought and acts with common
sense. This perspective has both
good and bad implications.
HRD practitioners struggle to
maintain strong standards of ethics
and honesty in search of challenges,
progress, and institutional training.
Conclusions
•
•
•
The organization may adopt different
methods of employee motivation. It
can be through the delivery of
recreational activities such as trips,
picnics, family outings, regular days,
sporting
days,
meetings
and
celebrations.
The organization should consider
welfare of its employee by providing
bonuses.
HRD can eventually change the
outcome of organization. But it
needs strong planning and resource.
Chart 4. Employee Welfare
Chart 3. Employee Development plan
References
[1] N. Weinberger, "Making a Place for Infants in Family Day Care", Early Education and Development,
vol. 9, no. 1, pp. 79-96, 1998.
[2] A. Alhalboosi, Human Resource Development, 1st ed. 2018.
[3] A. Katou, "A mediation model linking business strategies, human resource management,
psychological contract, and organisational performance, "International Journal of Human Resources
Development and Management, vol. 11, no. 1, pp. 335-356, 2011.
Acknowledgements
The author acknowledges the guidance of Sir Tariq
Majid who guided and worked hard to help in
every regard. Through the help of his closest friend
Abdullah Ishaq the author was able to create this
poster
.