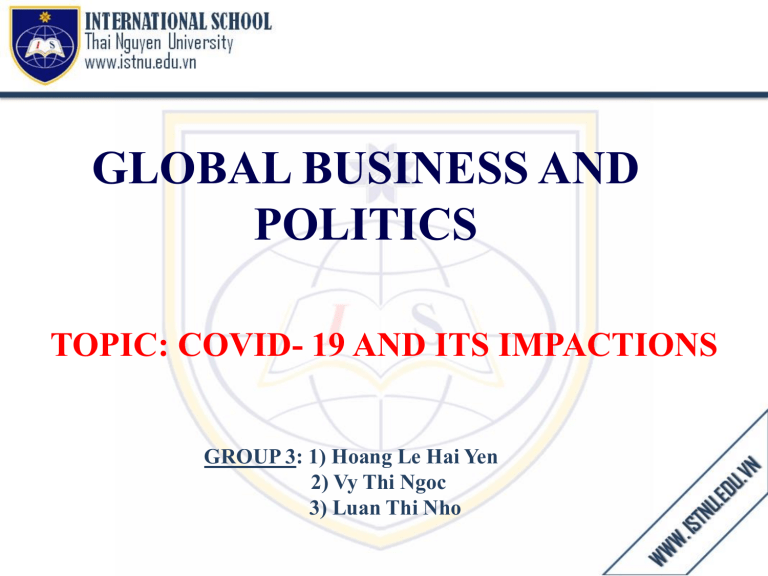 GLOBAL BUSINESS AND
POLITICS
TOPIC: COVID- 19 AND ITS IMPACTIONS
GROUP 3: 1) Hoang Le Hai Yen
2) Vy Thi Ngoc
3) Luan Thi Nho
MAIN CONTENTS
INTRODUCTION
IMPACTIONS ON ALL OVER THE WORLD
IMPACTIONS ON VIETNAM
SOLUTIONS
Introduction
• Coronavirus disease 2019 (COVID-19): is an infectious
disease caused by severe acute respiratory syndrome
coronavirus 2 (SARS-CoV-2). The disease was first identified
in December 2019 in Wuhan, the capital of China's Hubei
province, and has since spread globally, resulting in the
ongoing 2019–20 coronavirus pandemic. The first confirmed
case of what was then an unknown coronavirus was traced
back to November 2019 in Hubei.
1. Top ten most-affected countries
USA
FRANCE
ITALY
IRAN
SPAIN
UK
v
GERMANY
CHINA
SWITZERLAND
v
TURKEY
2. Covid-19 in Vietnam
Province
Infected cases
Active cases
Recovered
cases
Ha Noi
112
32
80
0
Ho Chi Minh
55
1
54
0
Vinh Phuc
19
5
14
0
Ninh Binh
13
2
11
0
Binh Thuan
9
1
8
0
Deaths
ALL OVER THE WORLD
• Impact on the economy:
- Cannot accurately assess the danger level and the time
of epidemic control.
- Negative impacts from pandemic prevention
measures.
- Disrupting supply chains and supply-demand relationship
- Reduce demand, change spending habits, travel of consumers.
Production stagnated, unemployment increased, leading to the risk of default,
bankruptcy of enterprises and psychology of risk worries, even panic of financial
investors.
ALL OVER THE WORLD
• Impact on society
- Increase unemployment -> Strong pressure on social
security, income and employment
Support measures include: expansion of social security, support for
employment retention (such as reduced working hours, paid leave, and
other benefits), tax breaks and financial assistance for micro, small and
medium enterprises. loan support and financial support for a number of
specific economic sectors; strengthen social dialogue - dialogue between
workers, employers and their representative organizations; building public
confidence and up-to-date international labor standards ...
ALL OVER THE WORLD
• Impacts on many other specific areas, especially
tourism
- Tourism has plummeted, especially for the hotel
industry and luxury goods business.
ALL OVER THE WORLD
• Impact on political and diplomatic relations between
countries
- Discrimination against people from disease-affected
areas and citizens of countries affected by the epidemic
will have a negative impact on political and diplomatic
relations between countries.
IMPACTION ON VIETNAM
Impact on Socio-Economy
•
•
•
•
•
•
•
Manufacturing industry
International trade
Tourism
Transportation
Agriculture and agricultural product market
Labor, employment
Education
Impact on the ideological situation
IMPACT ON SOCIO-ECONOMY
Manufacturing industry
•
Being under severe pressure from supply
chain
• Being difficult to find sources of
alternative inputs in a short time.
 Vietnam's exports and imports to China
in particular and the world in general to
decline.
 Making jobless or temporarily quit
working due to the lack of production
materials.
IMPACT ON SOCIO-ECONOMY
International trade
•
Most of the export revenue of items with
large revenues (machinery, equipment,
iron and steel, gasoline, etc.) decreased.
 The import-export situation has stalled,
making the import-export tax is
significantly affected.
IMPACT ON SOCIO-ECONOMY
Tourism
•
Travel businesses, companies investing in
tourism infrastructure systems are
impacted the most.
 According to a survey of the Vietnam
Private Economic Development
Research Board (under the Advisory
Council on Reforming the
Administrative Procedures of the Prime
Minister), if Covid-19 lasts 6 months,
74% of tourism businesses will
bankrupt.
IMPACT ON SOCIO-ECONOMY
Transportation
• Scarcity of goods, freight, an
increase in waiting/empty days
leading to a dramatically
increase in costs.
IMPACT ON SOCIO-ECONOMY
Agriculture and agricultural product market
•
Vietnam's agricultural exports to China in
January 2020 to decrease by 14%.
 Most of the key fruit products,
especially dragon fruits and
watermelons, are fresh, unprocessed
exports, which are facing a lot of
difficulties, with tens of thousands of
tons of backlog left,
IMPACT ON SOCIO-ECONOMY
Labor, employment
•
Ensuring employment for workers but
have to reduce working hours and
maintain a wage equal to two-thirds
before.
• Impacted and delayed the labor export of
Vietnam to some major countries.
 A number of private sector workers are
suffering from unpaid or extended
leave, reduced working hours, reduced
income, and no social insurance.
IMPACT ON SOCIO-ECONOMY
Education
•
All public schools and educational
institutions have been stopped and study
online.
• The Ministry of Education and Training
had to rearrange the plan of exams and
assess the quality for all educational
levels.
 The Covid-19 epidemic has had a great
impact on the education and training
industry of many countries around the
world, including Vietnam.
IMPACT ON IDEOLOGICAL
SITUATION
• Some individuals and organizations
have hoarded goods, increased
prices, even produced products,
produce fake and poor quality
products to sell to people at high
prices.
• Some individuals who not
complying with isolation.
 The whole community was
worried and insecure.
Vietnam
• Urgently develop epidemic
prevention scenarios and
plans; prepare facilities for
isolation, testing,
examination and
treatment…
• Anti-epidemic
principles: Prevention Detection - Isolation Staking - Dumping
(paying special attention
to detection stage) and
principle 4 in place,
dispersed treatment.
IN THE WORLD
• Many countries have closed borders with
other countries, except their citizens, imposed
strict controls on domestic movement, and
required people to stay indoors.
Social Distancing
• Stop activities focusing on 20 people in one room
• Do not gather more than 10 people outside the workplace,
school, hospital
• Keep a distance of 2 m between people and people in public
places.
• Stopping religious rituals, stopping all sports, cultural and
recreational activities in public places, suspend operation of
service-providing establishments.