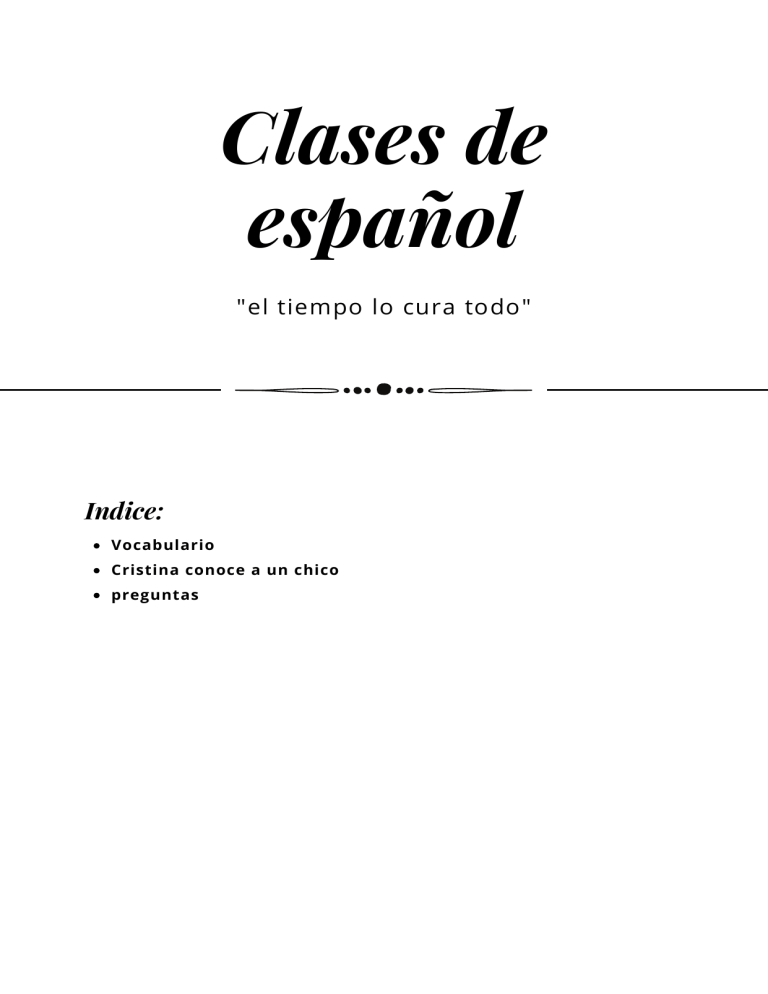 Clases de
español
"el tiempo lo cura todo"
Indice:
Vocabulario
Cristina conoce a un chico
preguntas
Vocabulario
yes = sí
no/don't = no
maybe = quizá
money = dinero
documents = documentos
wallet = cartera
mobile = móvil
phone number = número de teléfono
to call = llamar
now = ahora
later = después
after = luego
to walk = caminar
to go for a walk = pasear
to buy = comprar
to talk = conversar
help = ayuda
to help = ayudar
my name = mi nombre es/ me llamo
I have = tengo
please = por favor
thank you = gracias
hello = hola
good morning = buenos días
see you later = hasta luego
good bye = adiós
bye = chao
how are you? = ¿Qué tal?
What? = ¿Qué?
When? = ¿Cuándo?
Where? = ¿Dónde?
Cristina conoce a un chico
Cristina estaba trabajando en un evento de moda para su revista, al terminar recibió
una llamada por teléfono de su jefa
- Cristina al terminar el evento hay un afterparty por la noche, te puedes quedar si
quieres.
A ella le pareció buena idea para conocer a gente nueva, así que respondió:
- Me gusta la idea ¡Gracias!
- De nada, hasta luego.
Luego de pasar un rato tomando algo un chico se acercó a Cristina y le dijo
- Hola ¿Tu trabajas para la revista "ELLE" cierto?
- Hola, sí - respondió Cristina.
- Yo me llamo Miguel ¿Cuál es tu nombre?
-Me llamo Cristina ¿Y tú en que trabajas? - Dijo ella
- Soy editor de la revista "Vogue" - Respondió Miguel
- ¡Que guay! Eres de la competencia
Después de hablar por unos minutos Miguel invitó a Cristina a conocer a sus amigos,
que estaban conversando en una mesa cercana. Cristina se sintió muy agradecida de
tener a alguien que la ayudara a conocer más gente.
-
preguntas
¿Cómo te llamas?
¿Te gusta tu nombre?
¿Cuántos años tienes?
¿Cuándo cumples años?
¿Dónde vives?
¿Qué llevas contigo ahora?
¿Te gusta llamar o escribir por teléfono?
¿Qué vas a hacer después?
¿Y luego?
¿Te gusta pasear?
¿Te gusta conversar?
¿Te gusta ayudar a los demás?