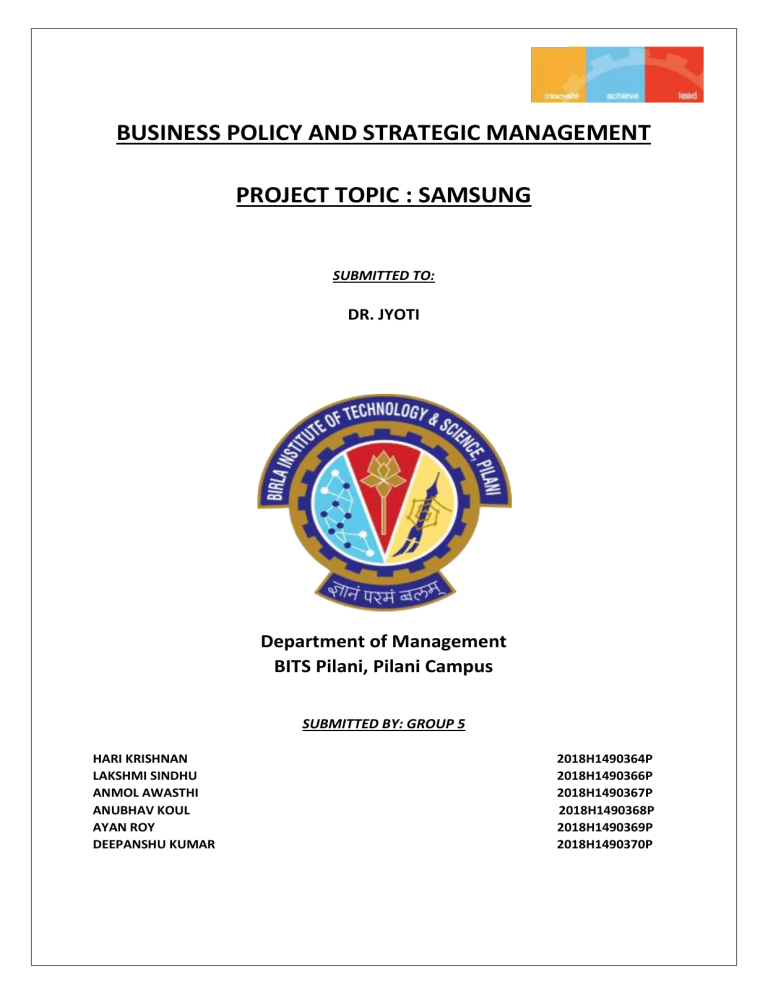 BUSINESS POLICY AND STRATEGIC MANAGEMENT
PROJECT TOPIC : SAMSUNG
SUBMITTED TO:
DR. JYOTI
Department of Management
BITS Pilani, Pilani Campus
SUBMITTED BY: GROUP 5
HARI KRISHNAN
LAKSHMI SINDHU
ANMOL AWASTHI
ANUBHAV KOUL
AYAN ROY
DEEPANSHU KUMAR
2018H1490364P
2018H1490366P
2018H1490367P
2018H1490368P
2018H1490369P
2018H1490370P
Table of Contents
Introduction ............................................................................................................................................ 3
Vision 2020 : "Inspire the World, Create the Future" ............................................................................. 3
Core Values of Samsung.......................................................................................................................... 4
Samsung Business Principles................................................................................................................... 4
Principle 1: Samsung always complies with laws and ethical standards ........................................ 4
Principle 2: Samsung maintains a clean organizational structure ................................................... 4
Principle 3: They respect customers, shareholders and employees equally .................................... 4
Principle 4: They care for the environment, health and safety........................................................ 4
Principle 5: They are proud to call themselves socially responsible corporate citizens ................. 4
Product portfolio..................................................................................................................................... 5
SWOT Analysis of Samsung ..................................................................................................................... 5
Internal Strategic Factors ................................................................................................................ 5
External Strategic Factors ............................................................................................................... 6
CORPORATE STRATEGY: .......................................................................................................................... 8
COMPETETIVE STRATEGY:....................................................................................................................... 8
COMPETETIVE STRATEGY OF SAMSUNG: ....................................................................................... 9
Samsung's Intensive Strategies for Growth (Ansoff Matrix)........................................................ 9
BALANCED SCORECARD ........................................................................................................................ 11
Financial Perspective .................................................................................................................... 12
Customers Perspective ................................................................................................................. 14
Internal Perspective: .................................................................................................................... 15
Learning and Growth Perspective ............................................................................................... 17
Introduction
Samsung is a South Korean company that is currently one of the world's largest producers of
electronic devices. Samsung specializes in the production of a wide variety of consumer and
industry electronics, including appliances, digital media devices, semiconductors, memory
chips, and integrated systems. It has become one of the most-recognizable names in technology
and produces about a fifth of South Korea's total exports.
Samsung was founded as a grocery trading store on March 1, 1938, by Lee Byung-Chull. He
started his business in Taegu, Korea, trading noodles and other goods produced in and around
the city and exporting them to China and its provinces.
Samsung first entered the electronics industry in 1969 with several electronics-focused
divisions—their first products were black-and-white televisions. During the 1970s the
company began to export home electronics products overseas. At that time Samsung was
already a major manufacturer in Korea, and it had acquired a 50 percent stake in Korea
Semiconductor.
The late 1970s and early '80s witnessed the rapid expansion of Samsung's technology
businesses. Separate semiconductor and electronics branches were established, and in 1978
an aerospace division was created. Samsung Data Systems (now Samsung SDS) was
established in 1985 to serve businesses' growing need for systems development. That helped
Samsung quickly become a leader in information technology services.
The 2000s witnessed the birth of Samsung's Galaxy smartphone series, which quickly not only
became the company's most-praised product but also frequently topped annual lists of the bestselling smart phones in the world. Since 2006, the company has been the top-selling global
manufacturer of televisions. Beginning in 2010, the Galaxy series expanded to tablet
computers with the introduction of the Galaxy Tab.
Vision 2020 : "Inspire the World, Create the Future"
The Vision 2020 is at the core of Samsung's commitment to create a better world full of richer
digital experiences, through innovative technology and products.
The goal of the vision is to become a beloved brand, an innovative company, and an admired
company. For this, they have dedicated their efforts to creativity and innovation, shared value
with their partners, and their great people.
Samsung has delivered world best products and services through passion for innovation and
optimal operation.
In the future, they are looking forward to exploring new business areas such as healthcare and
automotive electronics, and continue their journey through history of innovation.
Samsung Electronics will welcome new challenges and opportunities with joy.
Core Values of Samsung
The core values of Samsung are:
People: Samsung values their people with a strong belief in "A company is its people"
philosophy and provides opportunities to perform their full potential
Excellence: They give their best efforts with endless passion and a challenge spirit to
become world best in every way
Change: They rapidly take the initiative in executing change and innovation with a risk
awareness: they know that they cannot survive if they do not constantly strive to
innovate
Integrity: They act in a right and ethical way in all manners, ensuring fairness with
honor and grace
Co-prosperity: Samsung take full responsibilities as a good corporate citizen in pursuit
of mutual prosperity with their community, nation and human society
Samsung Business Principles
Samsung aims to be a world leading company, devoting their human resources and technology
to creating superior products and services, thereby contributing to a better global society.
To this end, they share and pursue SAMSUNG VALUES; People, Excellence, Change,
Integrity, Co-prosperity. As part of the effort to realize these values, we follow the SAMSUNG
BUSINESS PRINCIPLES. These are not only their promises to comply with laws and good
ethical practices, but also a concrete expression of their commitment to these values. The
SAMSUNG BUSINESS PRINCIPLES will be the guiding standards for everyone in Samsung,
outlining the conduct expected of all their employees both individually and collectively.
Principle 1: Samsung always complies with laws and ethical standards
Principle 2: Samsung maintains a clean organizational structure
Principle 3: They respect customers, shareholders and employees equally
Principle 4: They care for the environment, health and safety
Principle 5: They are proud to call themselves socially responsible corporate citizens
Product portfolio
Samsung has a vast product portfolio and its presence is in several different product categories.
The brand image drivers for Samsung are the Samsung Smartphone's such as the Samsung
note series or the Samsung galaxy series. Overall, Samsung is present in the following product
categories.
1.
2.
3.
4.
5.
6.
7.
8.
9.
Tablets
Mobile phones – Smart phones, normal phones,
Televisions – LEDs, LCDs. Plasma TV, SMART TV, HDTV etc
Cameras and Camcorders
Refrigerators
Air conditioners
Washing machine
Microwave ovens
IT – Laptops, printers and accessories
The benefit of Samsung in terms of its product is that there is a trust on all
Samsung products because of the way Samsung products have performed in the last few years.
Problems with the products have been negligible.
SWOT Analysis of Samsung
Internal Strategic Factors
Strengths
1. Research and Development – Samsung has always been a leader in research and
development. This resulted in the company having a wide range of product portfolio.
These include tablet pc, mobile phone, camera, TV/video/audio, Memory Cards, PC,
among others. Samsung is having 34 R&D centres worldwide with total spending on
R&D of US$ 14.857 billion in 2017.
2. Award Winning Brand – Samsung was awarded the CES (Consumer Electronics Show)
for its designs and products for 14 consecutive years. It received 36 CES awards in
2018 along with 400 more awards within a period of 14 years. It also won 7 awards at
the (IDEA) International Design Excellence Awards.
3. Environment Friendly Innovations – Samsung secured 9th position in the Top 30 Tech
and Telecom companies of the EPA's 2016 Green Power Partner list. It also received
the Environmental Protection Agency's (EPA) annual ENERGY STAR Partner of the
Year Excellence Award for 5 consecutive years. Other companies do not share this
achievement and hence increases Samsung's appeal across all business lines.
4. Asian Markets – Samsung has stronghold in the Asian markets, particularly India and
China. Both markets are growing substantially which is why Samsung has taken
advantage of the opportunity and initiatives in these countries.
Weaknesses
1. Heavy dependency on the American Markets – According to estimates both Apple and
Samsung sold at least 70.8% of smartphones in the USA. While Samsung has
diversified its resources and expanded its operations in Asia, it is still heavily dependent
on the American markets. Samsung needs to involve itself into the Asian and European
markets to ensure sustainability.
2. Declining Smartphone Sales – Since 2017 Samsung has been experiencing a decline in
smartphone sales. It has tried to shift more focus in India, but that strategy did not
produce substantial results.
External Strategic Factors
Opportunities:
1. HR Management – Samsung can invest more in its HR management. It will give
it competitive leverage over its competitors. Samsung can utilize its brand image to hire
highly skilled employees.
2. Diversification – Samsung needs to expand its customer base as well. It can be achieved
through diversification and acquisitions of other businesses. Samsung's' brand
popularity can generate impressive revenues.
Threats:
1. Controversies – Samsung has been involved in controversies that have threatened its
business. Its rival Apple filed a lawsuit against Samsung for patent infringement. This
suit damaged the company's reputation and its sales.
2. Increased Competition – Competition from opponents especially from those within the
consumer electronics, smartphone products, and computing industries e.g.
Xiaomi, Apple, or Huawei, has reached a record high.
3.
SAMSUNG SWOT ANALYSIS
STRENGTHS
Weakness



Research & Development
 Recent decline in smartphone
sales
Brand Image
 Heavy dependency on American
Environment and user-friendly
Markets
innovations
 Already strong presence in Asian
markets
Opportunities
Threats



HR Management
Diversification
Acquisitions



Recent controversies
Increased competition from
other brands
Legal and Regulatory Threats
4. Legal and Regulatory Threats – Laws differ from market to market, and these strict
regulations cause a hindrance in operations. Failure to comply could even result in a complete
shutdown in the respective market which may be harmful.
CORPORATE STRATEGY:
Corporate strategy encompasses a firm's corporate actions with the aim to achieve company
objectives while achieving a competitive advantage. A corporate strategy entails a clearly
defined, long-term vision that organizations set, seeking to create corporate value and motivate
the workforce to implement the proper actions to achieve customer satisfaction. In addition,
corporate strategy is a continuous process that requires a constant effort to engage investors in
trusting the company with their money, thereby increasing the company's equity.
Organizations that manage to deliver customer value unfailingly are those that revisit their
corporate strategy regularly to improve areas that may not deliver the aimed results.
Samsung employs Diversification and Vertical Integration strategies so that they mitigate
market risks and this gives them flexibility as a global organization. They achieve this by
Effective market readership. A market reader can be defined as a company that closely
observes the market and is fast in replicating new products and/or introducing new features in
existing products, initially introduced by other companies. Specifically, Samsung has proved
effective in replicating the design and important features of smartphones from its main
competitor, Apple.
Scanning and utilising opportunities in the market. Samsung business strategy integrates
constant search for gaps in the market and exploits the opportunity with positive implications
on the bottom line for the business. For example, Samsung noticed that Asian-language
speakers in particular wanted a device that they could hand-write on, because drawing
characters is easier with a pen. The result was a development of series of Samsung Note devices
as a combination phone/tablet ("phablet") that's been an unexpected hit
New product development. Samsung Electronics has an extensive product range that includes
hundreds of product types and is arranged along three product divisions: IT & Mobile
Communications (IM), Consumer Electronics (CE), and Device Solutions (DS). The
multinational electronics company has 36 R&D centres across the world to secure core
technology for the future and invested 14.8488 trillion in R&D in 2015. Samsung is the
2nd largest patent holder in the US since 2006. Accordingly, new product development
capabilities have been firmly established as one of the strong bases of Samsung competitive
advantage.
COMPETETIVE STRATEGY:
Competitive strategy is a long-term action plan of a company which is directed to gain
competitive advantage over its rivals after evaluating their strengths, weaknesses, opportunities
and threats in the industry and compare it with your own. Michael Porter, a professor at Harvard
presented competitive strategy concept. According to him there are four types of competitive
strategies that are implemented by businesses globally. It is necessary for businesses to
understand the core principles of this concept that will help them to make a well-informed
business decision in the course of action
COMPETETIVE STRATEGY OF SAMSUNG:
Samsung applies the broad differentiation generic competitive strategy. Based on Michael E.
Porter's competitive strategy model, the strategic objective of broad differentiation is to
maintain competitive advantage by providing unique (or differentiated) products targeting a
wide market, which in this case is industry-wide, involving practically every person or group
that buys smartphones, laptops, and other equipment. To achieve Samsung's strategic plans for
growth and expansion in the global market, this generic strategy requires the application of
product development as a main intensive growth strategy to compete against technology firms
like Apple, Google, Sony, and LG
Samsung's investments in product development are a strategic implication of the broad
differentiation generic strategy. For example, the company invests in technological innovation
to support the competitive advantage of its products in the consumer electronics market.
Another implication of this generic competitive strategy is Samsung's marketing mix and
strategies that promote products as unique or different alternatives to the majority of
competitors. This marketing approach and technological innovation sustain the corporation's
competitive advantages and value chain effectiveness in satisfying customers' needs in
consumer electronics, computing technology, and home appliances. Other generic competitive
strategies, such as cost leadership, differentiation focus, and cost focus, are also applied in
Samsung's operations, but to a limited extent. Cost focus leads to the company's being a best
cost provider in some segments of the semiconductors and electronics components markets.
The limited application of cost focus still comes with innovation standards that reflect
Samsung's main generic strategy of broad differentiation. These generic strategies align with
the company's intensive growth strategies to succeed in sustaining the technology firm's
competitive advantages.
Samsung's Intensive Strategies for Growth (Ansoff Matrix)
Market Penetration (Primary). Samsung's revenue growth depends on market penetration
as the primary intensive strategy. In Igor Ansoff's matrix, the strategic objective of market
penetration is to grow the technology business by increasing its revenues from the sale of
current products in current markets, such as the European Union's consumer electronics
market, where the corporation already has operations. Competitive advantages and business
strengths identified in the SWOT analysis of Samsung combat negative forces from
competition in these markets. As an intensive growth strategy, market penetration depends on
the effectiveness of the broad differentiation generic strategy, in terms of how the company
creates technologically innovative products that are differentiated enough to attract target
customers in current or existing markets.
Product Development (Secondary). Considering the emphasis of product superiority
in Samsung's corporate mission and vision statements, product development is a major
intensive growth strategy of the enterprise. A strategic objective of product development in this
case is to grow the business through new products, such as new electronic gadgets. Also, this
intensive strategy grows Samsung's operations through iterative innovation, which leads to
improved versions or variants of existing products. For example, the company regularly rolls
out new smartphone models, similar to what Apple Inc. is doing in its product development
strategy. The implementation of product development as an intensive growth strategy is based
on Samsung's differentiation generic competitive strategy, which requires product
development for uniqueness that differentiates the business from the competition. Economies
of scope based on the conglomerate's various subsidiaries support product development and
competitive advantage by providing technological expertise and material inputs from the
subsidiaries. Samsung's organizational culture affects the operational effectiveness, value
chain efficiencies, supply chain management, and other business activities that fulfill the
strategic objectives of product development.
Market Development. The global scale of Samsung's operations makes market development
a minor intensive strategy for business growth. Market development's strategic objective is to
enter new markets using the company's existing products, such as introducing new Galaxy
tablets in Latin American markets after these products' introduction in the United States. As
an intensive growth strategy, market development's success depends on product value and
competitive advantage, which in this case comes with Samsung's differentiation generic
strategy via technological innovation. For example, effective innovation for cutting-edge
technological design makes the corporation's products more competitive when rolled out in
target markets. With this intensive growth strategy, introducing products to new markets may
come with changes in Samsung's organizational structure.
Diversification. Samsung Group's diversified business operations maintain multiple revenue
channels and spread risk across industries and markets. This intensive growth strategy's
implementation is infrequent in the technology conglomerate, considering regulatory hurdles
and other barriers. With the strategic objective of establishing new profitable businesses, the
diversification strategy grows Samsung typically through acquisitions of smaller firms, such
as Harman International Industries. The minor role designation of this intensive growth strategy
limits the risks of establishing new business operations. In implementing diversification, the
differentiation generic competitive strategy is also applied for competitiveness and strategic
alignment among Samsung subsidiaries' business operations.
Samsung's generic strategy and intensive growth strategies direct the organization's growth
and development. Differentiation plays a major role in building the company's competitive
advantage, although other generic competitive strategies, such as cost leadership and focus
strategies, also support the technology enterprise and its competitiveness. Samsung's
operations management strategies and administration must align with the differentiation
generic strategy and the intensive growth strategies to support business growth while
competing against Apple, Google, Sony, and other aggressive multinational companies.
BALANCED SCORECARD
Financial Perspective
Objective: Maximize
return to shareholders
Customer Perspective
Objective: Accessibility to
new, Innovative product
Strategy
"Innovation
"
Learning and Growth
Perspective Objective:
R&D, new market entry,
identification of current
corporate structure,
increase in market share,
increase in brand value
Internal Perspective
objective: Quality control,
Speed to market,
Marketing, Distribution,
SCM, CRM
Financial Perspective
Samsung's financial perspective emphasizes the stakeholder concern about how efficient and
effective the unit is at using its resources. Its balanced scorecard in the financial perspective
serves one objective which is Maximize Return to Shareholders.

Maximize Return to Shareholders
o The Company will actively pursue increases in investment return for
shareholders by maximizing profits through transparent and sound
management. The Company will honor its responsibility to shareholders and
interested parties by announcing major financial and corporate information in
good faith and in a timely fashion. The Company will accept and sincerely
consider legitimate petitions from external shareholders.
In increasing the shareholder value, Samsung tends to improve its productivity and revenue
growth:

High Earnings Results by Strengthening Competitiveness
o Recently, we often heard about Samsung product including Mobile phone,
Televisions, Camera, Refrigerators, and so on. By developing and expanding
market leadership through electronic products such as Mobile phones,
Televisions, and so on, Samsung reaches enhancement in revenue. In 2013, we
delivered record sales of KRW 229 trillion, up 14% from the previous year, and
both operating profit and net profit increased by 27% and 28%, respectively,
over the year to KRW 37 trillion and KRW 30 trillion.
o Developing Key Competitive Advantages
o Samsung is currently focusing effort in developing key competitive
advantages such as technology and brand image, and expanding a
foundation for a new growth engines. Amid revolutionary changes
recently seen in the IT industry, Samsung focused efforts to enhance the
R&D capabilities by increasing R&D personnel and revamping the
organization structure. It expanded partnership with external research
institutions by establishing an open innovation system, newly built
internal research centers including SofTech and Big Data Center to
strengthen the software capabilities, and also plan to open a material and
future technology R&D center going forward. To expand the base for
future growth engines, Samsung is focusing its resources and
competencies onto not only existing medical devices, LED, and B2B
businesses, but also on Smart Home, mobile health, and other life-care
areas, which could improve quality of life.

Increasing Profitability
o Currently, Samsung tends to increase profitability through enhanced
business competitiveness and sound business management. Not only
that, Samsung also tries to solidifying its leadership in IT business. In
addition, Samsung also willing to improve efficiency of the company-
wide resource management including investment and continue efforts to
enhance our global SCM capability money to maintain its operation.

Risk Management Capability and Future Competitiveness for Sustainable
Growth
o For a company to continue its growth momentum in the mid to longer
term, the key is to have an ability to make prompt response to
uncertainties and risks in the business environment. Samsung takes
preventive measures. Samsung also participates in making social
contribution to local communities as well as enhance communication
with stakeholders.
In order to achieve those objectives, Samsung is using several measures:

Leading – Internal Rate of Return
o One of the uses of IRR is to compare capital projects. Suppose that
Samsung is willing to invest in a new plant project. The choice is
whether Samsung invest in a new plant project or expansion in old plant.
The calculation of IRR will determine which one is the best investment
for Samsung especially because Samsung is an electronic company
which is always having R&D department which is requiring investment
in some projects particularly short-term one.

Lagging – Return on Invested Capital and Weighted Average Cost of
Capital
o Samsung is better to use ROIC calculation to determine its efficiency at
allocating the capital under its control to profitable investments.
Comparing its ROIC and WACC reveals whether invested capital was
used effectively.

Return on Investment
o Nothing attracts shareholders but the number of ROI. The calculation of
ROI should be maintained in order to create more value to shareholders.
That is, the ROI should be watched because there's no point if Samsung
got good number for IRR and ROIC but not good for ROI, shareholders
will mark it as a bad company.
In conclusion, financial perspective is the one perspective for Samsung to maintain the value
of the company to the shareholders. It explains about how effective and efficient a company
performed. In order to maintain the shareholder value as stated above, Samsung has to invest
more capital in product R&D as the process of creating the value. Once the value for
shareholders is already made, the invested capital will increase, the company will earn money
to maintain its operations.
Customers Perspective
In Samsung's balanced scorecard, the customer perspective serves one objective, which is:
Accessibility to new, innovative products:
Atkinson et al. (2012) stated that the customer perspective should describe how a company
intends to attract, retain, and deepen relationships with targeted customers by differentiating
itself from competitors. The customer perspective reflects the heart of the strategy. It should
contain specific objectives and measures for the strategy's "scope"—how is the company
performing with its targeted customers. It also should represent the strategy's "advantage"—
the unique combination of product features, services, and relationships it has selected to satisfy
its customers' needs better than competitors can. Success in the customer perspective should
lead to improvement in the financial perspective objectives for growth in revenues and profits.
Therefore, this objective is very important for Samsung as a leading technology company
where its customers will wonder what kind of new and innovative products that Samsung can
offer. Also as Samsung stated in their website that "SAMSUNG is dedicated to designing
products around our customer's needs. In pursuit of our commitment to our customers, we have
designed products that are easy to use and have a variety of features. The products and their
features are also designed to meet a variety of needs of persons with disabilities." This
statement shows that Samsung is very concern with the accessibility of their customers to new,
and Innovative products.
Meanwhile, it uses several measures such as:
Leading - focus groups
As a leading indicator, Samsung use focus groups to understand more about what kind of
customer reaction, it would get for their new product. Focus group is a demographically diverse
group of people assembled to participate in a guided discussion about a particular product
before it is launched. But to make a focus group is very difficult, because the truth is that focus
group success is highly dependent on the skill of the discussion moderator.
Lagging – customer's surveying and reviews
As a lagging measure, Samsung uses customer's survey to understand more about its
customers. We all know customer satisfaction is essential to the survival of our businesses. A
customer's survey will help Samsung pin down its customers' likes, dislikes, and the areas of
improvement that exist. Also Samsung might to send a survey to figure out why clients stop
doing business with it, how it might win them back, and how it can prevent customer losses in
the future.
Lagging - customer retention
Then we come to the last measure, which is customer retention. As we know that getting new
customers is difficult and expensive so you want to keep everyone you get. So, customer
retention is what you do to keep, or retain, customers. And Samsung takes the form of a loyalty
program, excellent customer service or just regular contact from a representative or only from
sample of a population. Customer retention statistics are typically expressed as a percentage of
long term clients, and they are important to a business since satisfied retained customers tend
to spend more, cost less and make valuable references to new potential customers.
Samsung then regularly prepares the tracked report about their repeat customers using the data
and information gathered through marketing department. Then the report will be reviewed
annually. The report might consist about repeating or supposed to be loyal customers who kept
buying Samsung products compare to the other brands because they thought that Samsung has
something more (advantage) and has unique style (differentiation) than the other brands. Since
Samsung is currently in the top level of market share, Samsung usually only think that Apple
(with iPhone) is their main competitor over competing substitutes, so the report might
benchmarking the customers satisfaction between this two companies.
In conclusion, the customer perspective of Samsung's balanced scorecard may focuses on
improving the customer satisfaction level to get or increase more loyal customers. Meanwhile,
the customer perspective's objective is an important factor that lead to improvement in the
financial perspective objectives for growth in revenues and profits and determines the success
of the company.
Internal Perspective:
Samsung's internal perspective gives more on all activities and processes in the company in
order to maintain the outcomes for customers. Here are the objectives of Samsung's internal
perspective:

Quality Control
Samsung ensures a level of quality of product by examining and testing the quality of
product. It is more to maintain or raise the level of products. Samsung ensures the
products that are provided meet the specific requirements and characteristics, such as
being dependable, safe, and satisfactory.

Speed to Market:
Samsung understands the important of market for company. In this objective,
Samsung injects new innovations and more commercialization.

Marketing:
By increasing the number of customers, it means the revenue will be increased as
well. Samsung did a market research in order to compete with the other technology
companies. For example, before producing smartphone, Samsung made a research.
They found through market that Asian-language speakers in particular wanted a
device that they could hand-write on, because drawing characters is easier with a pen.
The result was combination phone/tablet that has been unexpected hit.

Distribution:
Samsung is now focusing on their smartphones. Because Samsung bids to take number
one spot in the smartphones. Therefore, Samsung has refined its distribution strategy.
After doing a market research, Samsung put its distribution on the stage.

Supply Chain Management (SCM):
Samsung has large, complex, and global supply chains in most of the products it
manufactures and makes extensive use of SCM solutions and process innovation to
support and improve its operations. Despite the extensive use of SCM solutions and
process innovation to improve global business operation.

Customer Relationship Management (CRM)
Customer Relationship Management is a way of using technology to give serve to the
customer. For Samsung, CRM is widely-implemented strategy for managing the
company's interaction with customers, clients, and sales prospects.

Lagging – Manufacturing Cycle Time
As a lagging measure, Samsung uses manufacturing cycle time to measure the
productivity as well as the quality of the product. It is understandable that the one of
the goals of Samsung is to raise the quality of the product. Samsung requires one period
of time in order to complete one cycle of production.

Defects per Day:
Samsung measures the defects per day as prevention for miss-production. By doing
that, Samsung could minimize potential fail product. It will increase the efficiency and
effectiveness of production.

Number of Products Return:
Fail product should be returned. Measuring how much the product is being returned
could make another step to prevent another fail product. It is important for both,
company and customers. Both, company and customer, would love to have the best
products as the outcomes.

Leading – Critical Path
Samsung lists all activities required to complete a project, the length of time each is
expected to take and dependencies between tasks. Samsung wants to make everything
more efficient by dividing each project into component tasks and mapping out what
needs to take place to shepherd it to completion.

Project Management
Samsung project management offers full range of services for complete customer
satisfaction. Samsung offers such as, high quality, one-stop manufacturing programs,
process and analytical development, clinical phase manufacturing, and full scale
commercial manufacturing. Project management is a fully responsible by project
manager.
Learning and Growth Perspective
In Samsung's balanced scorecard, the learning and growth perspective serves several
objectives, including the following:

Research and development
The research and development is very crucial in this company. As we know, Samsung
is a large company manufacturing many technological products. It is known as a large
gadgets and electronics manufacturer, which the technology used and developed by this
company need to be improved in an on-going basis. The information technology needs
to be updated and the company keeps developing new technologies and knowledge all
the time. It also applies for the human resources that are encouraged to keep learning
and developing their skills.
.

New market entry
The learning and growth perspective also identifies many ways and solutions for the
company to anticipate the competitors and also identifies many ways for the company
to enter a new market. As Samsung attempts to enter a new market, it needs more
strategy and it needs to ensure that the market keeps growing.

Identification of current corporate culture
As explained in the first objective, which is research and development, the
identification of current corporate culture is ensured by learning and growth
perspective. The current corporate culture determines the current and future success of
the company. It determines how effective and efficient the company operation is and
also determines how high the company's objectives have been achieved.

Increase in current market share
As the company keeps growing bigger, it also expects to have a growing market share.
Market share is one of success determinants of a company in raising revenues. The
learning and growth is then also based on the objective of increasing current market
share. By increasing the current market share, the company is also required to keep
developing its strategy and increasing the effectiveness and efficiency of its various
business processes.

Increase brand value
The brand value is an important factor that can keep Samsung's customer becoming
loyal to its products. The brand value is also an important factor that may determine the
level of company's sales. When the brand value is increasing, it indicates that the
customers' satisfaction and how they value Samsung is increasing.
The various KPI used are as follows:

Lagging – benchmarking
As a lagging measure, Samsung uses benchmarking to measure how well it has
achieved the learning and growth objectives. By doing benchmarking, the company can
identify and measure its competitiveness in the industry, the effectiveness and
efficiency of the business operation compared to its competitors, the level of
achievement, and also the market share that it has obtained.

Percentage of sales of new products
Another measure is the percentage of sales of new products. As explained previously,
sales are an important success determination of a company. Samsung, in this case, needs
to measure its percentage of sales to measure its competitiveness, market share, the
success in entering new market segments, and also how effective and efficient its
business processes are.

New product sales projections:
The new product sales projections is a leading factor that may help the company to
measure its current and future performance. As Samsung develops more products,
indeed it needs to project the sales of the new products. The projections should be the
Samsung's target of achievement, which will determine the success of the new
products. As stated by the objectives, such as increasing market share and brand value,
and to enter a new market segments with new product segments, the new product sales
projections will be a fitted measure.