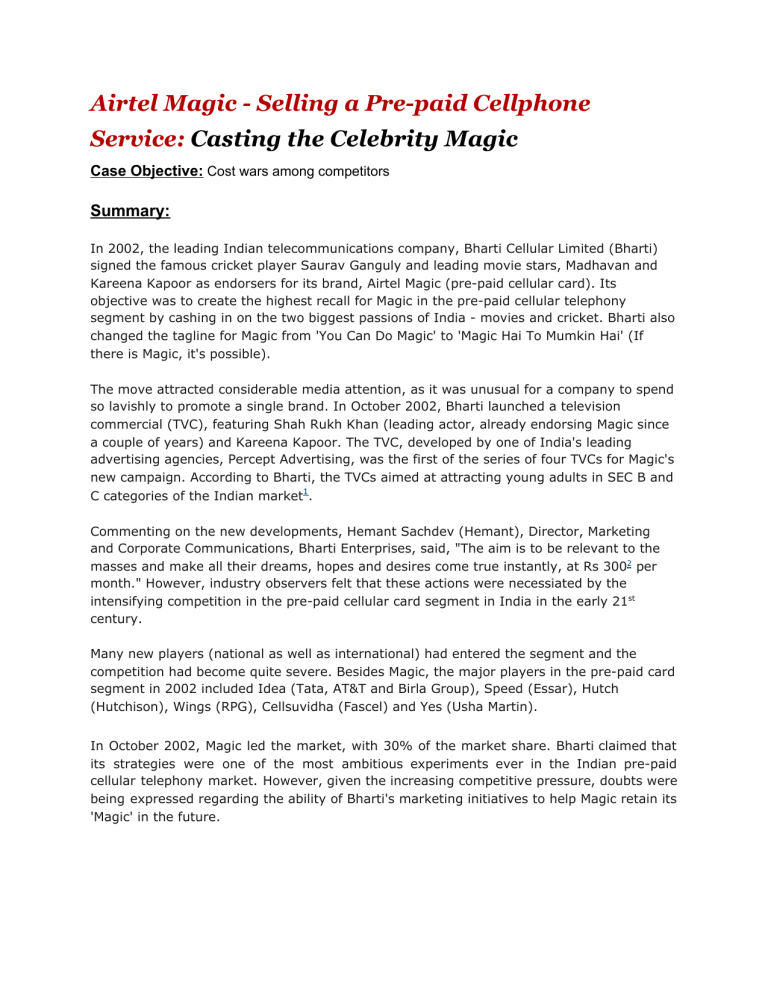 Airtel Magic - Selling a Pre-paid Cellphone
Service: ​Casting the Celebrity Magic
Case Objective:​ Cost wars among competitors
Summary:
In 2002, the leading Indian telecommunications company, Bharti Cellular Limited (Bharti)
signed the famous cricket player Saurav Ganguly and leading movie stars, Madhavan and
Kareena Kapoor as endorsers for its brand, Airtel Magic (pre-paid cellular card). Its
objective was to create the highest recall for Magic in the pre-paid cellular telephony
segment by cashing in on the two biggest passions of India - movies and cricket. Bharti also
changed the tagline for Magic from 'You Can Do Magic' to 'Magic Hai To Mumkin Hai' (If
there is Magic, it's possible).
The move attracted considerable media attention, as it was unusual for a company to spend
so lavishly to promote a single brand. In October 2002, Bharti launched a television
commercial (TVC), featuring Shah Rukh Khan (leading actor, already endorsing Magic since
a couple of years) and Kareena Kapoor. The TVC, developed by one of India's leading
advertising agencies, Percept Advertising, was the first of the series of four TVCs for Magic's
new campaign. According to Bharti, the TVCs aimed at attracting young adults in SEC B and
C categories of the Indian market​1​.
Commenting on the new developments, Hemant Sachdev (Hemant), Director, Marketing
and Corporate Communications, Bharti Enterprises, said, "The aim is to be relevant to the
masses and make all their dreams, hopes and desires come true instantly, at Rs 300​2​ per
month." However, industry observers felt that these actions were necessiated by the
intensifying competition in the pre-paid cellular card segment in India in the early 21​st
century.
Many new players (national as well as international) had entered the segment and the
competition had become quite severe. Besides Magic, the major players in the pre-paid card
segment in 2002 included Idea (Tata, AT&T and Birla Group), Speed (Essar), Hutch
(Hutchison), Wings (RPG), Cellsuvidha (Fascel) and Yes (Usha Martin).
In October 2002, Magic led the market, with 30% of the market share. Bharti claimed that
its strategies were one of the most ambitious experiments ever in the Indian pre-paid
cellular telephony market. However, given the increasing competitive pressure, doubts were
being expressed regarding the ability of Bharti's marketing initiatives to help Magic retain its
'Magic' in the future.
Background Note
Cellular telephony was introduced in India during the early 1990s. At that time, there
were only two major private players, Bharti (Airtel) and Essar (Essar) and both these
companies offered only post-paid services. Initially, the cellular services market
registered limited growth. This was primarily due to the high tariff rates charged by the
companies (about Rs 16 per minute for outgoing calls). Indians who were used to
paying much lesser amounts (Rs 1.20 for 3 minutes) for landline telephone calls found
these to be very expensive.
However, as there were only two players, a monopoly regime prevailed. The tariff rates
as well as the prices of cellular phone handsets (instrument) available in that period
continued to remain high. Hence, cellular phone services during that period were
regarded as a luxury and companies mostly targeted the elite segment of the society.
Moreover, these services were mostly restricted to the metros.
Other factors such as lack of awareness among people, lack of infrastructural facilities,
low standard of living, and government regulations were also responsible for the slow
growth of cellular phone services in India. Although the cellular services market in India
grew during the late 1990s (as the number of players increased and tariffs and handset
prices came down significantly) the growth was rather marginal.
This was because the cellular service providers offered only post-paid cellular services,
which were still perceived to be very costly as compared to landline communications.
Following this realization, the major cellular service providers in India, launched
pre-paid cellular services in the late 1990s. The main purpose of these services was to
target customers from all sections of society (unlike post-paid services, which were
targeted only at the premium segment). On account of the benefits they offered,
pre-paid cellular card services gained quick popularity during the late 1990s.
Between the late 1990s and early 2000s, tariff rates declined 75%. Reportedly, Indian
cellular players were offering the lowest cellular tariffs in the world (Rs 1.99 for 60
seconds). By October 2002, of the 8.5 million cellular phone users in the country, 65%
belonged to the pre-paid segment. Also, an estimated 80% of the new add-ons were
pre-paid card subscribers.
Bharti, being one of the early entrants in the industry, launched its own pre-paid
cellular service under the Magic brand in January 1999. Magic was first launched in
Delhi and later in other circles​3 in India (where the company offered cellular services
under its flagship brand, Airtel).
Through Magic, Bharti targeted the infrequent users of mobile phone. Acquiring Magic
connection was very easy - all a customer needed to do was walk into an outlet (selling
Magic) with a handset. Here the customer was provided with a pre-activated SIM card​4
(which had to be loaded with the calling value) and a recharge card (which was
required for loading the calling value into the SIM card). These cards were valid only
for specific period (beyond which the services could not be availed), depending on the
value of the recharge card loaded.
Whenever a customer utilized his Magic card, a specific amount was deducted as per
the applicable tariff rates. Customers were required to recharge the card before the
expiry of the validity period to avail the services (further). When the card was
recharged, customers were provided with a new calling value possessing a new
validity period. The company provided a grace period of 30-90 days based on the
denomination of recharge card. However, no incoming or outgoing calls were allowed
during this period.
The attractively designed Magic cards could be activated/recharged by using a
16-digit number. Bharti adopted the international 'scratch system' for Magic cards,
that is, customers were required to scratch a marked area on the card to acquire this
service recharge or activation number. To establish Magic as a brand and make it
more accessible, Bharti focused on its distribution strategies. Apart from company
outlets, Magic was made available at departmental stores, gift shops, retailing
outlets, telephone booths and even 'Kirana' stores (small grocery shops).
Besides the absence of rental hassles and security deposits, Magic offered features
such as instant connectivity, pre-activated STD/ISD facility (customers did not have
to maintain a minimum balance in the pre-paid card for utilizing the STD/ISD
services), voice mail and short messaging service (SMS).
To meet the requirements of varying customer groups Magic was made available in
various denominations (ranging between Rs 300 to Rs 3,000). Due to its innovative
and customer-friendly features, Magic came to be credited by industry observers for
bringing about dynamic changes in the Indian cellular services market and expanding
the cellular user base.
Thus, providing affordable and easily accessible services to all sections of the
community and maintaining strong relationship with customers, Magic was able to
differentiate itself from other pre-paid cellular services. Magic soon became the
market leader and was the most visible pre-paid cellular brand in the country - aided
by Bharti's (and Airtel's) strong presence in 16 states of the country (reaching
around 400 million customers).
By 2002, it became the largest selling pre-paid cellular card in India. However, Bharti
was not content with sitting back and savoring the short-term success of Magic. The
company realized that the Indian cellular telephony market was undergoing a radical
transformation. With the entry of a fourth players in various telecom circles in 2002
(until then only three players were operating in all circles), the future was expected
to be rather uncertain.
The subscriber base was over 6.4 million by March 2002 as compared to 3.5 million
in March 2001. Telecom circles in the states of Rajasthan, Haryana and Kerala posted
an estimated growth rate (in subscribers) of 179%, 151% and 151% respectively in
2002. This growth could be primarily attributed to the introduction of pre-paid cards,
which accounted for over 55% of an operator's revenue.
In early 2002, analysts forecasted that the number of subscribers using pre-paid
cellular services in India was estimated to reach over 25 million by the year 2004
(from 4.5 million in 2002). The immense potential the market offered lured almost
all major players to shift their focus to the pre-paid segment to design new
marketing strategies to expand their user base in this segment. With the
intensifying competition in the market, Bharti also felt the need to revamp its own
marketing strategies and retain its position as the market leader.
All Set to Create Magic
In early 2002, Magic decided to revamp its marketing strategies. There were plans to
launch the service in newer areas and bring about changes in pricing, positioning and
advertising. The company also planned to make new value additions by providing
better services. As a first step in this direction, Magic was brought under Bharti's
umbrella brand, Airtel, and was renamed Airtel Magic.
Company sources said that the move was aimed at banking on the strengths of Airtel
as a brand. While the earlier brand strategy aimed at customers interested in using
mobile services, the new strategy was aimed at attracting even non-interested
customers by appealing to their needs and requirements (offering them a value they
did not perceive earlier). In line with this strategy, Magic was positioned as a
friendly, mass-market brand.
Sources at Bharti revealed that in its repositioning exercise under the Airtel brand,
Magic targeted youth and stood for simplicity and attitude that said, 'anything is
possible.' Explaining the rationale behind the brand repositioning on the Airtel level,
Hemant said, "As we grew to a 15-circle telecom network, we wanted to become
generic to mobility in the country." As a part of its revamping exercise, Bharti also
changed the logo.
The new Magic logo reflected the new brand values of youthfulness, energy,
simplicity and friendliness. Bharti then focused on extending its distribution base in
all the circles in which it operated and therefore, ensured the availability of Magic
cards in the remotest parts of its operating circles. By late 2002, the states of Kerala
and A.P. had 2000 and 4,500 stores respectively.
In Chennai (Tamil Nadu) and Kolkata (West Bengal) there were over 2,500 and 3,000
outlets respectively. In mid 2002, in an innovative move, Bharti entered into a
strategic tie-up with a leading Indian private sector bank, ICICI to offer recharge
facility for Magic cards users at the bank's ATMs​5 across Andhra Pradesh, Delhi and
Kolkata.
Commenting on this, Pawan Kapur, Chief Executive, Bharti Mobile (Andhra Pradesh)
said, "It is another innovative combination of customer benefit and technological
advancement." Bharti also focused on revamping of its pricing strategies from time to
time (at regular intervals) in order to stay ahead of competition. The company
charged different rates for incoming and outgoing calls depending on the time when
the call was made.
For instance, customers in Delhi were charged Rs 1.35 (per 30 seconds) and Rs
0.99 (per 30 seconds) for incoming calls in the time slot of 8.00 am and 10.00 p.m.
However, these rates were much lower at night (outgoing calls cost only Rs 0.67
for 30 seconds, while incoming calls cost Rs 0.49). In order to increase its
penetration in the market, Magic also came up with many special offers during mid
and late 2002.
In mid 2002, Magic was made available at only Rs 290 (as against Rs 300
previously), which included Rs 90 worth free talk time valid for 7 days (as against
Rs 50 previously). One of its special launch offers included providing free talk time
worth Rs 290 to new subscribers (Rs 145 worth talk time free at the end of the
third month and the balance Rs 145 worth, at the end of sixth month from the date
of making the first call from magic card).
Free voice mail service was also offered to new subscribers for a period of three
months. As a part of its efforts to expand its reach, Bharti offered and introduced
many special features for Magic subscribers.
These included free caller line identification, and innovative services like balance on
screen (balance amount displayed at the end of each call) and balance on demand
(balance amount derived by pressing specific numbers on the phone without
making or receiving a call). Bharti also introduced doorstep delivery of Magic cards
in mid-2002.
Although the service was initially available only in Delhi and Gurgaon (for a
recharge value of Rs 500 and above), there were plans to extend it to other circles
as well. In mid 2002, Bharti launched its regional roaming​6 network in Asia for
Magic subscribers. Under this offer, subscribers were able to utilize roaming
services in over 66 countries across the world, underlying Europe, Australia, the
Asia-Pacific region, the Middle East and the US.
This service was offered free of charge for calls placed through any Airtel network
in India. Regional roaming facility was offered to customers within the country as
well in mid 2002. Apart from this, the company also waived airtime charges on
incoming calls between Airtel cellular customers (intra-operator calls) in some parts
of the country. New celebrity endorsers who projected a fresh and youthful image
were chosen.
The idea was to reflect Magic's brand values of energy, hope, optimism and
achievement. Explaining the rationale behind focus on celebrity endorsements, P H
Rao, MD, Bharti Mobinet Ltd., said, "Magic is a youth brand, and all these
celebrities depict exuberance and confidence to succeed, which are in synergy with
the core values of the product." These campaigns were extensively covered by both
the print and television media.
Besides the new tagline of 'Magic Hai To Mumkin Hai,' Bharti devised many
ad-specific taglines to take the brand closer to masses. Some of them were 'Kabhi
bhi Kahin bhi' (Anytime, anywhere) 'Jahan Chaho, Airtel Magic Pao' (Wherever you
want, you will find Magic), Airtel Magic gives you the max out of life, 'Kharch aapki
mutthi mein' (Costs are under your control) and 'Life banao ab aur bhi aasaan'
(Make life easier with Magic). To promote the brand and retain its customers,
Bharti conducted many contests for its subscribers through SMS.
For instance, the 'Khulja Sim Sim' contest launched in April 2002, offered a
treasure hunt kind of an interactive game through SMS, wherein many attractive
prizes were given to the winners. Many other such contests were held, either as
part of a new scheme's promotional efforts or to coincide with some local Indian
festival. In 2002, Bharti entered into many new telecom circles as the fourth
player. Due to the strong brand equity of both Airtel and Magic it picked up
instant momentum. Magic was reportedly very popular with customers
(especially the youth) who appreciated the (ease of operation, affordability and
ready availability) the brand offered.
The Industry Strikes Back
Bharti's aggressive marketing, advertising and promotional efforts led other
players to focus on their marketing efforts as well. Companies resorted to price
reductions, new service additions, value additions and focused advertising and
promotional campaigns.
For instance, in Mumbai, BPL Mobile and Hutchison Max Telecom made incoming
calls (from across the country) free to counter Bharti's waiver of airtime charges
for incoming calls in Mumbai. Apart from this, BPL and Hutchison also announced
the launch of new advertising campaigns in Mumbai. Hutchison and BPL also
launched their 32K​7 SIM cards in order to match Bharti's 32K SIM offer
(previously, the players offered only 8-Kilobyte memory SIM cards).
BPL and Hutch also waived airtime charges for incoming calls and reduced their
roaming service charges. Both Hutch and BPL announced a flat rate of Rs 1.49
(60 seconds) as roaming charges, as against the previous Rs 3 (60 seconds) on
all partner networks. In January 2002, Spice allowed national roaming named
Spice Quicky on its pre-paid card. In late 2002, in the light of price slashes by
Bharti, Hutch and BPL, MTNL also slashed tariff rates of its Dolphin cellular
service in Mumbai and Delhi, in order to sustain its market in these circles.
Escotel, one of the leading cellular service providers in UP (West) launched
roaming services (both incoming and outgoing) for its pre-paid card subscribers
in late 2002. It announced plans to extend these services to its other circles as
well. In mid 2002, Idea Cellular Ltd. planned to focus on creating brand
awareness and launched an aggressive advertising campaign with an ad-spend of
Rs 630 million (7% of its net revenues).
The company developed new TVCs to highlight the company's tagline 'Liberation
through idea.' Apart from its advertising strategies, the company announced
plans to offer various value-added services that included games on mobile, SMS
in 9 languages and pre-paid roaming facility. However, the company decided
against the usage of celebrity endorsements for its pre-paid cellular service, Idea
ChitChat.
Bharti's competitors launched various promotional campaigns for their brands many of them copying those of Bharti's. While Spice awarded free talk-time to
winners of a Soccer World cup related promotional event, the subscribers of Idea
ChitChat in Andhra Pradesh could win gold coins, watches and talk-time under a
special scheme. However, the most severe competition was witnessed in the area
of tariff reduction.
In the Karnataka circle, Spice reduced tariff rates on its pre-paid cellular cards,
Simple and Uth in mid 2002. According to the new rates, Simple subscribers
were required to pay Rs 1.49 (30 seconds) both for incoming and outgoing
calls (24 hours a day) and Uth subscribers were required to pay only Rs 0.5
(30 seconds) at night as against Rs 0.75 charged previously.
In September 2002, Spice even offered interesting and even useful information
like train timings, astrology, news, movie tickets, cricket updates, stock market
news through its brand, Genie. With Hutch Essar entering the Karnataka
cellular market as the fourth operator in 2002, both Bharti and Spice were
devising strategies to retain their respective positions in the market. The case
was the same in Andhra Pradesh (AP), where Hutch entered in August 2002.
Hutch​8 was becoming a formidable competitor for Bharti in many circles. With
its aggressive marketing and promotional campaigns and a range of value
added services, Hutch had garnered considerable shares in many circles by mid
2002.
Value added services offered by Hutch (through its advanced 16K SIM)
included regional roaming, dial-in service, voice messaging (in India and even
to US or Canada), voice mail, voice response service, unified messaging
service and other online menu services (such as SMS, railway information,
train timings, movie tickets, stock market news, TV schedules). In Kolkata,
Hutchison's Command recorded over 55.03% growth between January and
August 2002, while Orange, Essar and Fascel reported growth rates of 46%,
36.67% and 46.29% respectively for the same period.
In early August 2002, Hutchison announced a new scheme 'Go Hutch for Rs 74'
in Andhra Pradesh, wherein pre-paid customers were offered a talk time of
worth Rs 175 on purchase of a pre-paid card of Rs 249, which made Hutch
pre-paid card cheaper to other pre-paid cellular services in the state. In
response to this, Bharti introduced its new Magic Recharge scheme, under
which, subscribers could accumulate free talk time for every fourth recharge
card bought.
Bharti decided to design different marketing strategies for different circles
depending on the strategies, employed by the competitors. While the company
was focusing on its pricing strategies, its competitors in various sectors were
concentrated on new service offerings and value additions (For instance, in the
Chennai circle, the cellular war between RPG Group, Bharti and Hutch was
more value and service driven).
Since price reduction moves were almost immediately matched by the players,
companies had begun focussing on developing value-added offerings and
schemes to expand their market and gain customer loyalty. Analysts remarked
that the players were coming up with new schemes or value-additions almost
every week to get the better of their competitors.
Some such schemes launched in mid 2002 included Tamil SMS and Audiotimes
(a service which enabled subscribers to send song clippings to other cell phone
users) by RPG. Bharti shot back with an offer wherein new Magic subscribers
were given an audiocassette containing popular Tamil movie songs.
Various value-added services were also offered in late 2002 in Chennai such
as Panchangam (SMS-based), which informed customers about good (and
bad) timings during the day. Bharti also tied up with a leading Internet
portal, indiatimes.com to offer news headlines and stock market news
through SMS.
By constantly keeping itself abreast with the moves of its competitors and
launching various proactive/reactive schemes, Bharti was able to retain its
leadership position. Despite continual attacks from Hutch, RPG, Spice, Idea
Cellular and BPL, Bharti's cellular services received good high response in all
circles during 2002.
It was reported that in Mumbai, 60-75% of customers seeking Airtel services
were BPL Mobile and Hutch subscribers. In fact, it was becoming difficult for
the company to activate cellular connections in Mumbai swiftly on account of
the high rush - in some cases, it took almost three days to activate a
connection.
The Future - Far from Magical
While the players in the cellular market in India were focussing heavily on the
pre-paid card segment due to its high potential, some analysts expressed
doubts about the profitability of this segment in the long run.
They said that low profit margins from the pre-paid segment (on account of
low tariff and high advertising, promotional and customer service costs) could
lead to losses in the long run. As the fierce competition would make price-cuts
and heavy investments in advertising and promotions inevitable, this seemed
quite possible.
However, it was believed such problems might be overcome by building up a
vast customer base and making up for margins by increasing sales volumes (A
company's cost per subscriber decreased with the increase in the subscriber
base, thereby, resulting in increased margins.)
However, the biggest challenge came in the form of CellOne, a cellular service
launched by the state-owned telecom major, Bharat Sanchar Nigam Ltd.
(BSNL) in October 2002. Not only were the rental charges of CellOne much
lower than those of any other player, BSNL had plans to (further) reduce tariff.
Given the vast reach of BSNL and years of experience in the Indian telecom
sector, the new, private players were justified in their fears. Moreover, BSNL
did not have to pay any license fee (8-12% of the revenue share paid by all
private players) to the government.
Being a major stakeholder in the fixed line telephone network (90%), it did
have to shell a large share of its revenues as interconnect charges (over
70% of the calls made from cellular network used fixed line network) for
routing calls, both landline and STD.
With such control (on fixed line network) and established infrastructure,
BSNL could pose a severe threat to its competitors on the pricing front. With
the Department of Telecommunications announcing plans to grant
International Long Distance (ILD) license to BSNL and BSNL planning to
acquire a subscriber base of over 4 million (by late 2003 across 1,000 cities),
the competition in the cellular market was expected to intensify further.
Meanwhile, true to the belief of industry observers that the cellular telecom
sector would see product/service innovations, Bharti launched a two-in-one
cellular card in October 2002. This product offered both the features of
post-paid and pre-paid cards in one card​9​.
It was aimed at customers residing in places where post-paid facilities were
not available. The product was available with all Magic vendors and ICICI's
ATMs. Commenting on Bharti's leadership position, representatives of BPL
and Hutch said that Bharti might seem to have an advantage at present but
it was a long-term game and it was too early to respond.
As the market awaited the response of other competitors in November 2002,
Indian pre-paid cellular services customers expected the future to be
anything but dull. Competitive tariff plans, value-added services and to top it
all, entertaining advertisement campaigns - customers, perhaps, could not
have asked for more!
Problem Statement:
1. With increasing competition pressure, was it a good move to spend on
celebrities for marketing? Justify.
2. Low profit margins from the pre-paid segment (on account of low
tariff and high advertising, promotional and customer service costs)
could lead to losses in the long run. Devise a plan to minimize the
losses.