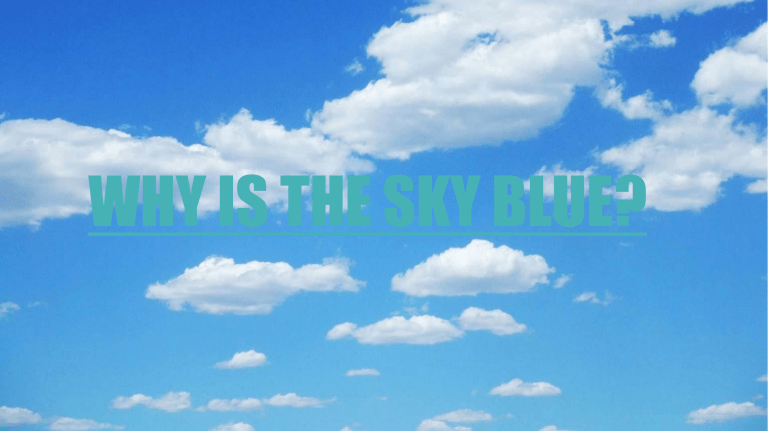 WHY IS THE SKY BLUE?
WHAT IS LIGHT
ENERGY?
ENERGY YOU CAN SEE
WHY IS LIGHT
IMPORTANT?
WHERE DOES LIGHT COME FROM?
GOD
And God said, "Let there be
light," and there was light. 4 God saw
that the light was good, and He
separated the light from the darkness. 5
God called the light "day," and the
darkness he called "night."
Genesis 1:3
• In order to see anything, we need light.
• There are two types of light:
– Natural light
– Artificial light
NATURAL LIGHT
• The sun is the most important source of natural light.
• The sun gives light and energy.
• The moon and stars reflect light, from the sun, to the earth.
• Animals produce natural light too – firefly and anglerfish!
ARTIFICIAL LIGHT
• Light that is human made or generated, is artificial light.
• Candles, kerosene lamps, electric lights, and flashlights are all
artificial light.
WHAT IS LIGHT?
• Light is a form of energy.
• Light travels in waves.
• Light can pass through some things, and not others.
• Light travels very fast (671 million miles/hour).
• Light travels in straight lines until it hits something.
WHY IS LIGHT
COLORED?
• Each electron that jumps back emits one photon of
light; the bigger the jump, the higher the energy.
• The amount of energy (frequency of the wave)
determines color thus a blue photon has more energy
than a red
• Shine all the colors together, you get white light!
LIGHT AS A WAVE
• Light can act like a wave
• A wave has a wavelength, a speed and a frequency.
• All light travels same speed (in vacuum)
• The energy goes up as frequency goes up
• Color depends on frequency
• Wavelength gets shorter as frequency goes up
SPEED OF LIGHT
• Light travels at
300,000,000
meters/second
• It takes 8 minutes for a
light wave (or a photon) to
travel from the sun to the
earth.
Psalms 136: 7
God made the
great lights—
His love endures forever.
8 the sun to govern the day,
His love endures forever.
SPEED OF LIGHT
• We see the moon
because it reflects the
sun's light
• It takes 1 second for
light reflected off the
moon to reach the
earth.
Psalms 136: 9
the moon and
stars to govern the
night; His love endures
forever.