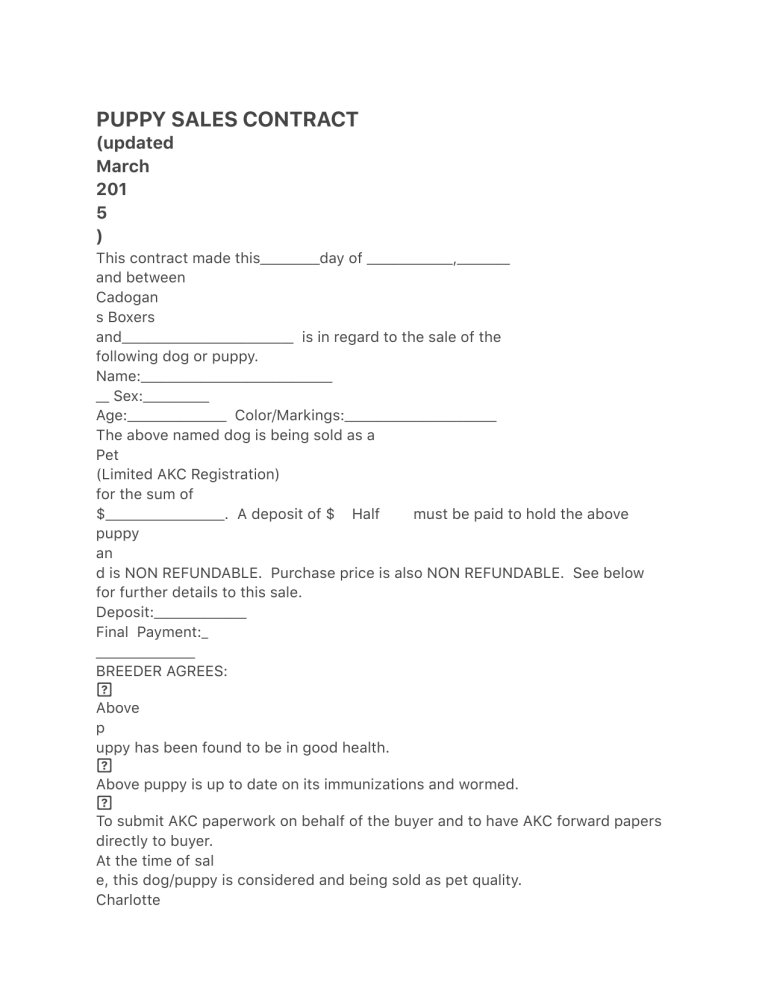 PUPPY SALES CONTRACT
(updated
March
201
5
)
This contract made this_________day of _____________,________
and between
Cadogan
s Boxers
and__________________________ is in regard to the sale of the
following dog or puppy.
Name:_____________________________
__ Sex:__________
Age:_______________ Color/Markings:_______________________
The above named dog is being sold as a
Pet
(Limited AKC Registration)
for the sum of
$__________________. A deposit of $ Half
must be paid to hold the above
puppy
an
d is NON REFUNDABLE. Purchase price is also NON REFUNDABLE. See below
for further details to this sale.
Deposit:______________
Final Payment:_
_______________
BREEDER AGREES:
Above
p
uppy has been found to be in good health.
Above puppy is up to date on its immunizations and wormed.
To submit AKC paperwork on behalf of the buyer and to have AKC forward papers
directly to buyer.
At the time of sal
e, this dog/puppy is considered and being sold as pet quality.
Charlotte
Dunne
, breeder, offers no guarantee that disqualifying faults will not arise at a later date
which would make this puppy unsuitable for the show ring or for breeding.
72 Hour Healt
h Guarantee: (
3
year replacement guarantee)
This puppy is guaranteed to be in good health at the time of delivery.
The buyer agrees to have the puppy inspected by a licensed veterinarian within 72
hours of
pickup (excluding Sundays and Holidays).
If the p
uppy is found to be in unacceptable health, a written statement from the
veterinarian
should be forwarded to the seller and the puppy should be returned within 72
hours (at
buyer's expense) for a replacement.
If at any time in the first 72 hours the buye
r regrets purchasing the puppy the puppy
may be returned to the seller for a refund of the purchase price (minus the non
refundable deposit) as long as the puppy is returned in good health. If the seller
incurs any vet bills due to the condition the puppy
is returned in, those will be
deducted from the refund.
BUYER AGREES:
Buyer understands puppy could live 10+ years and weigh 70+lbs at maturity.
Puppy must be paid in full at the time of pick up.
To have above puppy vet checked within 72 hours of
picku
p
.
That all vet bills are the responsibility of the buyer.