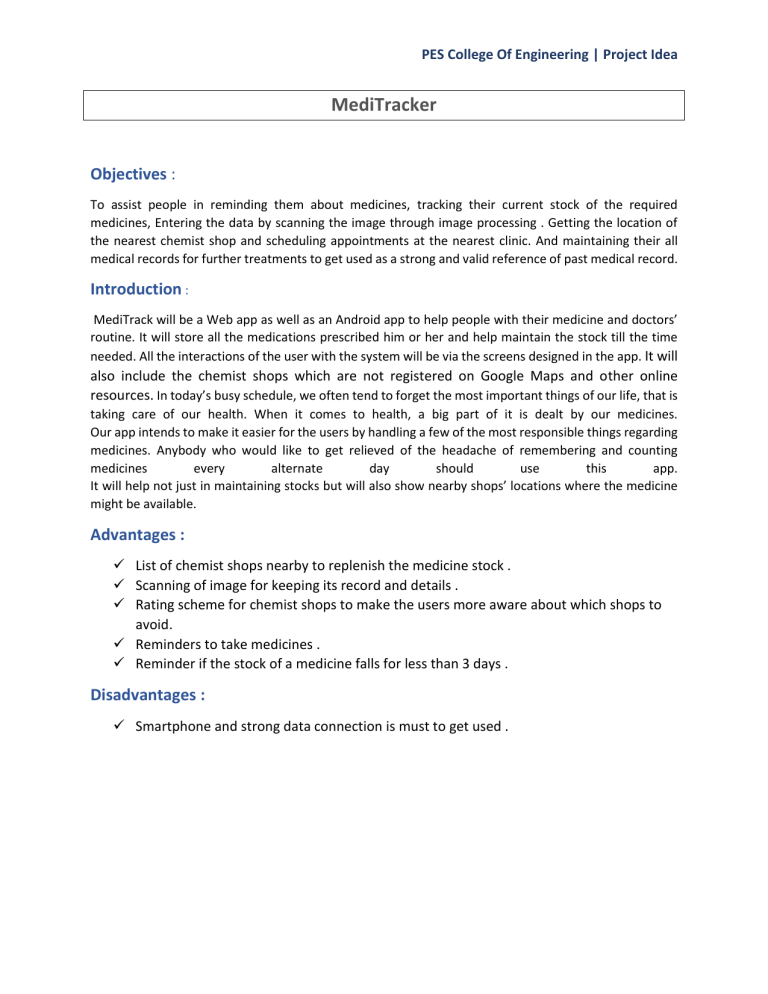 PES College Of Engineering | Project Idea
MediTracker
Objectives :
To assist people in reminding them about medicines, tracking their current stock of the required
medicines, Entering the data by scanning the image through image processing . Getting the location of
the nearest chemist shop and scheduling appointments at the nearest clinic. And maintaining their all
medical records for further treatments to get used as a strong and valid reference of past medical record.
Introduction :
MediTrack will be a Web app as well as an Android app to help people with their medicine and doctors'
routine. It will store all the medications prescribed him or her and help maintain the stock till the time
needed. All the interactions of the user with the system will be via the screens designed in the app. It will
also include the chemist shops which are not registered on Google Maps and other online
resources. In today's busy schedule, we often tend to forget the most important things of our life, that is
taking care of our health. When it comes to health, a big part of it is dealt by our medicines.
Our app intends to make it easier for the users by handling a few of the most responsible things regarding
medicines. Anybody who would like to get relieved of the headache of remembering and counting
medicines
every
alternate
day
should
use
this
app.
It will help not just in maintaining stocks but will also show nearby shops' locations where the medicine
might be available.
Advantages :
 List of chemist shops nearby to replenish the medicine stock .
 Scanning of image for keeping its record and details .
 Rating scheme for chemist shops to make the users more aware about which shops to
avoid.
 Reminders to take medicines .
 Reminder if the stock of a medicine falls for less than 3 days .
Disadvantages :
 Smartphone and strong data connection is must to get used .