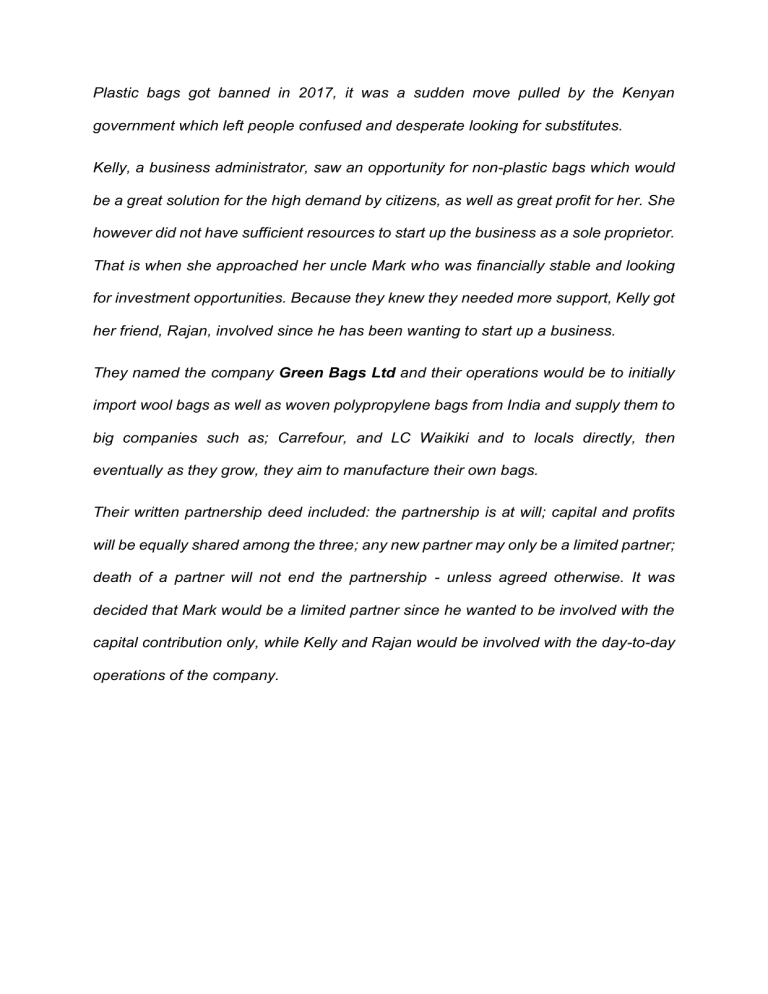 Plastic bags got banned in 2017, it was a sudden move pulled by the Kenyan
government which left people confused and desperate looking for substitutes.
Kelly, a business administrator, saw an opportunity for non-plastic bags which would
be a great solution for the high demand by citizens, as well as great profit for her. She
however did not have sufficient resources to start up the business as a sole proprietor.
That is when she approached her uncle Mark who was financially stable and looking
for investment opportunities. Because they knew they needed more support, Kelly got
her friend, Rajan, involved since he has been wanting to start up a business.
They named the company Green Bags Ltd and their operations would be to initially
import wool bags as well as woven polypropylene bags from India and supply them to
big companies such as; Carrefour, and LC Waikiki and to locals directly, then
eventually as they grow, they aim to manufacture their own bags.
Their written partnership deed included: the partnership is at will; capital and profits
will be equally shared among the three; any new partner may only be a limited partner;
death of a partner will not end the partnership - unless agreed otherwise. It was
decided that Mark would be a limited partner since he wanted to be involved with the
capital contribution only, while Kelly and Rajan would be involved with the day-to-day
operations of the company.