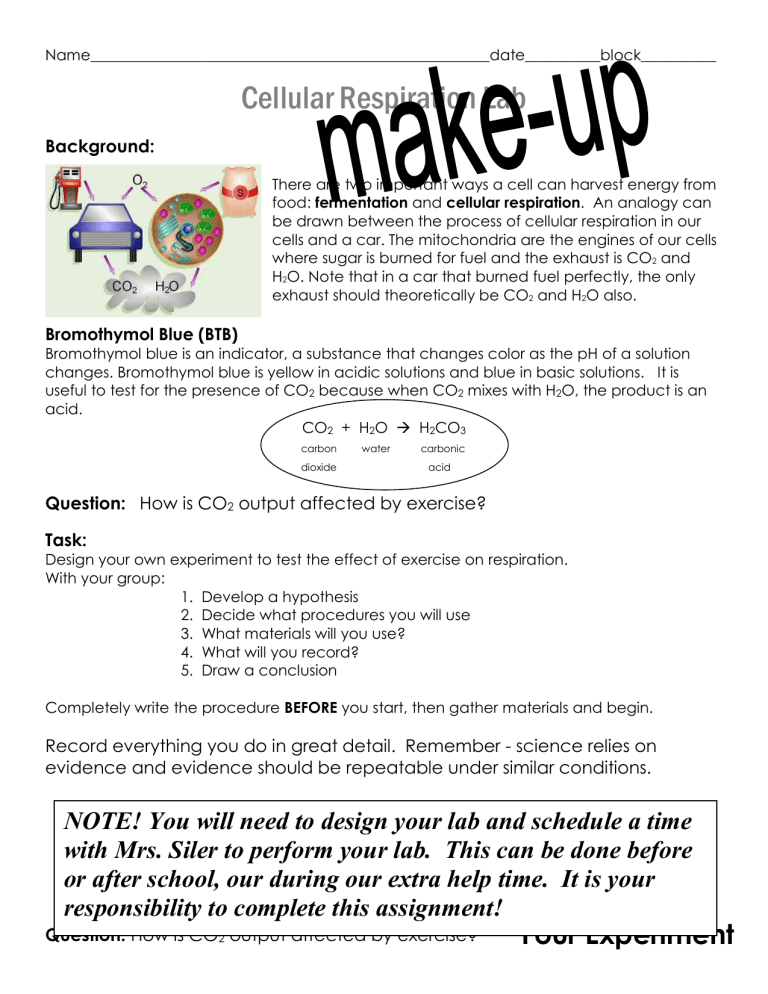 Name_____________________________________________________date__________block__________
Cellular Respiration Lab
Background:
There are two important ways a cell can harvest energy from
food: fermentation and cellular respiration. An analogy can
be drawn between the process of cellular respiration in our
cells and a car. The mitochondria are the engines of our cells
where sugar is burned for fuel and the exhaust is CO2 and
H2O. Note that in a car that burned fuel perfectly, the only
exhaust should theoretically be CO2 and H2O also.
Bromothymol Blue (BTB)
Bromothymol blue is an indicator, a substance that changes color as the pH of a solution
changes. Bromothymol blue is yellow in acidic solutions and blue in basic solutions. It is
useful to test for the presence of CO2 because when CO2 mixes with H2O, the product is an
acid.
CO2 + H2O  H2CO3
carbon
dioxide
water
carbonic
acid
Question: How is CO2 output affected by exercise?
Task:
Design your own experiment to test the effect of exercise on respiration.
With your group:
1. Develop a hypothesis
2. Decide what procedures you will use
3. What materials will you use?
4. What will you record?
5. Draw a conclusion
Completely write the procedure BEFORE you start, then gather materials and begin.
Record everything you do in great detail. Remember - science relies on
evidence and evidence should be repeatable under similar conditions.
NOTE! You will need to design your lab and schedule a time
with Mrs. Siler to perform your lab. This can be done before
or after school, our during our extra help time. It is your
responsibility to complete this assignment!
Question: How is CO2 output affected by exercise?
Your Experiment
Hypothesis: How do you and your partners think that CO2 output will be affected
by exercise?
Procedure: Write a step-by-step procedure for how you will perform your
experiment.
Variables:
Independent
variable:
Dependent
variable:
Control Variables:
(list more than 1)
Materials: List ALL materials you will use to complete your experiment. (See below
for a list of what is available to use)
Are the above sections COMPLETE? If not, GO BACK!
Observations: (Data) Use this space any way you like to record your data.
Conclusion: What did your experiment show?
Materials available for your use:
Flasks
Beakers
Straws
Bromothymol blue (BTB) timers
Goggles
Lab aprons
(others available upon request!)
USE YOUR OWN THOUGHTS, WORDS, BRAINS!!!!!!!!!!!
Discussion:
1. What does your body need in order to exercise?
2. What did you observe about the amount of carbon dioxide the subject
released after exercise?
3. Where is the carbon dioxide coming from?
4. What are the signs that our body is using energy faster?
5. What would happen if our body didn't have food stored?
6. In what organelle is the process of cellular respiration taking place?
7. Do plants perform cellular respiration?