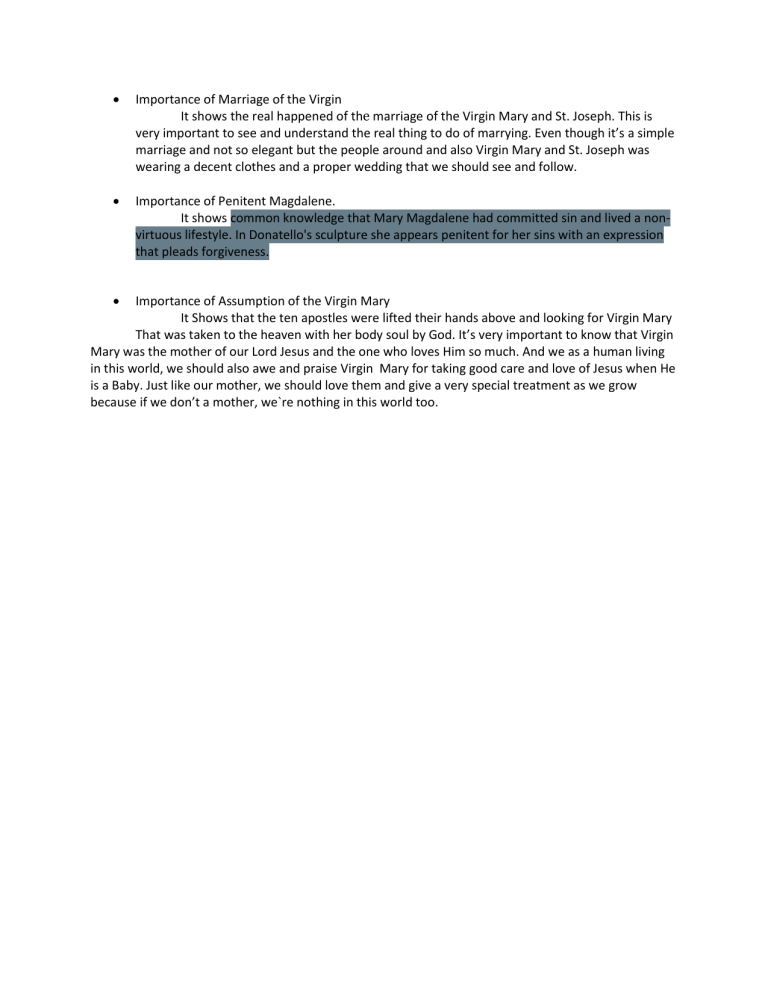 
Importance of Marriage of the Virgin
It shows the real happened of the marriage of the Virgin Mary and St. Joseph. This is
very important to see and understand the real thing to do of marrying. Even though it's a simple
marriage and not so elegant but the people around and also Virgin Mary and St. Joseph was
wearing a decent clothes and a proper wedding that we should see and follow.

Importance of Penitent Magdalene.
It shows common knowledge that Mary Magdalene had committed sin and lived a nonvirtuous lifestyle. In Donatello's sculpture she appears penitent for her sins with an expression
that pleads forgiveness.

Importance of Assumption of the Virgin Mary
It Shows that the ten apostles were lifted their hands above and looking for Virgin Mary
That was taken to the heaven with her body soul by God. It's very important to know that Virgin
Mary was the mother of our Lord Jesus and the one who loves Him so much. And we as a human living
in this world, we should also awe and praise Virgin Mary for taking good care and love of Jesus when He
is a Baby. Just like our mother, we should love them and give a very special treatment as we grow
because if we don't a mother, we`re nothing in this world too.