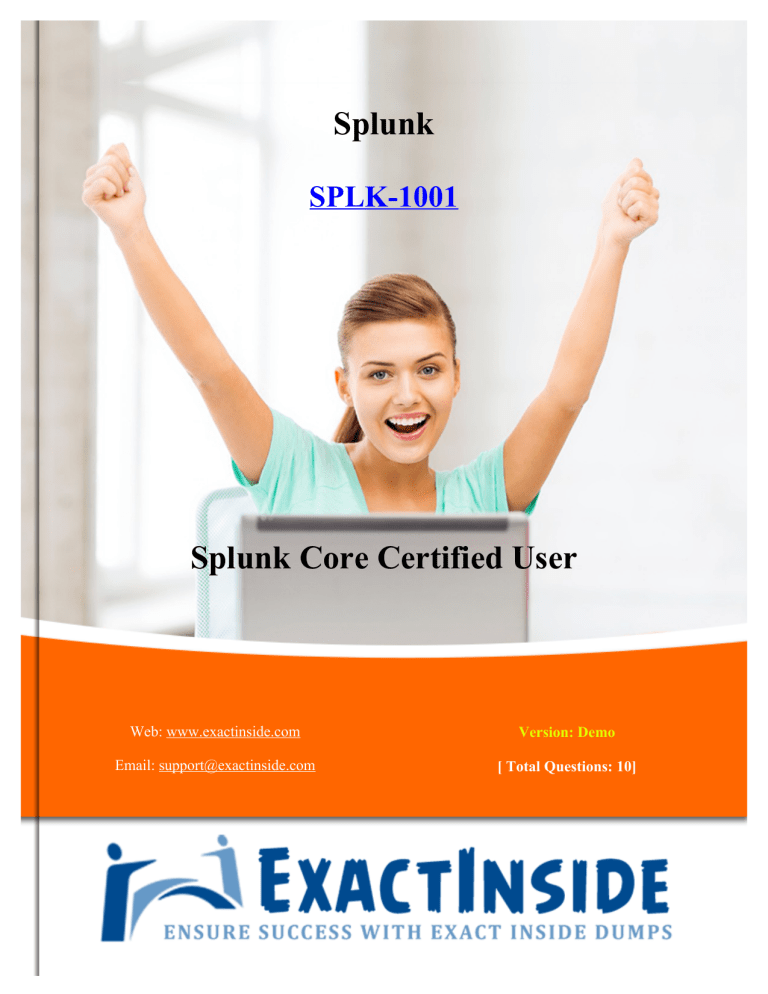 Splunk
SPLK-1001
Splunk Core Certified User
Web: www.exactinside.com
Version: Demo
Email: support@exactinside.com
[ Total Questions: 10]
IMPORTANT NOTICE
Feedback
We have developed quality product and state-of-art service to ensure our customers interest. If you have any
suggestions, please feel free to contact us at feedback@exactinside.com
Support
If you have any questions about our product, please provide the following items:
exam code
screenshot of the question
login id/email
please contact us at support@exactinside.com and our technical experts will provide support within 24 hours.
Copyright
The product of each order has its own encryption code, so you should use it independently. Any unauthorized
changes will inflict legal punishment. We reserve the right of final explanation for this statement.
Exact Questions
Splunk - SPLK-1001
Question #:1
What is the correct syntax to count the number of events containing a vendor_action field?
A. count stats vendor_action
B. count stats (vendor_action)
C. stats count (vendor_action)
D. stats vendor_action (count)
Answer: C
Question #:2
The command shown here does witch of the following: Command: |outputlookup products.csv
A. Writes search results to a file named products.csv
B. Returns the contents of a file named products.csv
Answer: A
Question #:3
By default, how long does Splunk retain a search job?
A. 10 Minutes
B. 15 Minutes
C. 1 Day
D. 7 Days
Answer: A
Question #:4
The default host name used in Inputs general settings can not be changed.
A. False
B. True
Answer: A
Find Everything , Exactly in your Exam
1 of 3
Exact Questions
Splunk - SPLK-1001
Question #:5
What is the primary use for the rare command1?
A. To sort field values in descending order
B. To return only fields containing five or fewer values
C. To find the least common values of a field in a dataset
D. To find the fields with the fewest number of values across a dataset
Answer: C
Question #:6
What can be configured using the Edit Job Settings menu?
A. Export the results to CSV format
B. Add the Job results to a dashboard
C. Schedule the Job to re-run in 10 minutes
D. Change Job Lifetime from 10 minutes to 7 days.
Answer: D
Question #:7
Fields are searchable name and value pairings that differentiates one event from another.
A. False
B. True
Answer: B
Question #:8
Which Boolean operator is implied between search terms, unless otherwise specified?
A. OR
B. AND
Find Everything , Exactly in your Exam
2 of 3
Exact Questions
Splunk - SPLK-1001
C. NOT
D. NAND
Answer: B
Question #:9
Splunk Components:
Which of the following are responsible for parsing incoming data and storing data on disc?
A. forwarders
B. indexers
C. search heads
Answer: B
Question #:10
Zoom Out and Zoom to Selection re-executes the search.
A. No
B. Yes
Answer: B
Find Everything , Exactly in your Exam
3 of 3
About exactinside.com
exactinside.com was founded in 2007. We provide latest & high quality IT / Business Certification Training Exam
Questions, Study Guides, Practice Tests.
We help you pass any IT / Business Certification Exams with 100% Pass Guaranteed or Full Refund. Especially
Cisco, CompTIA, Citrix, EMC, HP, Oracle, VMware, Juniper, Check Point, LPI, Nortel, EXIN and so on.
View list of all certification exams: All vendors
We prepare state-of-the art practice tests for certification exams. You can reach us at any of the email addresses listed
below.
Sales: sales@exactinside.com
Feedback: feedback@exactinside.com
Support: support@exactinside.com
Any problems about IT certification or our products, You can write us back and we will get back to you within 24
hours.