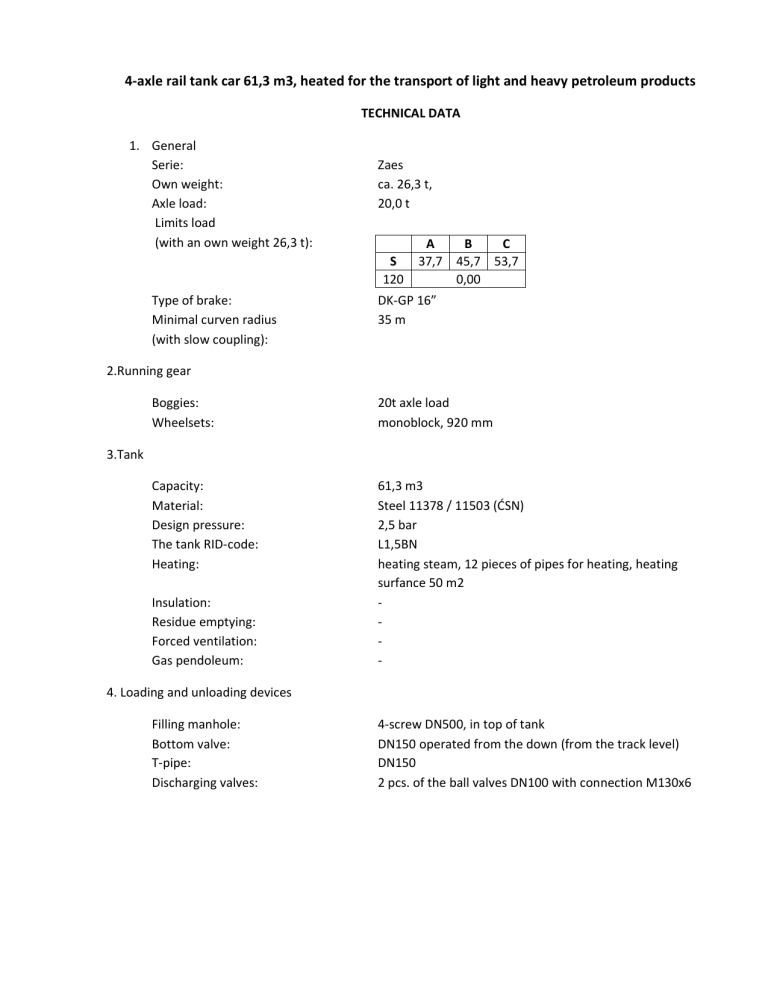 4-axle rail tank car 61,3 m3, heated for the transport of light and heavy petroleum products
TECHNICAL DATA
1. General
Serie:
Own weight:
Axle load:
Limits load
(with an own weight 26,3 t):
Zaes
ca. 26,3 t,
20,0 t
S
120
Type of brake:
Minimal curven radius
(with slow coupling):
A
B
C
37,7 45,7 53,7
0,00
DK-GP 16"
35 m
2.Running gear
Boggies:
Wheelsets:
20t axle load
monoblock, 920 mm
Capacity:
Material:
Design pressure:
The tank RID-code:
Heating:
61,3 m3
Steel 11378 / 11503 (ĆSN)
2,5 bar
L1,5BN
heating steam, 12 pieces of pipes for heating, heating
surfance 50 m2
-
3.Tank
Insulation:
Residue emptying:
Forced ventilation:
Gas pendoleum:
4. Loading and unloading devices
Filling manhole:
Bottom valve:
T-pipe:
Discharging valves:
4-screw DN500, in top of tank
DN150 operated from the down (from the track level)
DN150
2 pcs. of the ball valves DN100 with connection M130x6
Note:
1. We have available 4-axle tank wagons for the transport of light and heavy petroleum
products with the volume from 61,3 m3 to up to 85 m3.
2. All tank wagons are suitable for the transport of Fuel Oil No. 6 (as per received
ecoPETROL specs)
3. Zaes tank wagons were manufactured in years 1980 – 1990, some of them later
4. Our tank wagons are as per DOT-111 specifications
5. Low center of gravity of the tanks. Calculation for the center of gravity to be made
within repair and modernization works.
6. DOT-117 is in force from the year 2015. After the repair and modernization tank
wagons can meet DOT-117.
7. Technical and commercial issues to be clarified within the inspection and selection
of the tank wagons.