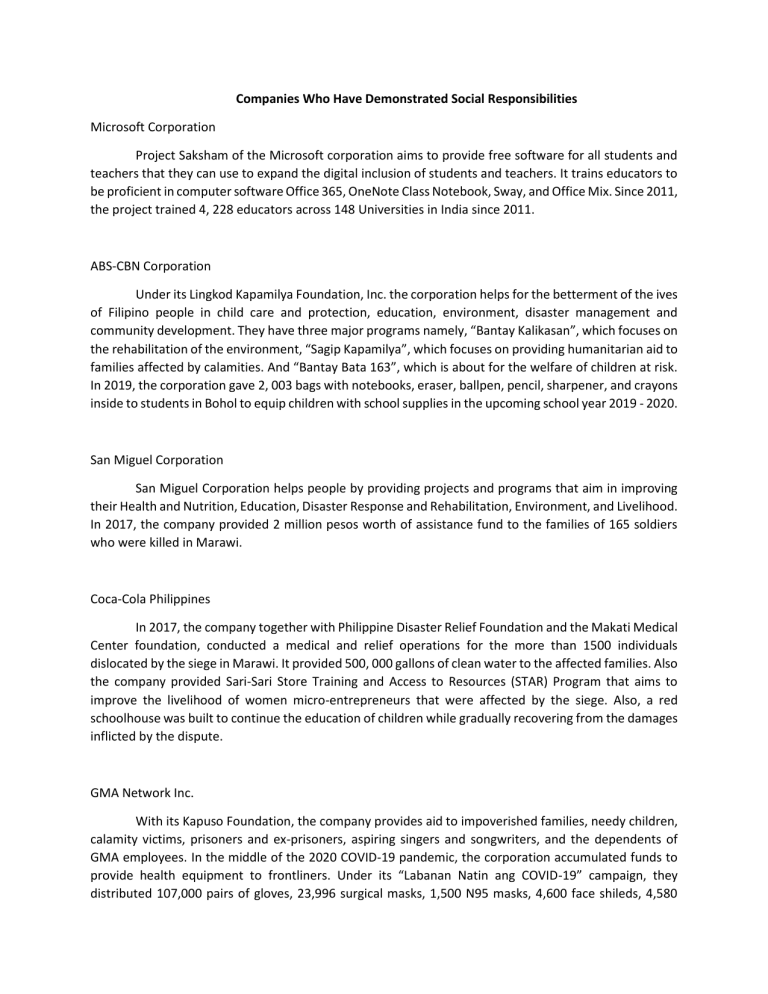 Companies Who Have Demonstrated Social Responsibilities
Microsoft Corporation
Project Saksham of the Microsoft corporation aims to provide free software for all students and
teachers that they can use to expand the digital inclusion of students and teachers. It trains educators to
be proficient in computer software Office 365, OneNote Class Notebook, Sway, and Office Mix. Since 2011,
the project trained 4, 228 educators across 148 Universities in India since 2011.
ABS-CBN Corporation
Under its Lingkod Kapamilya Foundation, Inc. the corporation helps for the betterment of the ives
of Filipino people in child care and protection, education, environment, disaster management and
community development. They have three major programs namely, "Bantay Kalikasan", which focuses on
the rehabilitation of the environment, "Sagip Kapamilya", which focuses on providing humanitarian aid to
families affected by calamities. And "Bantay Bata 163", which is about for the welfare of children at risk.
In 2019, the corporation gave 2, 003 bags with notebooks, eraser, ballpen, pencil, sharpener, and crayons
inside to students in Bohol to equip children with school supplies in the upcoming school year 2019 - 2020.
San Miguel Corporation
San Miguel Corporation helps people by providing projects and programs that aim in improving
their Health and Nutrition, Education, Disaster Response and Rehabilitation, Environment, and Livelihood.
In 2017, the company provided 2 million pesos worth of assistance fund to the families of 165 soldiers
who were killed in Marawi.
Coca-Cola Philippines
In 2017, the company together with Philippine Disaster Relief Foundation and the Makati Medical
Center foundation, conducted a medical and relief operations for the more than 1500 individuals
dislocated by the siege in Marawi. It provided 500, 000 gallons of clean water to the affected families. Also
the company provided Sari-Sari Store Training and Access to Resources (STAR) Program that aims to
improve the livelihood of women micro-entrepreneurs that were affected by the siege. Also, a red
schoolhouse was built to continue the education of children while gradually recovering from the damages
inflicted by the dispute.
GMA Network Inc.
With its Kapuso Foundation, the company provides aid to impoverished families, needy children,
calamity victims, prisoners and ex-prisoners, aspiring singers and songwriters, and the dependents of
GMA employees. In the middle of the 2020 COVID-19 pandemic, the corporation accumulated funds to
provide health equipment to frontliners. Under its "Labanan Natin ang COVID-19" campaign, they
distributed 107,000 pairs of gloves, 23,996 surgical masks, 1,500 N95 masks, 4,600 face shileds, 4,580
500ml bottles of rubbing alcohol, 4,400 pieces of germicidal soap, and 5,600 sets of personal protective
equipment donated to public hospitals.