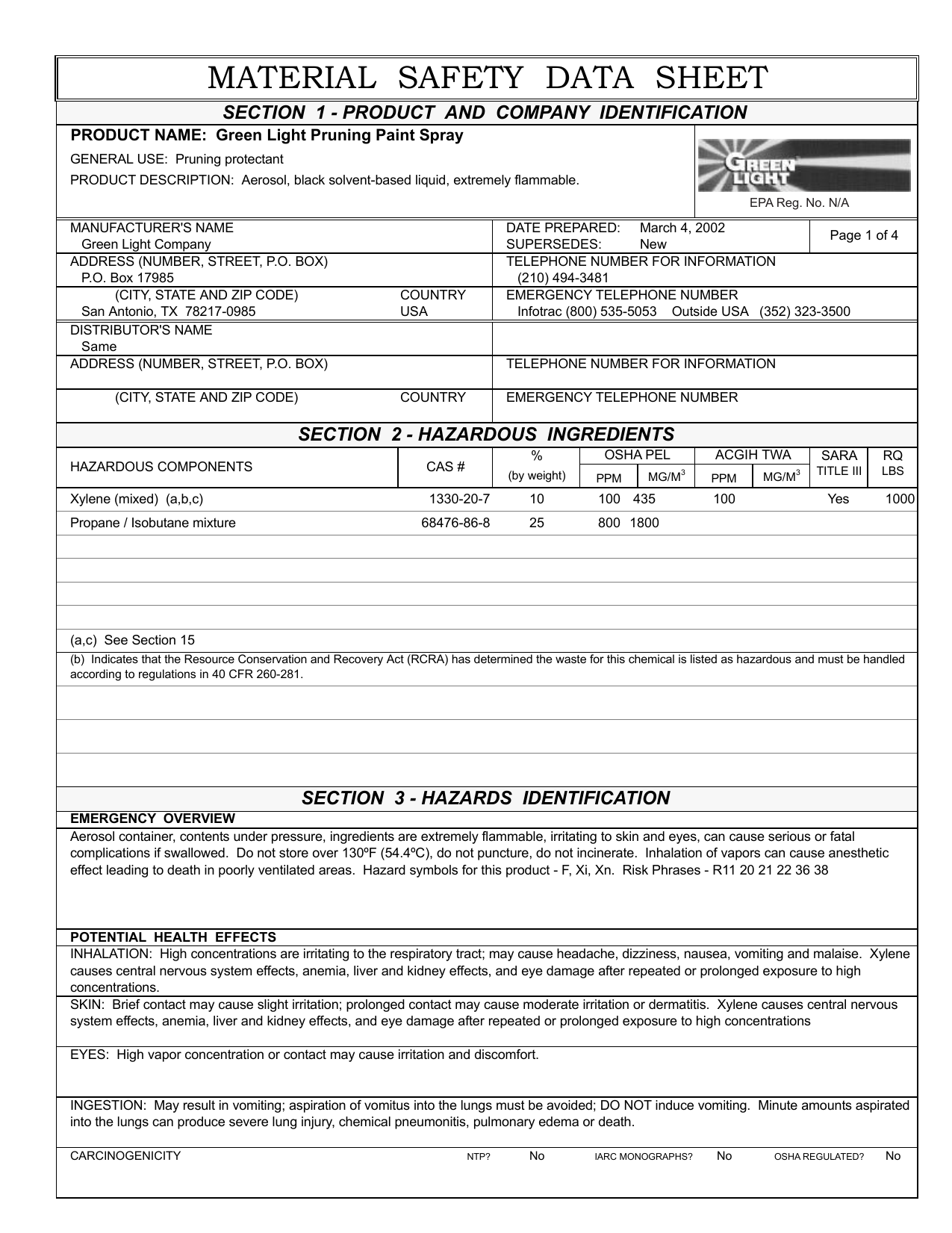 MATERIAL SAFETY DATA SHEET
SECTION 1 - PRODUCT AND COMPANY IDENTIFICATION
PRODUCT NAME: Green Light Pruning Paint Spray
GENERAL USE: Pruning protectant
PRODUCT DESCRIPTION: Aerosol, black solvent-based liquid, extremely flammable.
EPA Reg. No. N/A
MANUFACTURER'S NAME
Green Light Company
ADDRESS (NUMBER, STREET, P.O. BOX)
P.O. Box 17985
(CITY, STATE AND ZIP CODE)
San Antonio, TX 78217-0985
DISTRIBUTOR'S NAME
Same
ADDRESS (NUMBER, STREET, P.O. BOX)
(CITY, STATE AND ZIP CODE)
DATE PREPARED: March 4, 2002
Page 1 of 4
SUPERSEDES:
New
TELEPHONE NUMBER FOR INFORMATION
(210) 494-3481
EMERGENCY TELEPHONE NUMBER
Infotrac (800) 535-5053 Outside USA (352) 323-3500
COUNTRY
USA
TELEPHONE NUMBER FOR INFORMATION
COUNTRY
EMERGENCY TELEPHONE NUMBER
SECTION 2 - HAZARDOUS INGREDIENTS
%
OSHA PEL
HAZARDOUS COMPONENTS
CAS #
Xylene (mixed) (a,b,c)
1330-20-7
10
100 435
68476-86-8
25
800 1800
Propane / Isobutane mixture
(by weight)
PPM
MG/M
ACGIH TWA
3
PPM
100
MG/M
3
SARA
RQ
TITLE III
LBS
Yes
1000
(a,c) See Section 15
(b) Indicates that the Resource Conservation and Recovery Act (RCRA) has determined the waste for this chemical is listed as hazardous and must be handled
according to regulations in 40 CFR 260-281.
SECTION 3 - HAZARDS IDENTIFICATION
EMERGENCY OVERVIEW
Aerosol container, contents under pressure, ingredients are extremely flammable, irritating to skin and eyes, can cause serious or fatal
complications if swallowed. Do not store over 130ºF (54.4ºC), do not puncture, do not incinerate. Inhalation of vapors can cause anesthetic
effect leading to death in poorly ventilated areas. Hazard symbols for this product - F, Xi, Xn. Risk Phrases - R11 20 21 22 36 38
POTENTIAL HEALTH EFFECTS
INHALATION: High concentrations are irritating to the respiratory tract; may cause headache, dizziness, nausea, vomiting and malaise. Xylene
causes central nervous system effects, anemia, liver and kidney effects, and eye damage after repeated or prolonged exposure to high
concentrations.
SKIN: Brief contact may cause slight irritation; prolonged contact may cause moderate irritation or dermatitis. Xylene causes central nervous
system effects, anemia, liver and kidney effects, and eye damage after repeated or prolonged exposure to high concentrations
EYES: High vapor concentration or contact may cause irritation and discomfort.
INGESTION: May result in vomiting; aspiration of vomitus into the lungs must be avoided; DO NOT induce vomiting. Minute amounts aspirated
into the lungs can produce severe lung injury, chemical pneumonitis, pulmonary edema or death.
CARCINOGENICITY
NTP?
No
IARC MONOGRAPHS?
No
OSHA REGULATED?
No
MATERIAL SAFETY DATA SHEET
PRODUCT NAME: Green Light Pruning Paint Spray
March 4, 2002
Page 2 of 4
SECTION 4 - FIRST AID MEASURES
INHALATION: Remove affected person to fresh air; provide oxygen if breathing is difficult; if affected person is not breathing, administer CPR
and seek emergency medical attention.
SKIN: Remove contaminated clothing; wash affected area with soap and water; launder contaminated clothing before reuse; if irritation persists,
seek medical attention.
EYES: Remove contact lenses. Flush eyes with clear running water for 15 minutes while holding eyelids open; if irritation persists, seek medical
attention.
INGESTION: DO NOT induce vomiting; if vomiting occurs spontaneously, keep head below hips to prevent aspiration of liquid into lungs; seek
immediate medical attention. Vomiting may be induced only under the supervision of a physician.
SECTION 5 - FIRE FIGHTING MEASURES
FLAMMABLE LIMITS
FLASH POINT (METHOD USED)
LEL: 2.2%
UEL: 9.5%
IA
AUTOIGNITION TEMPERATURE:
Not determined
NFPA CLASS:
- 155° F ( - 104º C) TCC
GENERAL HAZARDS: Product is considered flammable. Products of combustion include compounds of carbon, hydrogen and oxygen,
including carbon monoxide.
EXTINGUISHING MEDIA
Carbon dioxide, water fog, dry chemical, chemical foam
FIRE FIGHTING PROCEDURES
Firefighters must wear full facepiece self - contained breathing apparatus in positive pressure mode. Do not use solid stream of water since
stream will scatter and spread fire. Fine water spray can be used to keep fire - exposed containers cool. Caution - material is flammable!
UNUSUAL FIRE AND EXPLOSION HAZARDS
Closed containers can explode due to buildup of pressure when exposed to extreme heat; do not use direct stream of water on pool fires as
product may reignite on water surface. Contents under pressure. Do not use or store near heat or ignition source.
HAZARDOUS COMBUSTION PRODUCTS
Smoke, fumes, oxides of carbon
SECTION 6 - ENVIRONMENTAL RELEASE MEASURES
STEPS TO BE TAKEN IN CASE MATERIAL IS RELEASED OR SPILLED: CAUTION - EXTREMELY FLAMMABLE - Evacuate and ventilate
area; confine and absorb into absorbent; place material into approved containers for disposal; for spills in excess of allowable limits (RQ) notify
the National Response Center (800) 424 - 8802; refer to CERCLA 40 CFR 302 and SARA Title III, Section 313 40 CFR 372 for detailed
instructions concerning reporting requirements. Do not discharge into lakes, ponds, streams or public waters.
SECTION 7 - HANDLING AND STORAGE
PRECAUTIONS TO BE TAKEN IN HANDLING AND STORAGE: Keep container closed when not in use; protect containers from abuse;
protect from extreme temperatures. CAUTION - EXTREMELY FLAMMABLE - keep away from all sources of ignition. "Empty" containers may
contain residue which may form explosive vapors. Do not puncture container. Do not attempt to refill container. Maintain well ventilated work
areas to minimize exposure when handling this material.
SECTION 8 - EXPOSURE CONTROLS / PERSONAL PROTECTION
ENGINEERING CONTROLS
The use of local exhaust ventilation is recommended to control emissions near the source. Provide mechanical ventilation of confined spaces.
Use explosion-proof ventilation equipment. See Section 2 for Component Exposure Guidelines.
PERSONAL PROTECTION:
RESPIRATORY PROTECTION (SPECIFY TYPE): None required while threshold limits (Section 2) are kept below maximum allowable
concentrations; if TWA exceeds limits, NIOSH approved respirator must be worn. Refer to 29 CFR 1910.134 or European Standard EN 149 for
complete regulations.
PROTECTIVE GLOVES: Neoprene or rubber gloves with cuffs.
EYE PROTECTION: Protective eyeglasses or chemical safety goggles. Refer to 29 CFR 1910.133 or European Standard EN166.
OTHER PROTECTIVE CLOTHING OR EQUIPMENT: Safety eyebath nearby
WORK / HYGIENIC PRACTICES: Practice safe workplace habits. Minimize body contact with this, as well as all chemicals in general.
MATERIAL SAFETY DATA SHEET
PRODUCT NAME: Green Light Pruning Paint Spray
March 4, 2002
Page 3 of 4
SECTION 9 - PHYSICAL AND CHEMICAL PROPERTIES
VAPOR PRESSURE (MM Hg)
123 mm Hg @ 20 ° C
SPECIFIC GRAVITY (WATER = 1)
Not specified
SOLUBILITY IN WATER
Negligible
pH
Not applicable
BOILING POINT
-44° F (-42° C) (propane)
VISCOSITY
Not specified
VAPOR DENSITY (AIR = 1)
>1
EVAPORATION RATE (WATER = 1)
<1
FREEZING POINT
Not determined
APPEARANCE AND ODOR
Black liquid, characteristic hydrocarbon odor
PHYSICAL STATE
Liquid
VOLATILE ORGANIC COMPOUNDS (Total VOC's)
35% (propellant and solvent)
SECTION 10 - STABILITY AND REACTIVITY
STABILITY
CONDITIONS TO AVOID: Extreme temperatures, open flames, sparks
UNSTABLE:
STABLE: XXX
INCOMPATIBILITY (MATERIALS TO AVOID): Strong oxidizers, strong acids
HAZARDOUS DECOMPOSITION OR BYPRODUCTS: Decomposition will not occur if handled and stored properly. In case of a fire, oxides of
carbon, hydrocarbons, fumes, and smoke may be produced.
HAZARDOUS POLYMERIZATION
CONDITIONS TO AVOID: None
MAY OCCUR:
WILL NOT OCCUR: XXX
SECTION 11 - TOXICOLOGICAL INFORMATION
%
CAS #
Xylene (mixed) (a,b,c)
10
1330-20-7
Propane / Isobutane mixture
25
68476-86-8
Hazardous Ingredients
LD50 of Ingredient
(Specify Species and Route)
LC50 of Ingredient
(Specify Species)
4300 mg / kg
Oral - rat
Not determined
5000 ppm / 4H
Inhalation - rat
Not determined
SECTION 12 - ECOLOGICAL INFORMATION
No data are available on the adverse effects of this material on the environment. Neither COD nor BOD data are available. Based on the
chemical composition of this product it is assumed that the mixture can be treated in an acclimatized biological waste treatment plant system in
limited quantities. However, such treatment should be evaluated and approved for each specific biological system. None of the ingredients in
this mixture are classified as a Marine Pollutant.
SECTION 13 - DISPOSAL CONSIDERATIONS
WASTE DISPOSAL METHOD: Dispose of in accordance with Local, State, and Federal Regulations. This product may produce hazardous
vapors or fumes in a closed disposal container creating a dangerous environment. Refer to "40 CFR Protection of Environment Parts 260 299" for complete waste disposal regulations. Consult your local, state, or Federal Environmental Protection Agency before disposing of any
chemicals. Do not flush to sanitary sewer or waterway.
SECTION 14 - TRANSPORT INFORMATION
PROPER SHIPPING NAME: Aerosols
DOT HAZARD CLASS / Pack Group: 2.1
IATA HAZARD CLASS / Pack Group: 2.1
REFERENCE: 49 CFR 173.115, .306
IMDG HAZARD CLASS: 2.1
UN / NA IDENTIFICATION NUMBER: UN 1950
RID/ADR Dangerous Goods Code: 2.1
LABEL: FLAMMABLE GAS
UN TDG Class / Pack Group: 2.1
HAZARD SYMBOLS: F
Note: Transportation information provided is for reference only. Client is urged to consult CFR 49 parts 100 - 177, IMDG, IATA, EC, United
Nations TDG, and WHMIS (Canada) TDG information manuals for detailed regulations and exceptions covering specific container sizes,
packaging materials and methods of shipping.
MATERIAL SAFETY DATA SHEET
PRODUCT NAME: Green Light Pruning Paint Spray
March 4, 2002
Page 4 of 4
SECTION 15 - REGULATORY INFORMATION
TSCA (Toxic Substance Control Act)
Components of this product are listed on the TSCA Inventory.
SARA TITLE III (Superfund Amendments and Reauthorization Act)
311/312 Hazard Categories
Acute health, delayed health, flammable
313 Reportable Ingredients:
(a) A "Yes" in the SARA TITLE III column in Section 2 indicates a toxic chemical subject to annual reporting requirements of Section 313 of
the Emergency Planning and Community Right-To-Know Act of 1986 and of 40 CFR 372.
CERCLA (Comprehensive Response Compensation and Liability Act)
(c) The Comprehensive Environmental Response, Compensation, and Liability Act (CERCLA) has notification requirements for releases or
spills to the environment of the Reportable Quantity (RQ for this mixture = 10,000 lbs) or greater amounts, according to 40 CFR 302.
CPR (Canadian Controlled Products Regulations)
This product has been classified in accordance with the hazard criteria of the Controlled Products Regulations and the MSDS contains all the
information required by the Controlled Products Regulations.
IDL (Canadian Ingredient Disclosure List)
Components of this product identified by CAS number and listed on the Canadian Ingredient Disclosure List are shown in Section 2.
DSL / NDSL (Canadian Domestic Substances List / Non-Domestic Substances List)
Components of this product identified by CAS number are listed on the DSL or NDSL and may or may not be listed in Section 2 of this
document. Only ingredients classified as "hazardous" are listed in Section 2 unless otherwise indicated.
EINECS (European Inventory of Existing Commercial Chemical Substances)
Components of this product identified by CAS numbers are on the European Inventory of Existing Commercial Chemical Substances.
EC Risk Phrases
R20 Harmful by inhalation.
R21 Harmful in contact with skin.
R22 Harmful if swallowed
R36 Irritating to eyes.
EC Safety Phrases
S2 Keep out of the reach of children.
S15 Keep away from heat.
S16 Keep away from sources of ignition.
S26 In case of contact with eyes, rinse immediately with plenty of
water and seek medical advice.
SECTION 16 - OTHER INFORMATION
No specific notes.
HEALTH
FLAMMABILITY
REACTIVITY
HMIS HAZARD RATINGS
PERSONAL PROTECTIVE EQUIPMENT
REVISION SUMMARY:
This MSDS has been revised in the following
sections:
MSDS Prepared by:
2
4
0
0 = INSIGNIFICANT
1 = SLIGHT
2 = MODERATE
B
Safety Glasses, Gloves
3 = HIGH
4 = EXTREME
No revisions available
Comprehensive Data Base, Inc.
P.O. Box 5604
Lakeland, FL 33807 USA
(863) 644 - 3298
www.compdatabase.com
The information contained herein is believed to be accurate but is not warranted to be so. Data and calculations are based on information furnished by the
manufacturer of the product and manufacturers of the components of the product. Users are advised to confirm in advance of need that information is current,
applicable and suited to the circumstances of use. Vendor assumes no responsibility for injury to vendee or third persons proximately caused by the material if
reasonable safety procedures are not adhered to as stipulated in the data sheet. Furthermore, vendor assumes no responsibility for injury caused by abnormal use
of this material even if reasonable safety procedures are followed. Any questions regarding this product should be directed to the manufacturer of the product as
described in Section 1.