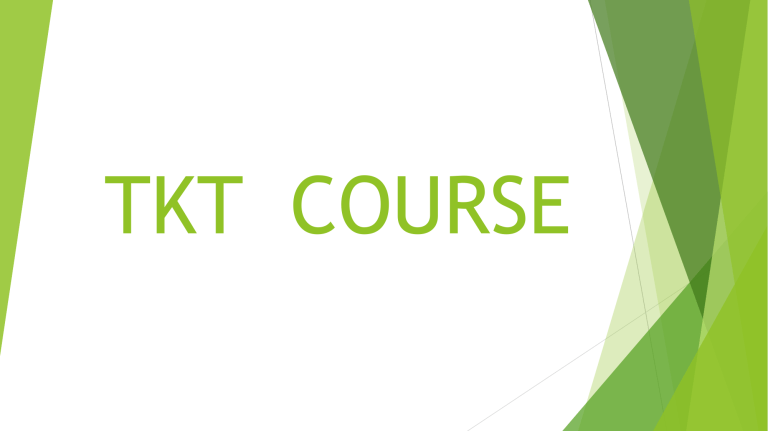 TKT COURSE
MODULES:
 MODULE
1 : LANGUAGE AND BACKGROUND TO
LANGUAGE LEARNING AND TEACHING.
 MODULE
2: LESSON PLANNING AND USE OF RESOURCES
FOR LANGUAGE TEACHING.
 MODULE
3: MANAGING THE TEACHING AND LEARNING
PROCESS.
TYPES OF TASKS:
1-
MULTIPLE CHOICE TASKS.
2- ODD ONE OUT TASKS.
3- SEQUENCING TASKS.
4- MATCHING TASKS.
WHAT IS LANGUAGE?
GRAMMAR
LEXIS
PHONOLOGY
FUNCTIONS
WHAT THREE THINGS NEED TO TAKE PLACE
FOR SUCCESSFU LANGUAGE LEARNING?
EXPOSURE
INTERACTION
FOCUS
ON FORM
WHAT IS GRAMMAR?
 IT
IS HOW WE COMBINE, ORGANISE, AND CHANGE
PARTS OF THE WORDS, WORDS AND GROUPS OF WORDS
TO MAKE MEANING.
 NINE
PARTS OF THE SPEECH OR WORD CLASS: THEY
DESCRIBE HOW WORDS BEHAVE IN A SENTENCE, HOW
THEY OPERATE AND COMBINE GRAMMATICALLY WITH
OTHER WORDS.
THE 9 PARTS OF THE SPEECH
 NOUNS
 PRONOUNS
 VERBS
 ADJECTIVES
 ADVERBS
 DETERMINERS/ARTICLES
 PREPOSITIONS
 CONJUCTIONS/CONNECTORS
 INTERJECTIONS/EXCLAMATIONS
NOUNS
 THEIR
FUNCTION IS TO NAME PEOPLE, PLACES,
THINGS, QUALITIES, IDEAS, OR ACTIVITIES TO ACT AS
THE SUBJECT/OBJECT OF THE VERB.
 SUBCATEGORIES:
COUNTABLE, UNCOUNTABLE,
PROPER, COMMON, ABSTRACT AND COLLECTIVE.
COUNTABLE AND UNCOUNTABLE
 COUNTABLE:
IT HAS BOTH SINGULAR AND PLURAL FORM,
E.G. BOOK-BOOKS, CITY-CITIES.
 UNCOUNTABLE: DOES NOT HAVE A PLURAL FORM, E.G.
INFORMATION, ADVICE.
 PLURAL: MORE THAN ONE PERSON, PLACE OR THING AND
CAN BE REGULAR OR IRRUGULAR, E.G. BOYS, WOMEN.
PROPER AND COMMON
 PROPER:
THE NAME OF A PERSON OR PLACE, E.G.
ROBERT, LONDON.
 COMMON: THIS IS THE NAME OF A PARTICULAR PERSON,
PLACE OR THING, E.G. TABLE. BOOK, CHAIR.
ABSTRACT AND COLLECTIVE
 ABSTRACT:
IT REFERS TO INTANGIBLE THINGS LIKE
FEELINGS, IDEALS, CONCEPTS AND QUALITIES, E.G.
LOVE, FRIENDSHIP, FEAR, LIFE.
 COLLECTIVE: THIS IS A NOUN FOR A GROUP OF PEOPLE
OR THINGS, E.G. THE POLICE, THE GOVERNMENT, STAFF,
TEAM.
PRONOUNS
A
WORD THAT WE USE INSTEAD OF A NOUN, TO REPLACE OR
REFER TO A NOUN OR NOUN PHRASE MENTIONED EARLIER OR
ABOUT TO BE MENTIONED.
 SUBCATEGORIES:
PERSONAL, POSSESSIVE, RELATIVE, REFLEXIVE,
OBJECT, DEMONSTRATIVE.
DEMONSTRATIVE AND RELATIVE
 DEMONSTRATIVE:
THIS IS USED INSTEAD OF A NOUN TO
SHOW SOMETHING OR TO POINT SOMETHING: THIS,
THAT, THESE AND THOSE ARE DEMONSTRATIVE
PRONOUNS.
 RELATIVE: INTRODUCES A RELATIVE CLAUSE: WHO,
WHICH, THAT , WHOSE , WHOM ARE RELATIVE
PRONOUNS, E.G. THE BOOK WHICH I AM READING IS
INTERESTING.
VERBS
A
WORD USED TO SHOW AN ACTION, STATE, EVENT OR PROCESS.
 SUBCATEGORIES:
AUXILIARY, BASE FORM, INFINITIVE FORM,
IRREGULAR, MODAL, MULTI WORD, PHRASAL, REGULAR,
REPORTING.
AUXILIAR, INFINITIVE AND BASE FORM.
 AUXILIARY:
IT IS A VERB USED WITH OTHER VERBS, TO MAKE
QUESTIONS, NEGATIVE TENSES, ETC. E.G. BE, DO, HAVE.
 INFINITIVE
FORM: THIS IS THE BASE FORM OF A VERB WITH
"TO". IT IS USED AFTER ANOTHER VERB, AFTER AN ADJECTIVE
OR NOUN, OR AS THE SUBJECT OR OBJECT OF A SENTENCE.
 BASE
FORM: IT IS THE INFINITIVE FORM OF A VERB WITHOUT
"TO".
REGULAR AND IRREGULAR
 REGULAR:
THEY CHANGE THEIR FORM BY ADDING "ED" IN THE
PAST SIMPLE AND PAST PARTICIPLE. E.G. WALK-WAKED.
 IRREGULAR:
THEY DO NOT FOLLOW THE SAME PATTERN AS
REGULAR VERBS. EACH IRREGULAR VERBS HAS ITS OWN WAY OR
FORMING THE PAST SIMPLE AND PAST PARTICIPLE.
E.G. GO-WENT-GONE.
MODAL AND REPORTING.
 MODAL
VERBS: IT IS A VERB USED WITH OTHER VERBS TO SHOW
IDEAS SUCH AS ABILITY OR OBLIGATION OR POSSIBILITY. E.G.
CAN, MUST, NEED, WILL, SHOULD.
 REPORTING
VERBS: VERBS SUCH AS TELL, ADVISE, SUGGEST,
USED IN REPORTED SPEECH TO REPORT WHAT SOMEONE HAS
SAID. E.G. JANE ADVISED JOHN TO STUDY HARDER.
MULTIWORD VERB/ PHRASAL VERB, AND
TRANSITIVE VERBS
 MULTIWORD/
PHRASAL VERB: THIS IS MADE UP OF A VERB AND
ONE PARTICLES (ADVERBS AND OR PREPOSITIONS). THE
MEANING OF A MULTIWORD VERB MAY HAVE MORE THAN ONE
MEANING, E.G. GET YOUR COAT ON AND THEN WE CAN LEAVE
(GET ON= WEAR). HOW ARE YOU GETTING ON WITH THAT JOB?
(GET ON= PROGRESSING).
 TRANSITIVE:
A VERB WHICH TAKES A DIRECT OBJECT, E.G. SHE
WROTE A LETTER.
STATIVE VERBS

STATIVE: VERBS THAT ARE NOT USUALLY USED IN THE CONTINUOUS FORM, EVEN WHEN WE ARE TALKING ABOUT
TEMPORARY SITUATIONS OR STATES.
ADJECTIVES
 THEY
DESCRIBE OR GIVE MORE INFORMATION ABOUT A NOUN OR
PRONOUN.
 SUBCATEGORIES:
COMPARATIVE ADJECTIVES, DEMONSTRATIVE
ADJECTIVES, ING/ED ADJECTIVES, POSSESSIVE ADJECTIVE,
SUPERLATIVE ADJECTIVE.
ADVERB
 AN
ADVERB DESCRIBES OR GIVES MORE INFORMATION
ABOUT HOW, WHEN,WHERE, HOW MUCH, HOW OFTEN
OR HOW WELL, SOMETHING IS DONE.
DETERMINERS
A
DETERMINER IS USED TO MAKE CLEAR WHICH NOUN
YOU ARE TALKING ABOUT, OR TO GIVE INFORMATION
ABOUT QUANTITY.
PREPOSITIONS
A
WORD USED BEFORE A NOUN, PRONOUN OR GERUND TO
CONNECT IT TO ANOTHER WORD.
CONJUCTIONS/CONNECTORS
A
WORD USED TO CONNECT WORDS, PHRASES, CLAUSES OR
SENTENCES.
INTERJECTIONS/EXCLAMATIONS.
A
WORD OR PHRASE USED TO EXPRESS STRONG EMOTIONS,
SUCH AS SURPRISE, PLEASURE OR ANGER.