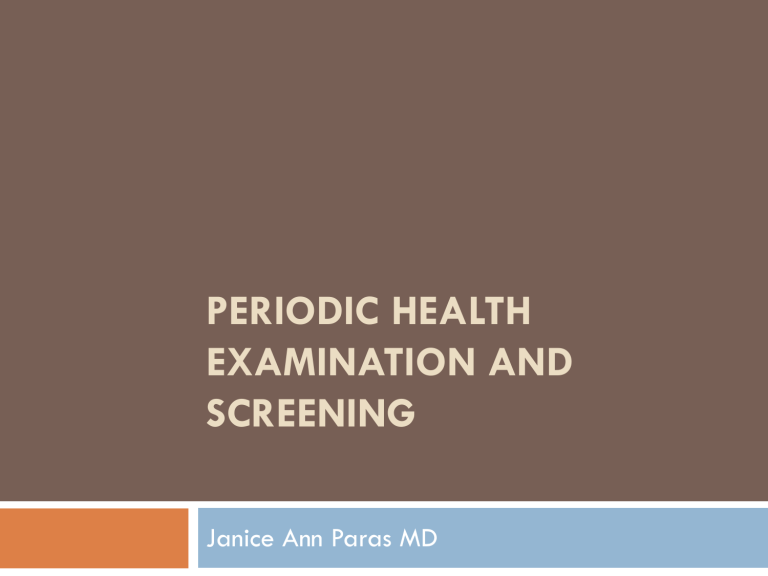 PERIODIC HEALTH
EXAMINATION AND
SCREENING
Janice Ann Paras MD
2
Aim-Objectives

At the end of this presentation the participants will
be;
Able to describe the role of PHE in primary care
 Able to count three diseases with highest mortality
 Able to define PHE
 Able to explain the effective screening criteria used in PHE
 Aware of the risks in PHE
 Aware of the importance of PHE and preventive medicine in
primary care.

Periodic Health Examination


Evaluation of apparently healthy individuals in
certain time periods, using a number of standard
procedures such as history, physical examination,
counseling, immunization, and laboratory
investigations is called Periodic Health Examination
The goal of periodic health examinations of
asymptomatic adults is to reduce morbidity and
mortality by identifying modifiable risk factors and
early diagnosis of treatable disease.
What are primary care physicians doing?
Health Care
Health
promotion
Risk
prevention
Primary Prevention
Risk
reduction
Early
diagnosis
Secondary Prevention
Personal Preventive Medicine!
5
Complication
reduction
Tertiary
Prevention
Iceberg phenomenon of disease

Iceberg phenomenon of disease gives a picture of
the spectrum of diseases in a community.
The visible part of the iceberg denotes the clinically
apparent cases of disease in the community.
The part of the iceberg below the water level
denoted the latent, subclinical, undiagnosed and
carrier states in the community, which forms the
major part
Levels of health promotion and
prevention

Primary prevention: measures that reduces the
chance that a disease will develop in a person.
example vaccination against infectious diseases.
• Secondary prevention: measures that lead to
Identifying presymptomatic disease (or disease risk
factors) before significant damage is occure e.g.
screening.
• Tertiary prevention: measures that limit the
progress and disability from disease e.g. treatment
and rehabilitation (speech therapy following CVA)
Reasons of diseases (%)
50
45
40
35
30
25
20
15
10
5
0
Access
10
Genetic
Environment
Behaviour
Insurance companies:
"Mortality decreases in persons undergoing regular health checks!"
11
CHECK-UP
(1921)
Some diseases don't have enough clues at the beginning, and
when able to diagnose there was no time for treatment: check-up
gone.
Changing by personal factors such as age, exposure, sex, and risk
PERIODIC HEALTH EXAM was introduced.
(1970)
Can periodic health examination be harmful?
Asymptomatic
person
Screening
Test normal
Test abnormal
True negative
False negative
True positive
False positive
Reassurance
Delay in diagnosis
Treatment
Anxiety
The average error rate of a test: %5
Ian R. McWhinney. A Textbook of Family Medicine. Oxford University Press, USA 1997.
12
The natural course of diseases
13
Aggressive cancer
Beginning
6 mo
Symptoms 1 year
DEATH
Screening once
a year
The same cancer but less aggressive
Beginning
2 year
Symptoms
4 year
DEATH
How is PHE performed?
• Healthy individuals
•
Counseling
•
Immunization
•
Home visit
•
Prophylaxis
•
Physical exam
•
Laboratory test
Screening

Screening is defined as identification of
undiagnosed disease in an apparently healthy,
asymptomatic population by means of tests,
examinations or other procedures that can be
applied rapidly and easily to the target population.
Example of conditions that commonly screen for:
breast cancer and cervical cancer in women,
colorectal cancer, diabetes, dyslipidemia,
osteoporosis, hypertension….etc.
Criteria of screening test

Wilson's criteria for screening test:
> The condition should be an important health problem.
> There should be a treatment for the condition.
> Facilities for diagnosis and treatment should be available.
> There should be a latent stage of the disease.
> There should be a test or examination for the condition.
> The test should be acceptable to the population.
> The natural history of the disease should be adequately
understood.
> There should be an agreed policy on whom to treat.
> The total cost of finding a case should be economically
balanced in relation to medical expenditure as a whole.
Types of Screening
• Mass Screening : Screening the whole population.
e.g. Hypertension, diabetes .. .etc
• Multiple or Multiphase Screening. Using multiple
screening tests at the same time as in Parallel &
Series.
• Targeted Screening : Screening of groups with
specific exposures (e.g. lead factory workers should
be checked for the level of lead in blood).
• Case-Finding (Opportunistic Screening): Screening
of patients who consult a health facility for other
purposes e.g. DM, dyslipidemia….
Components of periodic health
examination Visit(RISE)
• Identify the Risk factors for serious medical
conditions while taking the medical history and
performing the physical examination.
• Provide recommended Immunizations and
Chemoprophylaxis as needed.
• Order the appropriate Screening tests adequate
to age and gender
• Educate patients about healthy lifestyle behaviors
Obesity

Screen all adults aged 18 or older for obesity using
BMI.
Body mass index (BMI) is calculated from the
measured weight and height of an individual.
BMI= weight (kg)/height (m2)
Underweight : BMI < 18.5
Normal weight: BMI 18.5-24.9.
Overweight: BMI 25-29.9.
Obesity: BMI = 30 and more.
BMI
Based on Asia-Pacific Obesity Guidelines:
 Underweight
 Healthy
 Overweight
 Obese
I
 Obese II
< 18.5 kg/m2
18.6-22.9
23.0-24.9
25.0-29.9
> 30
Philippine Association for the Study of Overweight and Obesity (PASOO)
Blood Pressure

Screen all adults for high blood pressure .
Hypertension is usually defined as Systolic blood
pressure ≥140 mmHg or diastolic blood pressure ≥
90 mmHg.
The Joint National Committee on Prevention,
Detection, Evaluation, and Treatment of High Blood
Pressure (JNC 7) recommends screening every 2
years those with BP <120/80 and screening every
year those with SBP of 120-139 mmHg or DBP of
80-90 mmHg.
AHA guidelines 2017
Immunization and chemoprophylaxis
Pneumococcal Vaccine
Pneumococcal vaccine is recommended once for all adults
aged 65 years or older.
Pneumococcal vaccine is also recommended to adults
aged 19-64 years who:
• Have chronic heart disease
• Have chronic lung disease
• Are alcoholic
• Have chronic liver disease
• Have DM
• Are smokers

Tetanus & FLU Vaccine


For all adults more than 19 years, tetanus toxoid and
reduced diphtheria toxoid (Td) should be administered
every 10 years.
Flu Vaccine
Annual influenza vaccination is strongly encouraged for all
adults.
Vaccination is particularly important for people who are at
high risk for serious flu complications from influenza:
• Adults 65 years old and more.
• Chronic diseases (IHD, heart failure, stroke, chronic liver
diseases, chronic kidney disease, asthma etc….).
• HIV
• Cancer patients.
• Pregnant women
Folic Acid Supplementation

Give (400 to 800 μg) of folic acid to all Women
planning a pregnancy or capable of becoming
pregnant.
Start supplementation at least 1 month before
conception continue through first 2-3 months of
pregnancy.
Women with risk factors are advise to take higher dose
of folic acid.
These risk factors include personal or family history of a
pregnancy affected by a neural tube defect, the use of
certain anti-seizure medications, mutations in folate related enzymes, maternal diabetes, and maternal
obesity.
Screening tests

Screening for Dyslipidemia
Us Preventive Service Task Forces (USPSTF)
recommendations
Screen all men age 35 years and older , and men age 2035 years who are at increased risk for CHD
Screen women age 45 years and women age 20-45 years
who are at increased risk for CHD
Risk factors for CHD include
• DM
• Previous CHD or atherosclerosis
• Family history of cardiovascular disease
• Smoking
• HTN
• Obesity (body mass index ≥30 kg/m2)
Screening for Diabetes Mellitus

The American Diabetes Association (ADA) recommends
screening all adults for diabetes every three years
starting at 45 years of age using fasting plasma
glucose (FPG), 2-hour post prandial plasma, or Hb
A1C.
Adults of any age who are overweight or obese (BMI
25 kg/m2) and who have one or more additional risk
factors for diabetes should also be screened.
Additional risk factors for DM includes:
• Family history diabetes mellitus in a first-degree
relative
• Physical inactivity
Additional risk factors for DM

• History of delivering a baby weighing >4.1 kg (9
lb) or of gestational diabetes mellitus
• Hypertension (blood pressure ≥140/90 mmHg)
• Dyslipidemia defined as a HDL cholesterol ≤35
mg/dL(0.9 mmol/L) and/or a serum triglyceride
(TG) concentration ≥250 mg/dL (2.8 mmol/L)
• Previously identified HbA1C ≥5.7 percent,
impaired glucose tolerance or impaired fasting
glucose (IFG)
• Polycystic ovary syndrome
• History of vascular disease
Screening for Abdominal Aortic
Aneurysm

Screen all men aged 65 to 75 years who have ever
smoker (life-time of 100 cigarettes) for abdominal
aortic aneurysm
Screen using abdominal ultrasound
One-time screening is sufficient
Screening for Osteoporosis

USPSTF Recommendations
Women 65 years and older should be screened for
osteoporosis.
Screening test DEXA scan
Screening for Colorectal Cancer

Screen all patients aging between 50-75 years for
colon cancer using colonoscopy, rigid sigmoidoscopy
or highly sensitive fecal occult blood testing FOBT
Screening intervals
• Annual screening with high-sensitivity fecal occult
blood testing (FOB)
Screening for Colorectal Cancer

• Sigmoidoscopy every 5 years.
• Screening colonoscopy every 10 years
Patients who have family history of colorectal
cancer before the age of 60 years are advised to
start screening at age of 40, or 10 years before
the youngest case in the immediate family; which
one is earlier . Repeat colonoscopy every 5 years.
Screening for Breast Cancer

USPSTF recommendations
• Screen using mammography
• The USPSTF recommends screening females aged
50-79 years every two years.
• The decision to start screening mammography in
women prior to age 50 years should be an
individual one. Women who place a higher value on
the potential benefit than the potential harms may
choose to begin biennial (every two years)
screening between the ages of 40 and 49 years
Screening for Cervical Cancer

USPSTF recommends screening for cervical cancer
every 3 years with cervical cytology alone in
women aged 21 to 29 years.
For women aged 30 to 65 years, the USPSTF
recommends screening every 3 years with cervical
cytology alone, every 5 years with high-risk human
papillomavirus (hrHPV) testing alone, or every 5
years with hrHPV testing in combination with
cytology (cotesting)..
Risk Factors for Cervical Cancer:
• HPV (the major risk factor)
• HIV infection
• Immune deficiency
• Smoking
• Previous treatment of a high-grade precancerous
lesion or cervical cancer
Screening for Prostate Cancer


The USPSTF recommends against using prostatespecific antigen (PSA) for prostate cancer screening.
For men aged 55 to 69 years, the decision to
undergo periodic prostate-specific antigen (PSA)–
based screening for prostate cancer should be an
individual one.
DRE (Digital Rectal Examination)
Thank you!