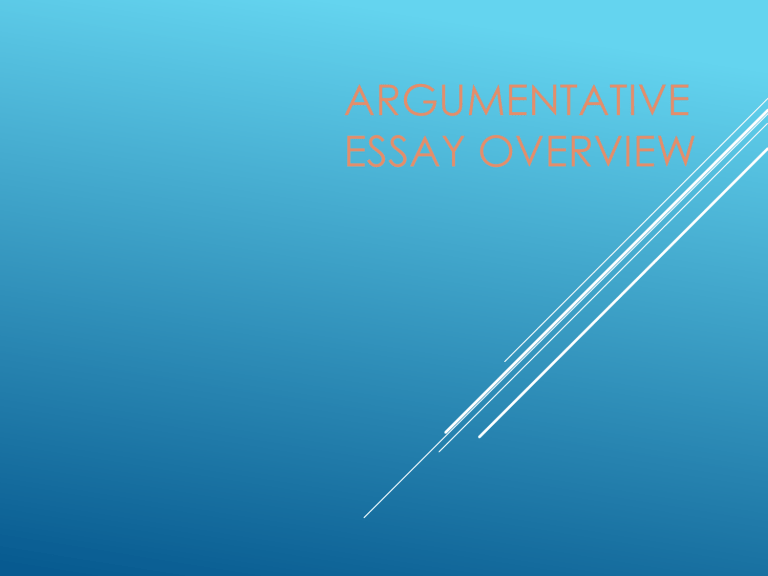 ARGUMENTATIVE
ESSAY OVERVIEW
INTRODUCTION—
The argumentative essay is a genre of writing that
requires the learner to investigate a topic; collect,
generate, and evaluate evidence; and establish a
position on the topic in a concise (short and to the
point) manner.
Keep in mind: while we are looking at argumentation as
a rhetorical mode, in fact, ALL writing is an argument –
you are always trying to convince the readers that you
are right. So pay attention to these explanations – and
review/remember them!
HOW TO WRITE AN ARGUMENTATIVE
ESSAY
BEFORE WRITING
1.
Choose a specific issue to discuss.
2.
Research BOTH sides of the topic thoroughly.
3.
Develop a working thesis.
INTRODUCTION
1.
The hook: take notes on the following video
2.
Provide background on the topic

Summarize the topic's basic knowledge

Acknowledge both sides of the argument
Thesis Statement: Claim
3.

MUST answer the prompt

Should take a position – challenge defend or qualify

Take notes on how to construct a good thesis based on video
HOW TO WRITE AN ARGUMENTATIVE
ESSAY
BODY PARAGRAPHS
PARAGRAPH STRUCTURE
1.
Begin with a clear topic sentence

A topic sentence is like a thesis statement for a paragraph

It tells the reader what you will talk about in that paragraph

It needs to be an argument/reason that supports your thesis
statement
2.
Use strong evidence to back up your argument
3.
Expand evidence to clarify its importance for your
argument
4.
Should end with a closing transition phrase
HOW TO WRITE AN ARGUMENTATIVE
ESSAY
BODY PARAGRAPHS
SENTENCE STRUCTURE
1.
Use sentence patterns for effect
2.
Use transition phrases (further instruction at end
of powerpoint)
3.
Use "snippets" of quotations blended into your
own analysis
4.
Be sure to cite all evidence according to MLA
HOW TO WRITE AN ARGUMENTATIVE
ESSAY
BODY PARAGRAPHS
PARAGRAPH CONTENT
 Provide
 Select
various sources of support
the strongest evidence from you research
 Explain
one or two opposing side's points to show
how readers might object to your argument
 Show
how others' arguments are unreasonable,
not logical, or not effective
HOW TO WRITE AN ARGUMENTATIVE
ESSAY
CONCLUSION
 Revisit
your strongest reasons for your
position
 Restate
 End
your main points
with a call to action or
recommendation for how to respond
HOW TO WRITE AN ARGUMENTATIVE
ESSAY
FINAL STEPS: REVISE AND EDIT
 Review
your essay as one of your readers

Pretend that your readers are skeptical experts or jurors.

Convince them by using plenty of evidence types—facts, statistics,
examples, expert opinions, or even personal experience.
 Cite
your sources!
 Know
the other side's strongest arguments to defend
against those who disagree with you
NOTE ON TRANSITIONS
 TRANSITIONS
guide the reader through your essay
from one idea to another

They allow your reader to understand the connection between
your ideas – to understand your thought process
 You
can transition from one idea to the next using
transition words (list on following slide, and available
as handout in class supplies section of classroom)
 Later,
you will complete the PowerPoint activity for
transitions to show you understand how to use
transitions (you may do so now if you like) . You will
be required in your writing to highlight transitions – so
pay attention.