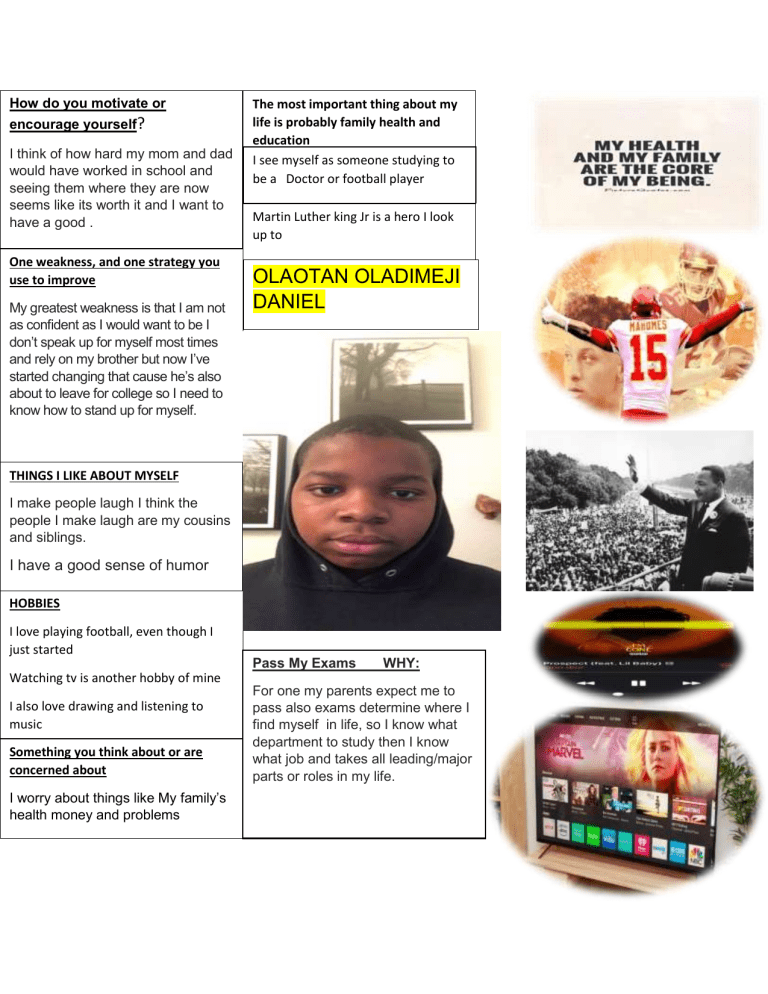 How do you motivate or
encourage yourself?
I think of how hard my mom and dad
would have worked in school and
seeing them where they are now
seems like its worth it and I want to
have a good .
life.
One weakness, and one strategy you
use to improve
My greatest weakness is that I am not
as confident as I would want to be I
don't speak up for myself most times
and rely on my brother but now I've
started changing that cause he's also
about to leave for college so I need to
know how to stand up for myself.
The most important thing about my
life is probably family health and
education
I see myself as someone studying to
be a Doctor or football player
Martin Luther king Jr is a hero I look
up to
OLAOTAN OLADIMEJI
DANIEL
THINGS I LIKE ABOUT MYSELF
I make people laugh I think the
people I make laugh are my cousins
and siblings.
I have a good sense of humor
HOBBIES
I love playing football, even though I
just started
Pass My Exams
Watching tv is another hobby of mine
I also love drawing and listening to
music
Something you think about or are
concerned about
I worry about things like My family's
health money and problems
WHY:
For one my parents expect me to
pass also exams determine where I
find myself in life, so I know what
department to study then I know
what job and takes all leading/major
parts or roles in my life.