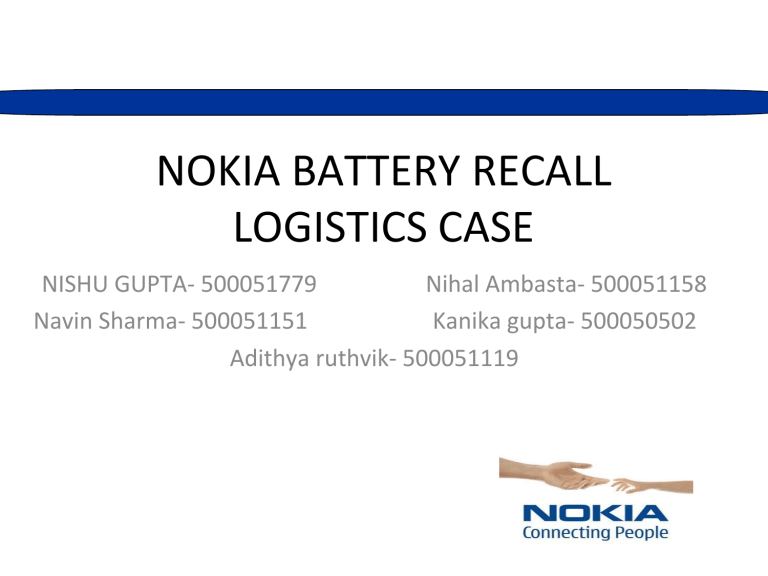 NOKIA BATTERY RECALL
LOGISTICS CASE
NISHU GUPTA- 500051779
Nihal Ambasta- 500051158
Navin Sharma- 500051151
Kanika gupta- 500050502
Adithya ruthvik- 500051119
Contents:
•
•
•
•
•
•
Introduction
History
Detail about the case
Nokia challenge
Solutions
Conclusion
Introduction:
• In 2007, Nokia faced a media assault for exploding batteries
of Nokias BL-5C model.
• By 1st January, 2008, Nokia replaced 95% of BL-5C batteries.
• 46 million defective BL-5C batteries recalled
• August 14, 2007 – January 1, 2008 (Product Advisory)
• The team was led by Sudeep Dhariwal, the logistics head of
Nokia India.
History in India:
• Entered INDIAN market in 1995.
• Market share in INDIA was 70% in 2004 and 76% in
2006.
• Set-up of manufacturing plant in Chennai, year 2006.
• R&D centers in Hyderbad, Bangalore and Mumbai.
• More than 500 CCCs and 600 NPDs.
• Organized itself in 4 regions- North (Delhi), West
(Mumbai), South (Chennai) & East (Calcutta).
Detail about the case
• In 2006, very complex supply chain handled
900,000 mobile devices per day
• 100 billion components
• Since 1995, trying to create a demand-driven
supply chain linking with the consumers and
host of suppliers
• In 2007, in a research Nokia ranked number
one for the excellence in SCM.
Battery Problem
• According to comsumer complaints, Nokia
discovered that BL-5C batteries were likely to
swell during charging.
• After some analysis, some batches of batteries
produced by Matsushita were found defective
because of overheating.
• Then, Nokia management decided to issue a
product advisory.
Recall Strategy
• Online check-in by keying the battery number
from the web site of NOKIA
• If the battery is affected it would
be sent to customers' address
within 15 days
Recall Strategy
• SAP Problems,
– The batteries were free.
– 25 different states & different set of tax rules.
– Lots of details required.
– SAP system did not have a provision for a zero
priced item.
– All documents and invoices were done manually.
– All this software obstacles were overcome by the
management within the same day.
Recall Strategy
• DHL set up a makeshift packing and shipping
facility.
• 40 employees from DHL crew.
• At least twice as many more workers needed.
• A consultancy was taken,
– 80 temporary workers were hired
Recall Strategy
• Another empty warehouse was rented and began
three shift operation
• Unpack cartoons each containing batteries
• Each battery wrapped in a bubble sheet four times
• Batteries were put in a DHL courier bag with «Not
For Sale» sticker
• The bar codes and courier bags were scanned
• To avoid double delivery, each CCC also captured the
number of batteries it replaced
Recall Strategy
• Nokia paid a flat rate to
DHL.
• Peak Business & Nokia
offered DHL special
incentives and DHL
offer courier companies
too.
Solutions to the Crisis
•
•
•
•
•
Create additional team for logistics management
Use SMS services for replacement procedure:
 Create an SMS service so that customers could send their
battery number
 Make SMS service free of cost
 Send SMS in local languages
 If battery was defective ask customers to send their
addresses
Send batteries to Priority Dealers and Customer Care Centers to
directly serve customers
Start a Toll Free Number for helping customers
Hire temporary workers to handle extra work load
Solutions to the Crisis
•
•
•
•
•
(contd)
Tie up with a courier company to deliver products directly to
the customers
Make a provision so that customer can return the defective
product in the same package (to check if defective product
exists and for safe disposal)
Create a system to record outgoing and incoming batteries
System should help avoid duplicate queries and also keep tab
on batteries replaced
Setup a deadline for replacement operations (about 4 months)
Conclusions
• Nokia was concerned about its customers.
• It didn't wants to loose its goodwill in
international market.
• Thus replacement of batteries took placed
as soon as complaint launched.
THANK YOU!!!!!