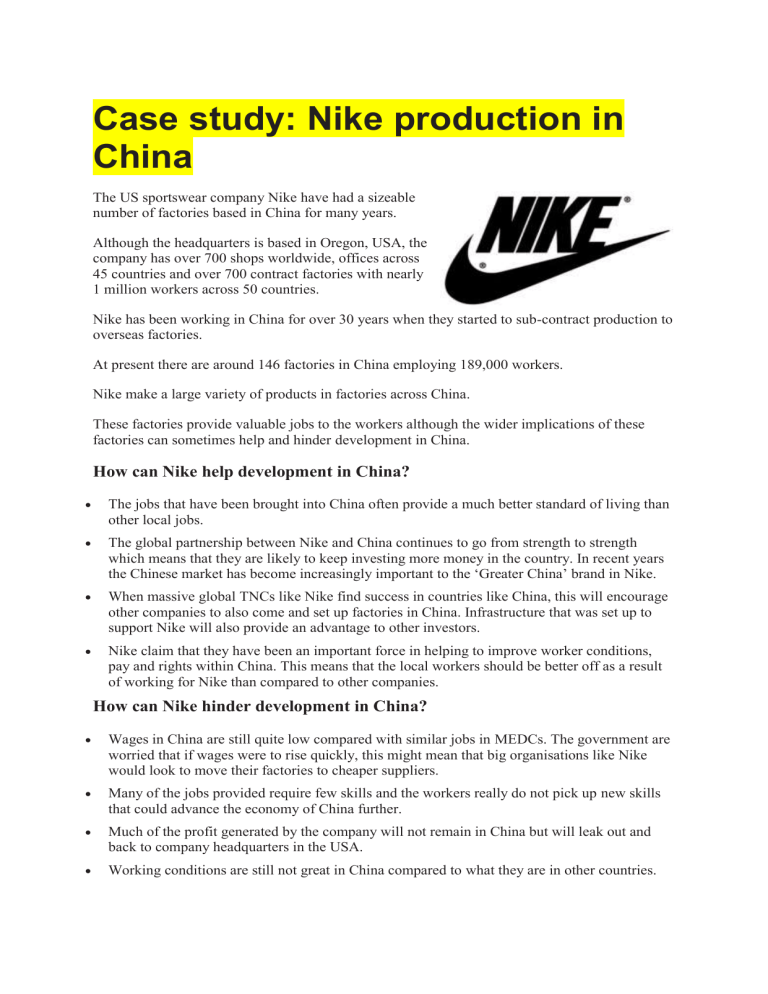 Case study: Nike production in
China
The US sportswear company Nike have had a sizeable
number of factories based in China for many years.
Although the headquarters is based in Oregon, USA, the
company has over 700 shops worldwide, offices across
45 countries and over 700 contract factories with nearly
1 million workers across 50 countries.
Nike has been working in China for over 30 years when they started to sub-contract production to
overseas factories.
At present there are around 146 factories in China employing 189,000 workers.
Nike make a large variety of products in factories across China.
These factories provide valuable jobs to the workers although the wider implications of these
factories can sometimes help and hinder development in China.
How can Nike help development in China?

The jobs that have been brought into China often provide a much better standard of living than
other local jobs.

The global partnership between Nike and China continues to go from strength to strength
which means that they are likely to keep investing more money in the country. In recent years
the Chinese market has become increasingly important to the 'Greater China' brand in Nike.

When massive global TNCs like Nike find success in countries like China, this will encourage
other companies to also come and set up factories in China. Infrastructure that was set up to
support Nike will also provide an advantage to other investors.

Nike claim that they have been an important force in helping to improve worker conditions,
pay and rights within China. This means that the local workers should be better off as a result
of working for Nike than compared to other companies.
How can Nike hinder development in China?

Wages in China are still quite low compared with similar jobs in MEDCs. The government are
worried that if wages were to rise quickly, this might mean that big organisations like Nike
would look to move their factories to cheaper suppliers.

Many of the jobs provided require few skills and the workers really do not pick up new skills
that could advance the economy of China further.

Much of the profit generated by the company will not remain in China but will leak out and
back to company headquarters in the USA.

Working conditions are still not great in China compared to what they are in other countries.
The over-arching question of Nike production in China
US-based Nike, Inc, the world's leading designer, marketer, and distributor of athletic footwear,
apparel, equipment, and accessories, has had a presence in China since the 1970s. The low wages
and talented manpower in China encouraged Nike to shift some of its production from other
countries to China. However, Philip Knight, one of the founders of Nike saw China as a huge
market for Nike. The consumer presence of Nike in China started in 1981. In order to encourage
and build a sporting culture in the country, Nike sponsored several clubs and sports related events,
including professional leagues. It launched professional sporting leagues and was instrumental in
building the American 'streetball' culture in China. Nike designed different products that were low
cost and affordable to the Chinese. It also developed products specifically for China, based on
feedback from the consumers. Nike found several opportunities with the growing middle-class
population in China, who were looking at buying high-end products. From the early 2000s, Nike
started taking part in China's Olympic bid. Once Beijing was selected to host the 2008 Olympics,
Nike went all out to sponsor several teams and it expanded its presence across the country. It made
a huge impact during the Games, and its sales increased by 53% in the quarter ending September
2008. But Nike could not maintain the momentum it had achieved during the Olympics over the
next few years. Both globally and in China, Nike was not doing well. Though the global business
fell back on track, the China business continued to be a problem area. One of the major reasons
cited for the problems was the glut in inventory after the Olympics and the new products being
produced were not to the liking of the Chinese. In 2013, Nike came out with a Reset strategy and
decided to apply the insights it had gained from its 'Category Offense' strategy it had used in North
America to China. Under this program, Nike segmented different points of distribution - sports,
athletic training, basketball, football, running, sportswear, and women's training. Each major city
was treated as a different market, and specific strategies were developed for each. This strategy
had a positive impact, and Nike's China sales started to grow in the first quarter of 2014-15. China
was projected to emerge as the largest market for footwear and apparel in the world with the
government formalizing a policy to make sporting a growth industry. The number of people
moving into the middle class was also projected to increase. All these factors were expected to
offer a plethora of opportunities to Nike. However, there were some challenges too. Experts
warned that the Chinese economy was on the path of a slowdown, with growth that was said to be
the slowest since 2009. Several industries were affected, especially manufacturing and heavy
industries. In such a scenario, whether Nike could maintain its momentum in China remained a
question.