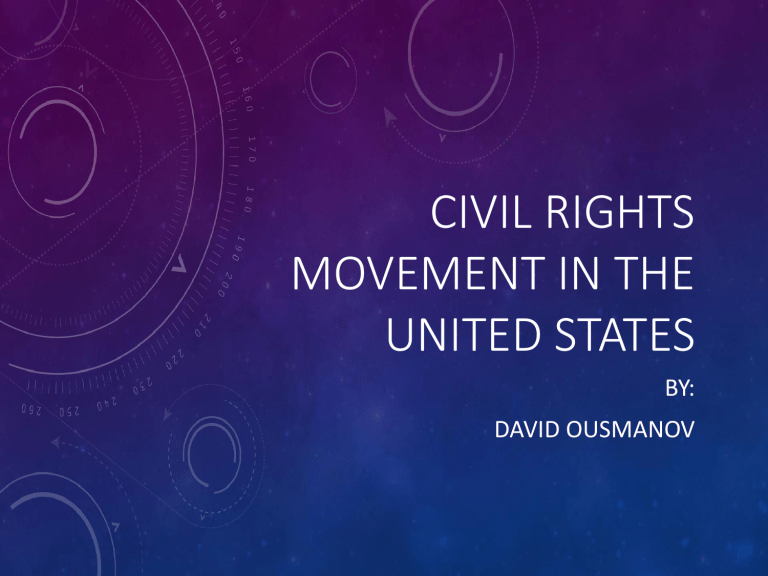 CIVIL RIGHTS
MOVEMENT IN THE
UNITED STATES
BY:
DAVID OUSMANOV
MARTIN LUTHER
KING JR.
• MLK was born on January 15, 1929 and died
on April 4, 1968
• In Montgomery, Alabama, King led a boycott
against city buses that refused to let blacks sit in
the front seats of the bus
• MLK led the Southern Christian Leadership
Conference or the SCLC and the Civil Rights
Movement in the United States from the mid1950s
• In 1963, King and other leaders of the civil
rights movement organized a huge march for equal
rights in Washington, DC. With a massive crowd of
over 200,000 followers, the march was protesting
racial discrimination in employment, in schools,
and they demanded minimum wage for all workers
JOHN LEWIS
• Born in Alabama in 1940 and is still living to
this day, John Lewis grew up in a time of
racial segregation
• Lewis was a Freedom Rider, spoke at
1963's March on Washington
• He was elected to Congress in 1986 and
received the Presidential Medal of Freedom
in 2011
• During the civil rights struggle, Lewis was
arrested approximately 40 times
ALBANY MOVEMENT
• The Albany Movement was a desegregation campaign formed on
November 17, 1961, in Albany, Georgia
• The Albany Movement challenged all forms of racial segregation and
discrimination in the city.
• Martin Luther King Jr. and the Southern Leadership Conference (SCLC)
joined the movement in December 1961
BROWN VERSUS
BOARD OF
EDUCATION
•
Brown versus Board of
Education was one of the
cornerstones of the civil rights
movement, and helped establish
the precedent that "separatebut-equal" education and other
services were not, in fact, equal
at all
•
Brown versus Board of
Education of Topeka was a
landmark 1954 Supreme Court
case in which the justices ruled
unanimously that racial
segregation of children in public
schools was unconstitutional.
THE SNCC
• The Student Nonviolent Coordinating Committee
was one of the major Civil Rights Movement
organizations of the 1960s.
• It emerged from the first wave of student sit-ins
and formed at an April 1960 meeting organized
by Ella Baker at Shaw University
SCLC
• The Southern Christian
Leadership Conference's
(SCLC) main aim was to
advance the cause of
civil rights in America
but in a non-violent
manner.
• From its inception in
1957, its president was
Martin Luther King – a
post he held until his
murder in 1968.
MARCH ON
WASHINGTON
• March on Washington, in
full March on
Washington for Jobs and
Freedom, political
demonstration held
in Washington, D.C.
• In 1963 by civil rights
leaders to protest racial
discrimination and to show
support for major civil
rights legislation that was
pending in Congress.
CIVIL RIGHTS ACT OF 1964
• The Civil Rights Act of 1964, which ended segregation in public places
and banned employment discrimination on the basis of race, color,
religion, sex or national origin, is considered one of the crowning
legislative achievements of the civil rights movement.
THE VOTING RIGHTS ACT OF 1965
• The Voting Rights Act of 1965, signed into law by President Lyndon B.
Johnson, aimed to overcome legal barriers at the state and local levels that
prevented African Americans from exercising their right to vote as
guaranteed under the 15th Amendment to the U.S. Constitution.
ANDREW
YOUNG
• Andrew Jackson Young
Jr. (born March 13,
1932) is an American
politician, diplomat, and
activist.
• Beginning his career as a
pastor, Young was an
early leader in the Civil
Rights Movement,
serving as executive
director of the Southern
Christian Leadership
Conference (SCLC) and a
close confidant
to Martin Luther King Jr.
MAYNARD JACKSON
• Maynard Holbrook Jackson Jr. was
an American politician and attorney
from Georgia, a member of
the Democratic Party
• And was elected in 1973 at the age
of 35 as the first African-American
mayor of Atlanta, Georgia and of
any major city in the South. He
served three terms
THANK YOU ALL FOR
WATCHING!
I HOPE YOU ENJOYED THIS AS WELL LEARNED
SOMETHING NEW TODAY!