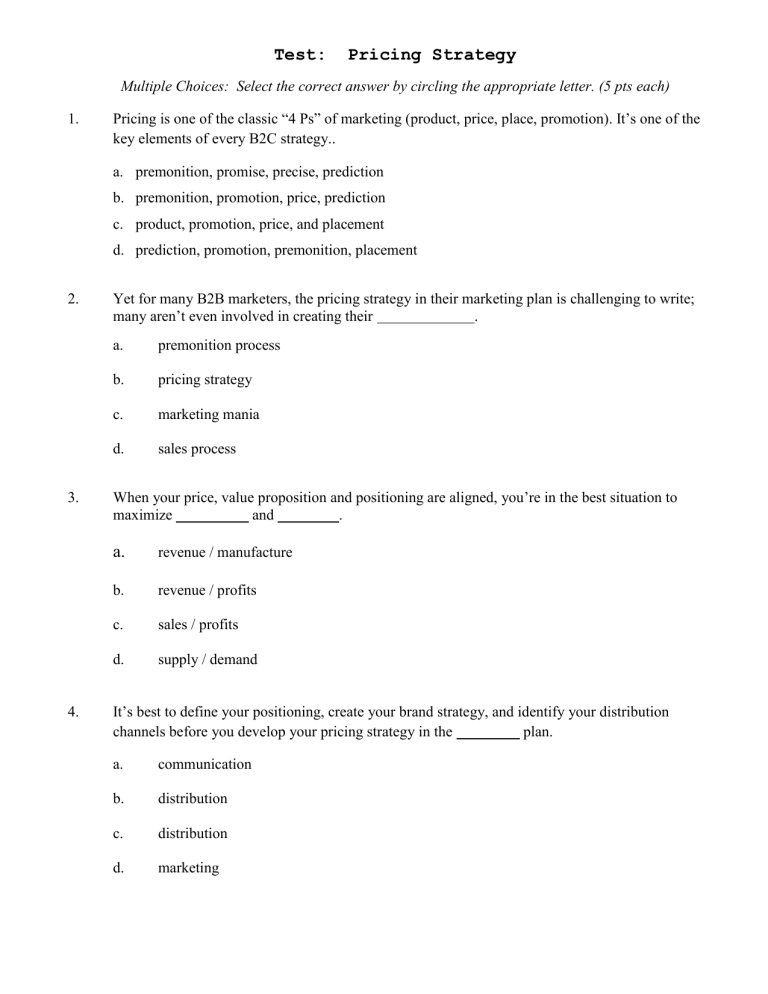 Test:
Pricing Strategy
Multiple Choices: Select the correct answer by circling the appropriate letter. (5 pts each)
1.
Pricing is one of the classic "4 Ps" of marketing (product, price, place, promotion). It's one of the
key elements of every B2C strategy..
a. premonition, promise, precise, prediction
b. premonition, promotion, price, prediction
c. product, promotion, price, and placement
d. prediction, promotion, premonition, placement
2.
3.
4.
Yet for many B2B marketers, the pricing strategy in their marketing plan is challenging to write;
many aren't even involved in creating their
.
a.
premonition process
b.
pricing strategy
c.
marketing mania
d.
sales process
When your price, value proposition and positioning are aligned, you're in the best situation to
maximize
and
.
a.
revenue / manufacture
b.
revenue / profits
c.
sales / profits
d.
supply / demand
It's best to define your positioning, create your brand strategy, and identify your distribution
channels before you develop your pricing strategy in the
plan.
a.
communication
b.
distribution
c.
distribution
d.
marketing
5.
When you offer a truly unique
challenging to establish your price.
or
with little direct competition, it can be
a. product / service
b. supply / demand
c. distribution / channel
d. strategy / channel
6.
A definition of strong strategy and competitive analysis is
a. Where your cost should rise in relation to others
b. Where your sales should fall over the cost revenue
c. Where your price should fall in relation to theirs
d. Where debits and credit meet in the middle
7.
If sales are
, many companies
their price.
a. slow / raise
b. high / lower
c. slow / lower
d. high / raise
Choose the Case/Average that characteristics comes under.
8.
9.
Company B charges an average price for an average product.
a.
Best Case
b.
Neutral Case
c.
Worst Case
Company A provides a premium product, sold through carefully-selected retail outlets.
a.
Best Case
b.
Neutral Case
c.
Worst Case
10.
11.
12.
13.
14.
Company C provides business consulting services.
a.
Best Case
b.
Neutral Case
c.
Worst Case
If Company C cannot maintain its operational efficiency and cost leadership, it will need to develop
new products or markets for its existing product.
a.
Highest Price – Company A
b.
Average Price – Company B
c.
Lowest Price – Company C
Yet Company B may be able to implement a small price increase to raise revenue and profits; it
depends how much more its customers are willing to spend.
a.
Highest Price – Company A
b.
Average Price – Company B
c.
Lowest Price – Company C
Company A is putting their "prestige" brand in jeopardy.
a.
Highest Price – Company A
b.
Average Price – Company B
c.
Lowest Price – Company C
For example, if your method for delivering value is product leadership, you shouldn't discount
heavily or compete on price; you should also
pricing conflicts with any channel partners.
a.
maximize
b.
raise
c.
minimize
d.
average
15.
16.
17.
If you're perceived as a commodity, you must either change the market's perception via a new
, or compete on price and focus on innovating to keep costs low so you can still make
a profit.
a.
customer relationship management
b.
gross domestic product
c.
central processing strategy
d.
positioning strategy
Your price sends a strong message to your market – it needs to be consistent with the value you're
delivering.
a.
When your value proposition is functional to checks and balances.
b.
If your value proposition is operational efficiency, then your price needs to be extremely
competitive.
c.
If your goals are not operational efficiency.
d.
When the profit value proposition is under the average cost.
Fill in the 4 empty boxes below.