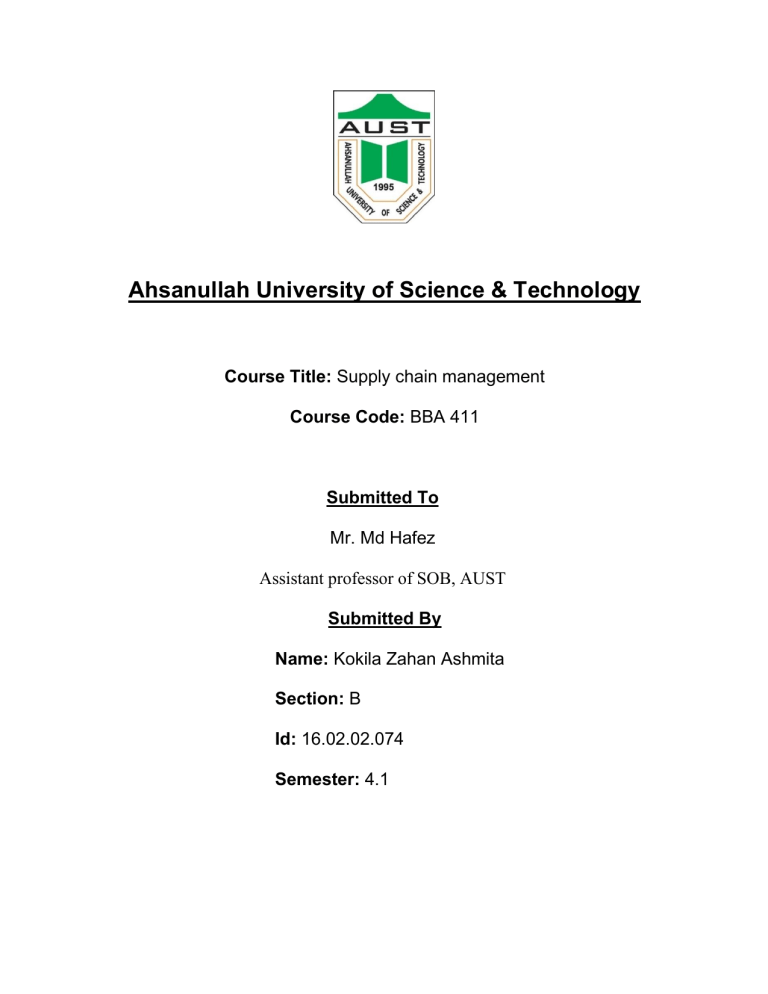 Ahsanullah University of Science & Technology
Course Title: Supply chain management
Course Code: BBA 411
Submitted To
Mr. Md Hafez
Assistant professor of SOB, AUST
Submitted By
Name: Kokila Zahan Ashmita
Section: B
Id: 16.02.02.074
Semester: 4.1
Letter of Transmittal
18th August, 2020
Md.Hafez
Assistant Professor
School of Business
Subject: Letter of Transmittal
Dear sir,
With due respect, I, the undersigned student of BBA 4th year 1st semester (B) have
reported on "Supply chain management Process of PRAN-RFL" Under
the course: Supply Chain Management.
This program gave me an opportunity to have a knowledge about Supply Chain
Management Process. I hope they will be quite helpful to enlighten my future career
and knowledge well.
Lastly, I shall be highly obliged if you are kind enough to receive this assignment
and provide your valuable judgment. It would be my immense pleasure if you find
this report useful and informative to have an apparent perspective on the topic.
Thank you,
Yours' sincerely,
_______________
Kokila Zahan Ashmita
ID: 16-02-02-074
Acknowledgement
At the very beginning I would like to recall the Almighty Allah for showing mercy
on me to be able to conclude this Assignment successfully.
After that I would like to thank to my honorable teacher Mr. Md Hafez Sir for
giving this fabulous assignment which at the same time interesting and also
educative. I thank him for his cooperation and suggestion without which this report
cannot be done properly.
Executive Summary
The report attempted to "Supply chain management Process of PRANRFL". supply chain management is about relationship management. A supply
chain managed, link by link, relationship by relationship, and the organizations that
managed those relationships best will win. PRAN-RFL SCM tools and techniques
are presented in this co-relation. SCM requires a good understanding of production
management, planning, design, and construction, and business drivers. Like other
disciplines within an organization, such as structural, or process engineering,
accounting, and materials management, SCM have a champion that can drive the
ideas across disciplines within the organization as well as across organizational
boundaries.
Supply Chain
What is supply chain in simple words?
A supply chain is a network between a company and its suppliers to produce and
distribute a specific product or service. The functions in a supply chain include
product development, marketing, operations, distribution, finance, and customer
service.
Retail companies become involved in supply chain management to control product
quality, inventory levels, timing, and expenses. Examples of supply chain activities
include farming, refining, design, manufacturing, packaging, and transportation.
What is supply chain process?
Supply chain management is the process of delivering a product from raw material
to the consumer. It includes supply planning, product planning, demand planning,
sales and operations planning, and supply management.
Types of Supply Chain Management (SCM) Systems
They are classified into two categories:
1. supply chain planning systems, and
2. supply chain execution systems.
What is a supply chain model?
Supply chain modeling represents a conscious attempt to bring order into a supply
chain to achieve certain business objectives, such as lowest supply cost, on-time
delivery and an ability to cope with disruption.
What is supply chain diagram?
A diagram of a supply chain. The black arrow represents the flow of materials and
information, and the gray arrow represents the flow of information and backhauls.
The elements are
(a) Raw Materials
(b) Supplier
(c) Manufacturer
(d) Distributor
(e) Retailer
(f) customer
Supply chain management Process of PRAN-RFL
PRAN-RFL Group is one of the largest conglomerates in Bangladesh. It is the
largest agribusiness in Bangladesh. PRAN means heart in Bengali.
Retired Major General Amjad khan Chowdhury Founder: PRAN_RFL Group 10th
NOV,1939-8th july,2015
PRAN: PRAN (Programme for Rural Advancement Nationally) was established
in 1981. PRAN Foods is a sister concern of PRAN-RFL Group.
The initial main objective was to produces a number of agro products under the
banner of PRAN. Like juice, drinks, dairy, ghee etc.
RFL: RFL (Rangpur Founder LTD.) started its journey with Cast Iron (CI)
products in 1980.
The initial main objective was to ensure pure water and affordable irrigation
instruments for improving rural life. Like pumps, tube wells, bearings etc.
RFL, strongly believes in fairness within the organization. Three core areas of
fairness are largely practiced in RFL. Those three areas are- procedural fairness,
distributive fairness and interactional fairness. RFL has become a benchmark for
competitors on the lines of quality.
Our Values:
In RFL, we take pride in conducting our business with integrity and promoting
ethical business practices though our values. Our core values define who we are,
how we operate and what makes us different than others, we have created this code
of ethics in order to specify our fundamental values in detail as well as to establish
an outline for ethical and acceptable behavioral standards in our organization.
• Discipline:
RFL considers discipline as one of the most essential components of its success.
RFL has zero tolerance for misconduct and policy violation. In our company, all of
our team members are expected to comply with our disciplinary standards
regarding attendance, dress code, punctuality, fairness and integrity in day to day
work. We prioritize discipline over performance. We believe success can only be
recognized with proper discipline and It helps us in creating a sense of prevention
from wrongdoing and inappropriate behavior in the workplace.
• Commitment to work:
One of the key attributes we expect from our employees is their commitment to
work. The culture we have in RFL, is result focused which means our primary
concern is to obtain the best possible outcome. We emphasize more in prioritizing
our work above personal interests. Being an employee, we value our work first and
know how to get things done cost effectively. It is very important for us to know
our job and act accordingly.
• Customer First:
We believe in customer first. It is a leadership competence that we hold as a value
in RFL. The concept of Customer First is about extending support which means
when we work with our colleagues, teammates, customers or stakeholders we need
to be proactive and be ready to serve.
• B' Fair:
B 'Fair is a concept which means to be equal to everyone in the workplace and
ensuring equal opportunity for the highest outcome of work. Working as an
effective employee is a key component for success in our organization. All the
employees are treated equally within the workplace.
• Continuous Improvement:
In RFL, we believe in making continuous effort for our long-term growth and
success. In order to survive in today's dynamic business environment, we need to
make room for continuous improvement. Our motto is doing things better than
yesterday, which is why we emphasize on making incremental improvements.
Our Mission & Vision:
SINCE 1981 This company is working in eradicating poverty from the society.
• Mission: "Poverty and Hunger are curses."
• Vision: "Improving livelihood"
• AIM: "To generate employment and earn dignity and self-respect for our
compatriots through profitable enterprises."
Our Strength:
As members of RFL family, we believe each employee should instill 3 behavioral
trails/qualities among them. These three qualities are our main strengths and help
us in setting our goals by shaping up core values for the company.
• Intelligence:
We are proud to have a dedicated and intelligent workforce in our company.
Intelligence is defined here as competencies of the job, using common sense as
well as being good at situational management. In RFL, we have a large team
consisting of over 25,000 team members nationwide.
• Integrity:
We practice a high level of integrity in our organization to achieve our goals.
Integrity is about having strong moral values and being reliable and loyal to the
organization. We show integrity by treating others with respect, being responsible
for our actions, ensuring fair judgment and transparency and protecting the
reputation of our company. Being sincere towards our duties and obligations will
help us to perform with integrity and it will make us effective team players of a
winning team.
• Intensive:
One of our key attributes that makes us different than our competitors is our
intensive nature of work. We concentrate on being specialized in what we do and
we take ownership of our job. Our aim is to make continuous improvement
through strategic planning, hard work, and persistency. We believe that long term
growth is possible when we carry out a strategic plan with intensive work. With
intelligent workforce and intensive work, we will be able to fulfill our journey of
good to great.
What is Supply Chain Management (SCM)?
Supply chain management (SCM) is the active management of supply chain
activities to maximize customer value and achieve a sustainable competitive
advantage. It represents a conscious effort by the supply chain firms to develop and
run supply chains in the most effective & efficient ways possible. Supply chain
activities cover everything from product development, sourcing, production, and
logistics, as well as the information systems needed to coordinate these activities.
Supply Chain Process of PRAN RFL
1. Create Demand
2. Sourcing/Market
survey
(Local/Foreigen)
8. Finish Product for
ultimate buyer
3. Purchase
Allocation
7. Distribution
4. Company Internal
Procedure for
Purchase
6. Manufacture
5. Send to
wearhouse
1. Create Demand:
It takes your big idea the creative appeal of your brand and turns it into sales. To
end the confusion, marketers need a term for the holistic process of
generating demand.
2. Sourcing/Market survey:
Local: When create or generate demand then need to source or Survey
the market for fulfill the demand. If found locally then go to QC or Engineer test
that it's ok or not for use the production. If it's ok then purchase from local market
on raw material or machine. PRAN-RFL verify more supplier for quality, Price
negotiation etc.
Foreign: When local market is not found the materials then goes to
foreign market for sourcing raw material or machine by ultimate supplier who are
ready to supply the product. PRAN-RFL focuses: China, Japan, Korea, Taiwan,
Thailand, India, Singapore and USA market for purchase the materials or Machine.
We collect from foreign supplier material sample, quotation and machine video
trial and quotation for compare each supplier.
3. Purchase Allocation:
Cash/Credit for local or Import.
4. Company Internal Procedure for Purchase:
Each and Every company has an internal format before purchase the materials or
machine from supplier. Such as PRAN-RPL maintains their internal rules and
regulation when purchase the supplier.
•
•
•
•
•
•
Purchase Requisition (PR) from operation
Purchase order (PO) from SCM
Supplier delivery the product to Warehouse
Store Manager makes Material Receiving Report (MRR)
SCM Making MRR bill
Bill submit to account for supplier payment.
5. Send to Wearhouse:
After purchasing the raw materials, they are sent to the warehouses. Charmuguria,
Madaripur.
6. Manufacture:
The materials from the warehouse are used to manufacture the ultimate product.
Industries are in Natore, Habiganj, Dhaka, Gazipur, Narshingdi, Narayangonj,
Rangpur etc.
7. Distribution:
PRAN-RFL employed the channels of distribution in the market depending on the
market requirement. For foreign countries PRAN use wholesales or retailers and
for some countries they hire an importer for making the firm's products available
to the end users.
8. Finish Product for ultimate buyer.