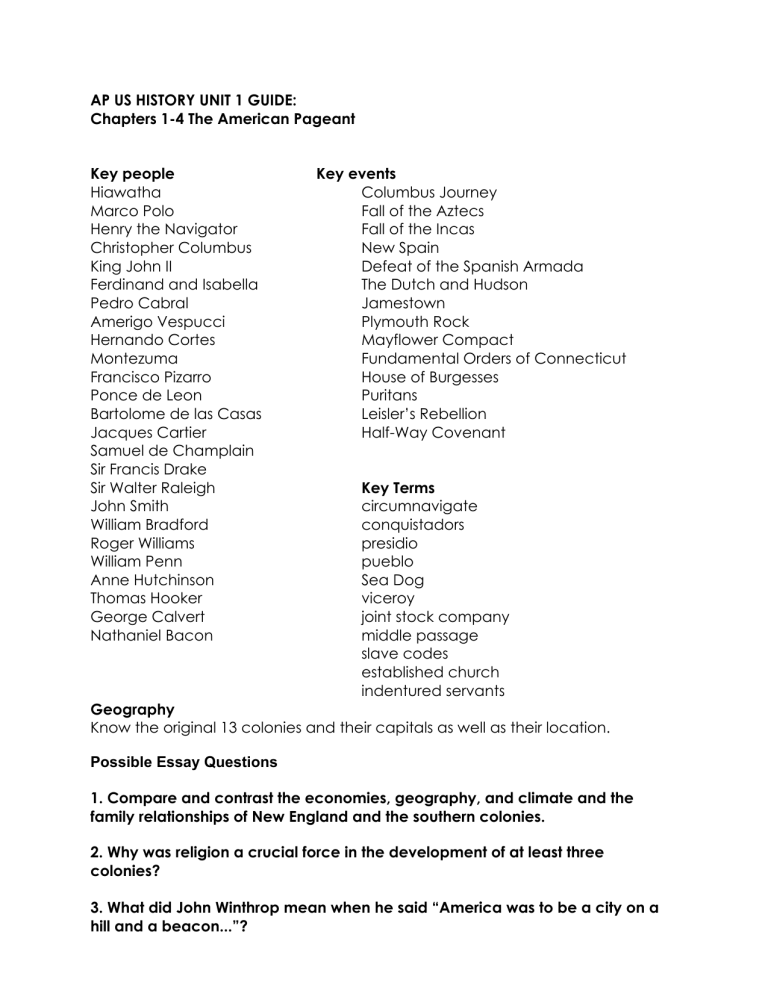 AP US HISTORY UNIT 1 GUIDE:
Chapters 1-4 The American Pageant
Key people
Hiawatha
Marco Polo
Henry the Navigator
Christopher Columbus
King John II
Ferdinand and Isabella
Pedro Cabral
Amerigo Vespucci
Hernando Cortes
Montezuma
Francisco Pizarro
Ponce de Leon
Bartolome de las Casas
Jacques Cartier
Samuel de Champlain
Sir Francis Drake
Sir Walter Raleigh
John Smith
William Bradford
Roger Williams
William Penn
Anne Hutchinson
Thomas Hooker
George Calvert
Nathaniel Bacon
Key events
Columbus Journey
Fall of the Aztecs
Fall of the Incas
New Spain
Defeat of the Spanish Armada
The Dutch and Hudson
Jamestown
Plymouth Rock
Mayflower Compact
Fundamental Orders of Connecticut
House of Burgesses
Puritans
Leisler's Rebellion
Half-Way Covenant
Key Terms
circumnavigate
conquistadors
presidio
pueblo
Sea Dog
viceroy
joint stock company
middle passage
slave codes
established church
indentured servants
Geography
Know the original 13 colonies and their capitals as well as their location.
Possible Essay Questions
1. Compare and contrast the economies, geography, and climate and the
family relationships of New England and the southern colonies.
2. Why was religion a crucial force in the development of at least three
colonies?
3. What did John Winthrop mean when he said "America was to be a city on a
hill and a beacon..."?