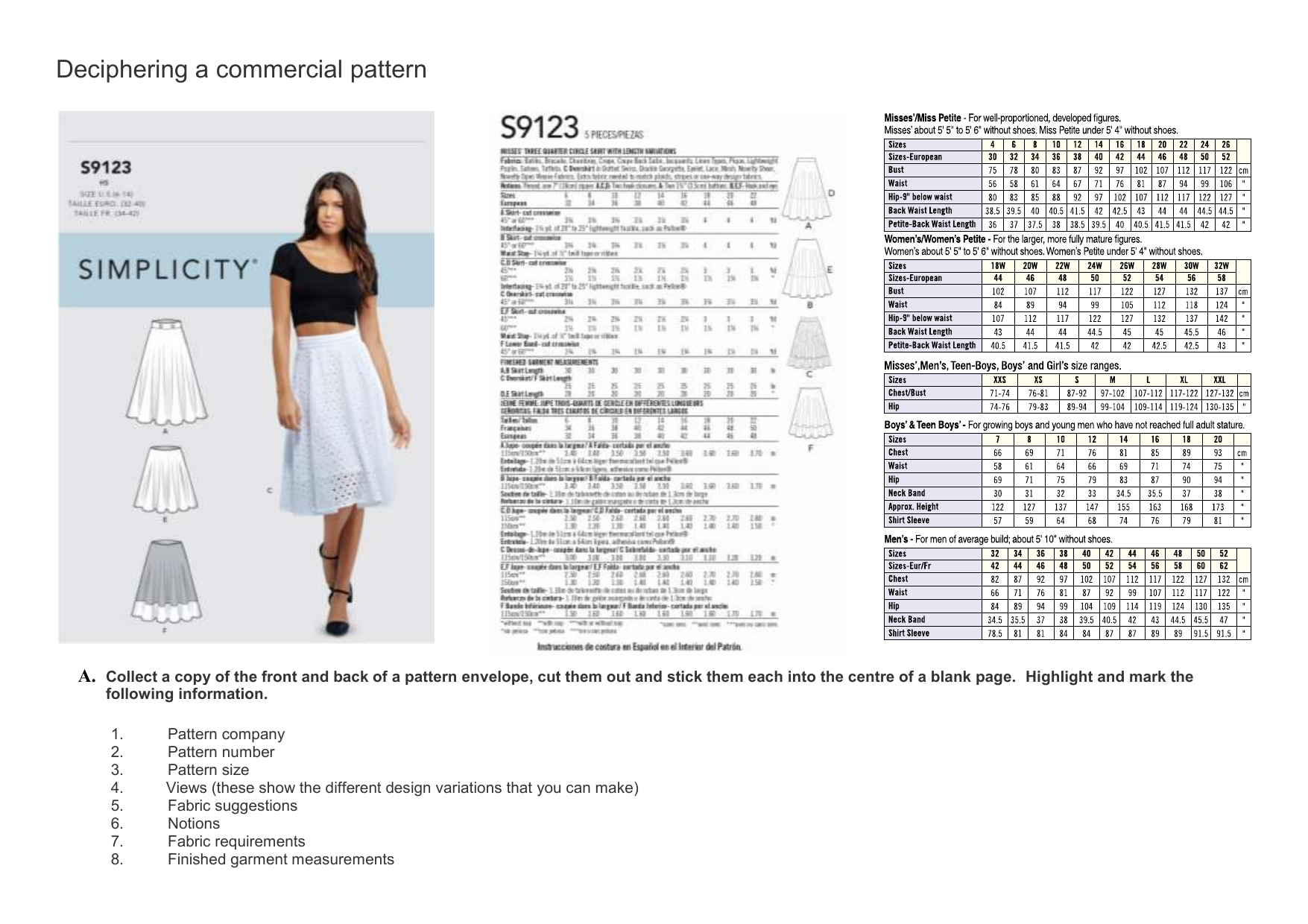 Deciphering a commercial pattern
A. Collect a copy of the front and back of a pattern envelope, cut them out and stick them each into the centre of a blank page. Highlight and mark the
following information.
1.
2.
3.
4.
5.
6.
7.
8.
Pattern company
Pattern number
Pattern size
Views (these show the different design variations that you can make)
Fabric suggestions
Notions
Fabric requirements
Finished garment measurements
Deciphering a commercial pattern
B. A size chart works together with the pattern information. It tells us what size garment we need to make for the body measurements of the end user.
Collect a size chart and stick it into your book.
The full size chart can be seen using this link. Be careful to use metric measurements (cm), not Imperial (inches)
https://www.sewdirect.com/app/uploads/2020/06/Body-Measurement-Charts-Simpllcity-New-Look.pdf
C. Answer the following questions using the pattern envelope. Make sure all answers are in cm (metric), NOT inches (imperial)
1. What sizes can be made with this pattern?
2. A size 14 in the Misses'/Misses' petite range, would fit someone with what body measurements? (You will need to refer to the size chart)
3. How are Views A and D different?
4. How are Views A and B different?
5. What are notions?
6. What notion is required for all Views?
7. What is notion is required for View A that is not required for the other views?
8. What is the alternative option shown in Views C and F?
9. Interfacing is sometimes used in making a garment. What is interfacing and why is it used? Where is it used in this pattern?
10. What are suitable fabrics for these garments?
11. What are the fabric requirements for View C? Include ALL fabrics requirements.
12. What is the finished length of View D in size 10?
13. Why may you need to buy extra fabric?
14. Some fabrics have a nap. What does this mean? How do you know if the fabric requirements listed have the "nap" taken into account?