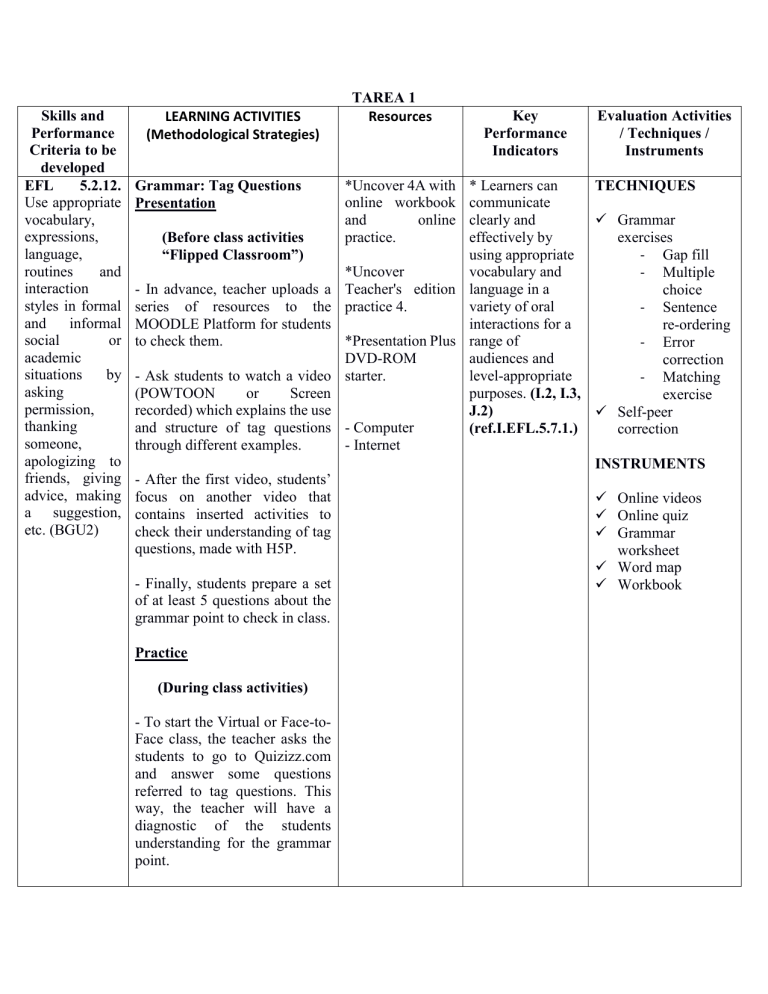 Skills and
Performance
Criteria to be
developed
EFL
5.2.12.
Use appropriate
vocabulary,
expressions,
language,
routines
and
interaction
styles in formal
and
informal
social
or
academic
situations
by
asking
permission,
thanking
someone,
apologizing to
friends, giving
advice, making
a suggestion,
etc. (BGU2)
LEARNING ACTIVITIES
(Methodological Strategies)
TAREA 1
Resources
Evaluation Activities
/ Techniques /
Instruments
* Learners can
TECHNIQUES
communicate
clearly and
 Grammar
effectively by
exercises
(Before class activities
using appropriate
"Flipped Classroom")
- Gap fill
*Uncover
vocabulary and
- Multiple
- In advance, teacher uploads a Teacher's edition language in a
choice
series of resources to the practice 4.
variety of oral
- Sentence
MOODLE Platform for students
interactions for a
re-ordering
to check them.
*Presentation Plus range of
- Error
DVD-ROM
audiences and
correction
- Ask students to watch a video starter.
level-appropriate
- Matching
(POWTOON
or
Screen
purposes. (I.2, I.3,
exercise
recorded) which explains the use
J.2)
 Self-peer
and structure of tag questions - Computer
(ref.I.EFL.5.7.1.)
correction
through different examples.
- Internet
INSTRUMENTS
- After the first video, students'
focus on another video that
 Online videos
contains inserted activities to
 Online quiz
check their understanding of tag
 Grammar
questions, made with H5P.
worksheet
 Word map
- Finally, students prepare a set
 Workbook
of at least 5 questions about the
grammar point to check in class.
Grammar: Tag Questions
Presentation
Practice
(During class activities)
- To start the Virtual or Face-toFace class, the teacher asks the
students to go to Quizizz.com
and answer some questions
referred to tag questions. This
way, the teacher will have a
diagnostic of the students
understanding for the grammar
point.
*Uncover 4A with
online workbook
and
online
practice.
Key
Performance
Indicators
- After that, the teacher answers
most of the questions that
students have prepared, giving
some feedback and examples.
- Students are then referred to
page 109 in the book where they
have
to
complete
some
exercises.
- Students go back to page 37
and complete an exercise where
they have to circle the correct
answers.
- Students are then asked to
match the beginnings with the
endings of sentences.
- Lastly, all the activities are
checked through the Interactive
Software, by asking some
volunteers to give the correct
answer.
Production
(End of class or After class
activities)
- Using a word map, students are
given a group of situations that
they have to use to create five
question tags. Then, they choose
a partner and make one of the
questions to him. The partner has
to answer the question correctly.
- Finally, students are given a
worksheet where they work
individually to complete the
different exercises with the
correct tags. Provide help as
needed. Have students check
answers with a partner, and then
check answers as a class.