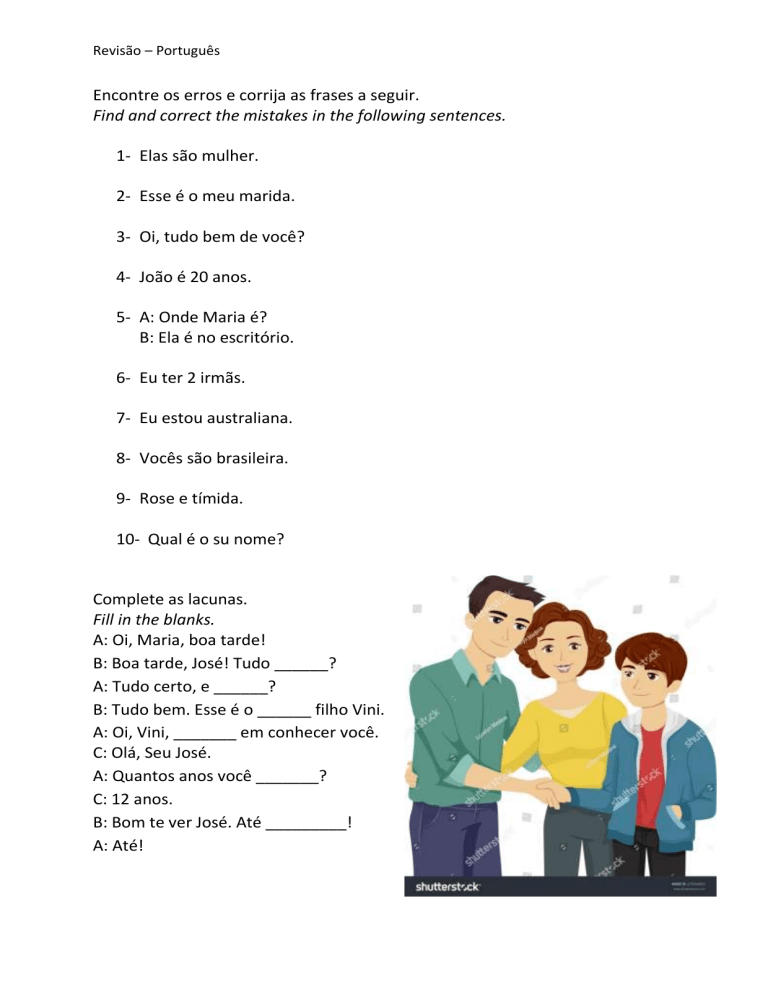 Revisão – Português
Encontre os erros e corrija as frases a seguir.
Find and correct the mistakes in the following sentences.
1- Elas são mulher.
2- Esse é o meu marida.
3- Oi, tudo bem de você?
4- João é 20 anos.
5- A: Onde Maria é?
B: Ela é no escritório.
6- Eu ter 2 irmãs.
7- Eu estou australiana.
8- Vocês são brasileira.
9- Rose e tímida.
10- Qual é o su nome?
Complete as lacunas.
Fill in the blanks.
A: Oi, Maria, boa tarde!
B: Boa tarde, José! Tudo ______?
A: Tudo certo, e ______?
B: Tudo bem. Esse é o ______ filho Vini.
A: Oi, Vini, _______ em conhecer você.
C: Olá, Seu José.
A: Quantos anos você _______?
C: 12 anos.
B: Bom te ver José. Até _________!
A: Até!
Revisão – Português
Sources: Novo Avenida Brasil 1. Editora Pedagogica Universitaria.
Um português bem brasileiro. Fundación Centro de Estudos Brasileiros.