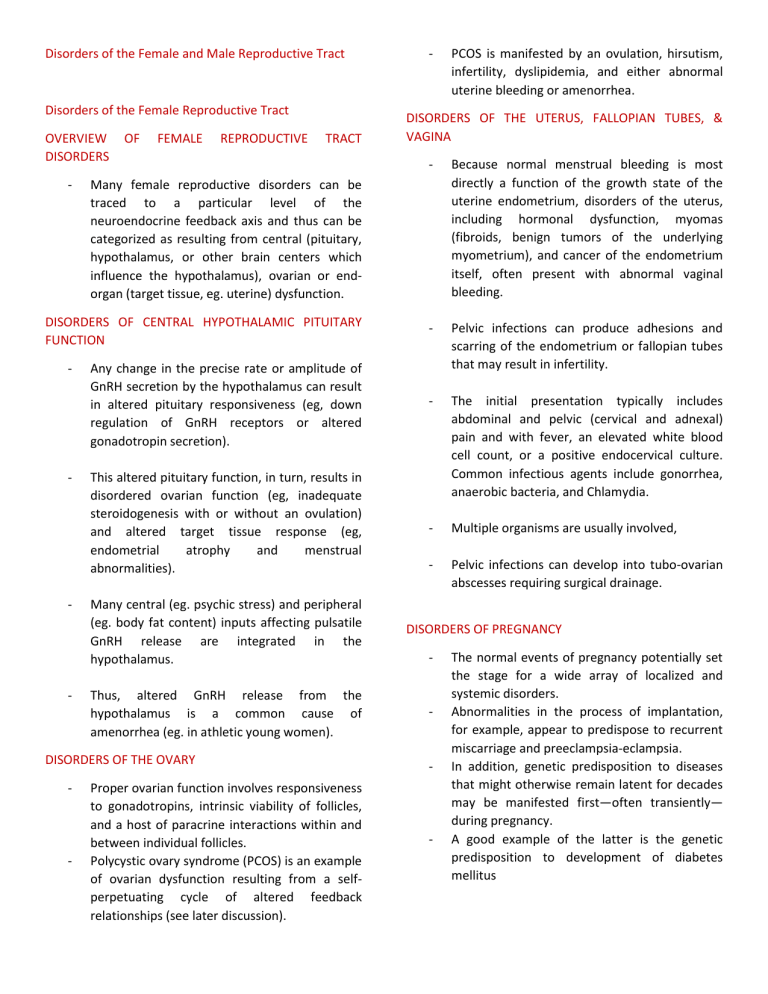 Disorders of the Female and Male Reproductive Tract
Disorders of the Female Reproductive Tract
OVERVIEW
DISORDERS
-
OF
FEMALE
REPRODUCTIVE
TRACT
-
-
-
-
DISORDERS OF THE UTERUS, FALLOPIAN TUBES, &
VAGINA
Because normal menstrual bleeding is most
directly a function of the growth state of the
uterine endometrium, disorders of the uterus,
including hormonal dysfunction, myomas
(fibroids, benign tumors of the underlying
myometrium), and cancer of the endometrium
itself, often present with abnormal vaginal
bleeding.
-
Any change in the precise rate or amplitude of
GnRH secretion by the hypothalamus can result
in altered pituitary responsiveness (eg, down
regulation of GnRH receptors or altered
gonadotropin secretion).
Pelvic infections can produce adhesions and
scarring of the endometrium or fallopian tubes
that may result in infertility.
-
This altered pituitary function, in turn, results in
disordered ovarian function (eg, inadequate
steroidogenesis with or without an ovulation)
and altered target tissue response (eg,
endometrial
atrophy
and
menstrual
abnormalities).
The initial presentation typically includes
abdominal and pelvic (cervical and adnexal)
pain and with fever, an elevated white blood
cell count, or a positive endocervical culture.
Common infectious agents include gonorrhea,
anaerobic bacteria, and Chlamydia.
-
Multiple organisms are usually involved,
-
Pelvic infections can develop into tubo-ovarian
abscesses requiring surgical drainage.
Many female reproductive disorders can be
traced to a particular level of the
neuroendocrine feedback axis and thus can be
categorized as resulting from central (pituitary,
hypothalamus, or other brain centers which
influence the hypothalamus), ovarian or endorgan (target tissue, eg. uterine) dysfunction.
Many central (eg. psychic stress) and peripheral
(eg. body fat content) inputs affecting pulsatile
GnRH release are integrated in the
hypothalamus.
Thus, altered GnRH release from the
hypothalamus is a common cause of
amenorrhea (eg. in athletic young women).
DISORDERS OF THE OVARY
-
PCOS is manifested by an ovulation, hirsutism,
infertility, dyslipidemia, and either abnormal
uterine bleeding or amenorrhea.
-
DISORDERS OF CENTRAL HYPOTHALAMIC PITUITARY
FUNCTION
-
-
Proper ovarian function involves responsiveness
to gonadotropins, intrinsic viability of follicles,
and a host of paracrine interactions within and
between individual follicles.
Polycystic ovary syndrome (PCOS) is an example
of ovarian dysfunction resulting from a selfperpetuating cycle of altered feedback
relationships (see later discussion).
DISORDERS OF PREGNANCY
-
-
-
-
The normal events of pregnancy potentially set
the stage for a wide array of localized and
systemic disorders.
Abnormalities in the process of implantation,
for example, appear to predispose to recurrent
miscarriage and preeclampsia-eclampsia.
In addition, genetic predisposition to diseases
that might otherwise remain latent for decades
may be manifested first—often transiently—
during pregnancy.
A good example of the latter is the genetic
predisposition to development of diabetes
mellitus
Disorders of the MaleReproductive Tract
-
MALE INFERTILITY
-
-
However, aging and hormonal factors are both
clearly important. Age-related increases in
prostate size are evident at autopsy, and the
development of symptoms is age-related.
Data from autopsy studies show pathologic
evidence of benign prostatic hyperplasia in less
than 10% of men in their 30s, in 40% of men in
their 50s, in more than 70% of men in their
60s,and in almost 90% of men in their 80s.
Clinical symptoms of bladder outlet obstruction
are seldom found in men younger than 40 years
but are found in about one-third of men older
than 65 years and in up to three-fourths of men
at age 80 years.Prostatic androgen levels,
particularly DHT levels, play an important role in
development of the disorder.
Pathology
-
-
-
BENIGN PROSTATIC HYPERPLASIA
-
-
Benign prostatic hyperplasia is nonmalignant
growth of the prostate stroma and epithelial
glands that causes enlargement of the prostate
gland. Growing slowly over decades, the gland
can eventually reach up to 10 times the normal
adult prostatesize in severe cases.
Benign prostatic hyperplasia is a common agerelated disorder.
Most men are asymptomatic, but clinical
symptoms and signs occur in up to one-third of
men older than 65 years, and each year more
than 500,000 men in the United States undergo
TURP.
Etiology
-
The cause of benign prostatic hyperplasia is
unknown.
The normal prostate is composed of both
stromal (smooth muscle) and epithelial
(glandular) elements.
Growth of each of these elements—alone or in
combination—can result in hyperplastic nodules
and ultimately the symptoms of benign
prostatic hyperplasia.
Pathologically, the hyperplastic gland is
enlarged, with a firm, rubbery consistency.
Although small nodules are often present
throughout the gland, benign prostatic
hyperplasia arises most commonly in the periurethral and transition zones.