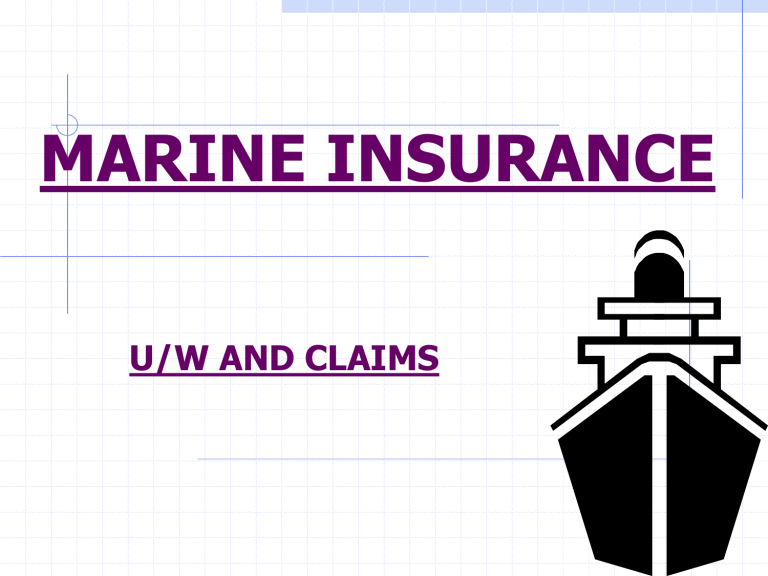 MARINE INSURANCE
U/W AND CLAIMS
HISTORY
 Marine Insurance developed over
many centuries.In fact it is the
oldest branch of Insurance.
 Concept of Insurance
Fear of risk.
 Uncertainty.
 Desire to seek protection against fear.

MARINE INSURANCE
 Marine Insurance followed same
concept of risk and spreading of
risk on a large scale.
 Prevalent and Practiced in very
older times, 5000 years ago.
 Chinese Traders used to send their
goods from YANGTZE river to other
parts of the world, by dividing their
goods in different boats.
EVIDENCE
 Egyptians were insuring their long "double
ended vessels against disaster.
 Revealed by King of Babylon around 2300 B.C.
 Bottomry Bond system – Compensation to the
ship owners if vessel was lost.
 Rhodions 2500 years ago advancing of loans
under 'Respondential & Bottomry Bonds'.
 Protection provided to merchants of Broach
and Surat trading with Egypt, Greece, Iran,
Lanka.
BOTTOMRY
 Bottomry is a loan raised by the
captain of the ship/ vessel- money is
urgently required for the prosecution of
voyage. Loan on the security of vessel
alone or sometimes on both vessel and
cargo.It is not responsible if the venture
is lost.
RESPONDENTIA
 An advance on Cargo alone and
Repayable
only if the cargo reaches the destination safely.
 Rate of interest on both is very high.It took
care of risk element e.g. accidental loss at sea
marine insurance. Act 1963 sec. 12.
 Lender of money or Bottomry or Respondentia
has an insurable interest in respect of loss.
 Italy- dominant economic power till the
discovery of America in the western
world.Italians not purely the merchants
but had monopoly in Banking.
They were financers and Business
Agents.
DRAFT BILL OF EXCHNGE
 Double entry system.
 They were exponents of marine insurance According




to VILLANI originated in LOMBARDY in 1182 A.D. tha
time these underwriters were not trustworthy
Lombards were popes merchants.
LOMBORD street in London is named
First to introduce insurance in London .
Policy from Italian word 'POLIZZA' means promise /
undertaking and earliest policy issued dated
20/9/1547. Indeed written in Italian.
MARINE INSURANCE
 Practiced today, has its origin in 1779
A.D. 'Lloyds' were the pioneers having
issued ship and goods policy.They are
the largest underwriters in the world
today.
SHIP AND GOODS POLICY
 Initially provided cover for L/D to the Hull as well as
Cargo due to MARITIME Perils or the Sea Perils' e.g.
Fire, Enemies jettisons,,Barratry of master or crews,
pirates, thieves, arrests+ and it provided cover for
perils connected with War.But in 1898 London mkt.
Which dominated the marine insurance excluded
war risk which is excluded in all classes of
insurance-- industrial revolution -war peril included.
INSTITUTE OF LONDON
UNDERWRITERS 1894
 Main function- liaison with Marine underwriters and





shipping companies.
Britishers being conservatives retained the old ship
and goods policy forms.
Institute introduced many clauses deal with scopes
of cover for Hull and Cargo Insurance.
Policy and clauses needed simplification.
It was raised and discussed in the conf. Of
(UNCT AD) United Nations Commission for Trade
And Development
cont....
UNCT AD
 'United Nations Commission For Trade
And Development.'
 London market finally simplified& Stream
lined the wordings of the policy and
clauses.
 Adopted in the English market wef.
01/01/1982
 These new policy clauses introduced in
the Indian market wef. 01/04/1983.
LLOYD'S OF LONDON
 Marine insurance market in U.K. has its
major centre in LONDON in and around
Lloyd's blg Substantial market in,
Liverpool and to a lesser degree in
Glasgow and other cities .
 London market includes Lloyd's the
principal British insurance companies
the agencies, branches.
LLOYD'S AS CORPORATION
 Provides all the facilities for its
members enabling to transact all kinds
of insurance business on their own
account.
 Consolidated facilities from themselves
in to syndicates of various sizes..
LLOYD'S OF LONDEN
• Each Syndicate has its own underwriters
• membership of syndicate means no escape from
liabilities which is several &unlimited.
• U/W members are elected by the committee only on
strictest exam of their financial status.
• Each member has to deposit security with the
committee for their underwriting liabilities.
cont….
Cont..
 Deposit until whole of the members
liabilities have been discharged.
 Whole Of the underwriting premium
placed in the Trust Fund used
exclusively- to pay underwriters
liabilities & expenses.also to submit
accounts annually to an auditor before
the profits are released.
THE INSTITUTE OF
'LONDON UNDERWRITERS'
 Origin like that of Lloyd's.(London
Coffee house) It was incorporated in
June1884 and , has membership of 100
and more.
OBJECTIVES
 Advancement of Marine Insurance .
 Protection of interest of companies
writing marine business- consultation
and united action.
 Not a tariff Org. But has influence on
the tech. side of marine insurance in
conjunction with "International Union of
Marine Insurance" in Germany in 1874.
Cont....
Cont.….
 Assists to remove causes of friction bet.
various insurance markets through various
committees e.g.
 Jt. Hull Committee, the Cargo Committee,
the War Risk Rating Committee, Technical
and Clauses Committee.
 IUM insurance- members countries like

Germany,Austria, Russia and Sweden and 30 more
countries.
SALVAGE ASSOCIATION
 First In 1856 by a Committee of Lloyd's
and underwriters to protect community
interest reg. wrecked and damaged
property.
 Salvage and Survey of damaged
property ships , cargo, jetters, docks,
aircraft's, superviosion repairs.
VARIOUS ACTS IN r/o
MARINE INSURANCE
 Marine Insurance Act 1963- India -marine
insurance contract an agreement bet insurer and
Assured reg. indemnity for agreed sum against
marine losses.
 Inland,water or any land risk, see voyage or air.
marine insurance highly specialised ,req experts .
 Marine insurance certain peculiarities -sound
knowledge.
 Nature of cargoes- chemical- physical/ conditions of
the ports of the world.
 At common law fundamental principles required to be
observed in all insurance contracts.
 They have been codified In marine insurance Act.1906
of England and that of 1963 of India. India act is
similar to that of England .
 Indian insurer is required to follow & strictly observe
the promise Of marine insurance Act 1963 and all
India marine cargo Tariff.(now deteriff)
 Has been deregularised. guidelines have been issued
by GIC dated 19.5.1994.
ACTS.
 THE CARRIAGE OF GOODS BY SEA ACT
1925.
 THE MERCHANT SHIPPING ACT 1958.
 TH E BILL OF LADING ACT 1855.
 THE INDIAN PORTS (MAJOR PORT)
ACT 1963.
 THE INDIAN RAILWAY ACT 1890
 THE CARRIERS ACT 1865
Cont...
Cont...
 THE INDIAN POST OFFICE ACT 1898.
 THE CARRIAGE BY AIR ACT 1972.
 THE INSURANCE ACT 1938- RULES-1939.
 THE CARRIAGE OF GOODS BY SEA ACT 1924.
 MULTI MODAL TRANSPORTATION OF GOODS
ACT 1993.
 GIC BUSINESS (NATIONALISATION) ACT 1972.
 IRDA ACT 2000.
 EXCHANGE CONTROL REGULATION .
 Residents in India not permitted
to take marine insurance with
foreign insurance companies
without
 Prior permition of RBI by
Nationalization of Insu.
act 1972.