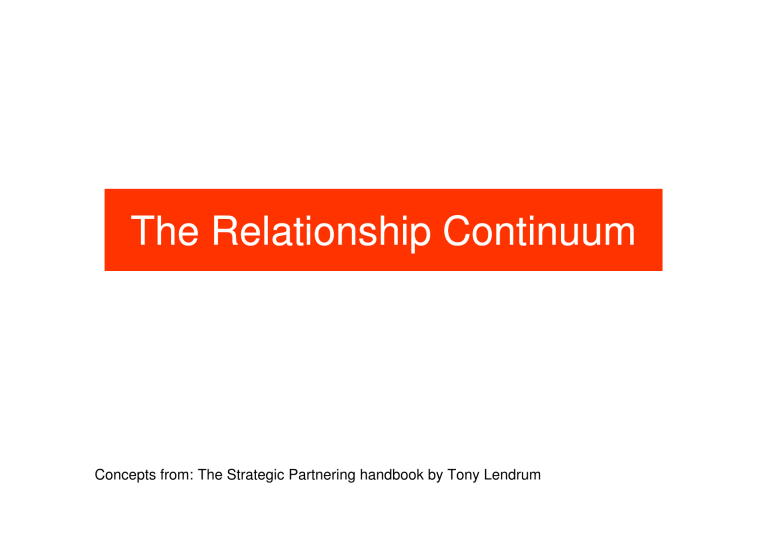 The Relationship Continuum
Concepts from: The Strategic Partnering handbook by Tony Lendrum
Relationships between customers and
suppliers
Degree of :
• Complexity
• Time
• ROI
Type or
quality of
relationship
• Competitive
advantage
0
• Customer
satisfaction
4
Vendor
• Innovation •
•
•
•
•
Relationship
Manager
8
Supplier
Trader
Price is No.1
requirement
Little differentiation
Low margins
Little loyalty
Sales
Representative
•
•
•
•
•
•
Trader
Partner
IFOTA1 delivery
Differentiation
Reducing costs
Adding value
Innovation
Providing expertise
Account
Manager
10
•
Shared
–
–
–
–
•
Trust
Strategy and information
Vision and goals
Risk and benefits
Discover, create, provide worldclass products and services
Key Account
Manager
Partnership/ Alliance
Manager
IFOTA1 = In Full On Time to A1 Specification, ROI = Return on Investment
From the Strategic Partnering Handbook by Tony Lendrum Fig 1.4 page 14
0 – 10 Relationship Management Matrix
Performance/Results
vendor
supplier
partner
Superior 10
Desired state
x
World Class 9
Outstanding 8
Excellent 7
Good 6
Satisfactory 5
Fair 4
Below Average 3
Poor 2
Unsustainable 1
Current State
0
1
2
3
4
5
6
7
8
9
10
From the Strategic Partnering Handbook by Tony Lendrum Fig 1.4 page 18
Strategic Partnering: a combination of…
Workplace reform
•Enterprise agreements
•Restructuring
•Productivity gains
•Upskilling/multiskilling
•Ownership
•Empowerment
•Attitude/culture change
Technology
Process Capability
External customers and
suppliers
•$/ROI large
•Strategic fit
•Shared information and vision
•Trust
•World-class, or potential to be
Partnerships
•Mutually rewarding,
strong, long-term
relationships based
on two-way trust,
commitment and
cooperation
•World-class companies
•World-class products
•World-class services
Total quality
• Accreditation
• TQM/SPC
• Teamwork
• Attitude/culture change
• Quality up
• Costs down
• Internal customers and
suppliers
Partnering Process
Partnership Manager
Management
•Leadership
•Vision
•Strategy
•Active participation
•Support
From the Strategic Partnering Handbook by Tony Lendrum Fig 1.4 page 36
0
10 Relationship Management
Degree of
• Complexity
Partner
• Time
• ROI
• Competitive
advantage
Supplier
• Customer
satisfaction
• Innovation
Vendor
0
1
2
3
4
5
6
7
8
9
10
Type and quality of relationship
The Strategic Partnering Handbook
Tony Lendrum
The 12 motivators
•
•
•
•
•
•
•
•
•
•
•
•
Add value
Reduce costs
Improve communication
Develop trust
Resolve conflicts
Remove hidden agendas
Provide leadership
Empower people
Gain commitment
Develop ownership
Break down departmental barriers
Remove fear
Types of relationships
Zero relationships
• The choice is made, deliberately, consciously, for
good reason/s, not to have a relationship with the
customer, supplier or competitor in question
• Could also involve other organisations with which for
ethical or commercial reasons you choose not to do
business.
Types of relationships
Vendor Type Relationships
• Four relational types
– Combative
• Self-survival and self-interest at the expense of others
• Less sustainable.
– Tribal
• Parochial, insular, protective, territorial groups resistant
to change with an intense suspicion or fear of outsiders.
Types of relationships
Trading
• Trading relationships exist in a world of opportunism and
are all about negotiating, bartering, doing the deal and
getting the order, predominantly at the best or lower
price.
– Transactional
• Straight purchase or sale of products or services with
little or no negotiation involved.
• Trust is built more through technology, systems and
processes than through people.
• Will become far more dominant and have an impact on
all the other relationship types.
Types of relationships
Supplier Relationship Types
• Basic
– Low-impact, low profile, low-priority, non-critical,
independent, 'business as usual'
– Little or no focus on innovation or continuous
improvement
– No frills relationships with proactive customer
service and reactive product and/or service
development
Types of relationships
• Major
– Typified by an increasing complexity and importance of the
products, services and projects delivered, and the supporting
relationship.
– Conformance to requirements, together with a strong and
proactive focus on total cost reductions, tends to
overshadow true innovation and added value opportunities.
– Outsourced relationships of non-core activities with many
involving single or preferred supplier arrangements with
medium levels of systems or process integration.
Types of relationships
• Key
– Quality driven, continuously improving, innovationbased relationships.
– Enlightened, self-interest relationships based on
long term win/win outcomes for all parties.
Types of relationships
Partner
• Partnering relationships
– Based on competence, character,
interdependence, honesty and integrity in working
together, in good faith, as individuals and teams to
achieve shared visions and common goals for
mutual benefit.
– Leveraging core competencies around a broad
balanced scorecard of performance measures.
– There will be a formal relationship development
process and strategy or action plan in place.
Types of relationships
Partner
• Pioneering relationships
– Sometimes called virtual relationships, virtual
companies, co-producers, clusters and consortia
networks.
– Capture paradigm shifters and pioneers daring to
seek boundaries and break old rules.
– Seamless and transparent environments in every
respect.
– Often involving public and private sector
organisations.
Types of relationships
Partner
• Collaboration
– Sometimes called extended enterprise relationships, these
collaborations share the same principles and concepts as
partnering and pioneering relationships but are now
extended up and down complex supply and value chains.
– These relationships will have social and political implications
as well as economic implications for profit, non-profit, public
and private sector organisations.
– These are about extended, interconnected relationships,
supply chains and internal organisational value chains.