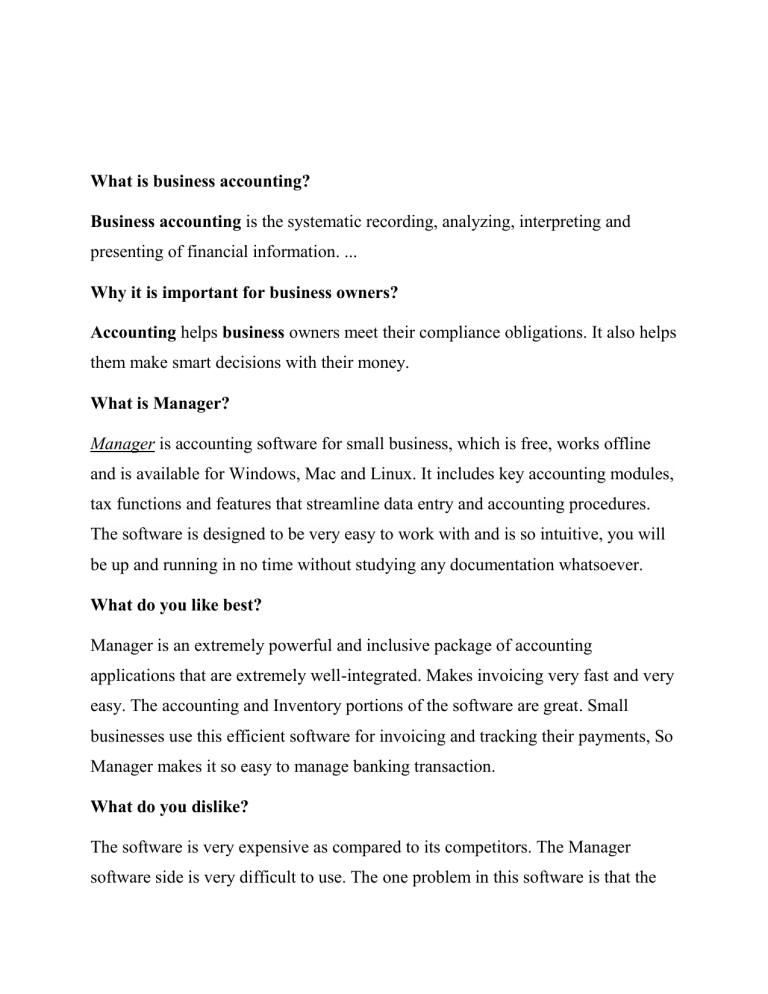 What is business accounting?
Business accounting is the systematic recording, analyzing, interpreting and
presenting of financial information. ...
Why it is important for business owners?
Accounting helps business owners meet their compliance obligations. It also helps
them make smart decisions with their money.
What is Manager?
Manager is accounting software for small business, which is free, works offline
and is available for Windows, Mac and Linux. It includes key accounting modules,
tax functions and features that streamline data entry and accounting procedures.
The software is designed to be very easy to work with and is so intuitive, you will
be up and running in no time without studying any documentation whatsoever.
What do you like best?
Manager is an extremely powerful and inclusive package of accounting
applications that are extremely well-integrated. Makes invoicing very fast and very
easy. The accounting and Inventory portions of the software are great. Small
businesses use this efficient software for invoicing and tracking their payments, So
Manager makes it so easy to manage banking transaction.
What do you dislike?
The software is very expensive as compared to its competitors. The Manager
software side is very difficult to use. The one problem in this software is that the
reports can be difficult to set up and new users have a steep learning curve.
Another problem in this software is that when we deposit our payments in the bank
accounts then sometime our payments cannot easily deposit in the bank accounts.