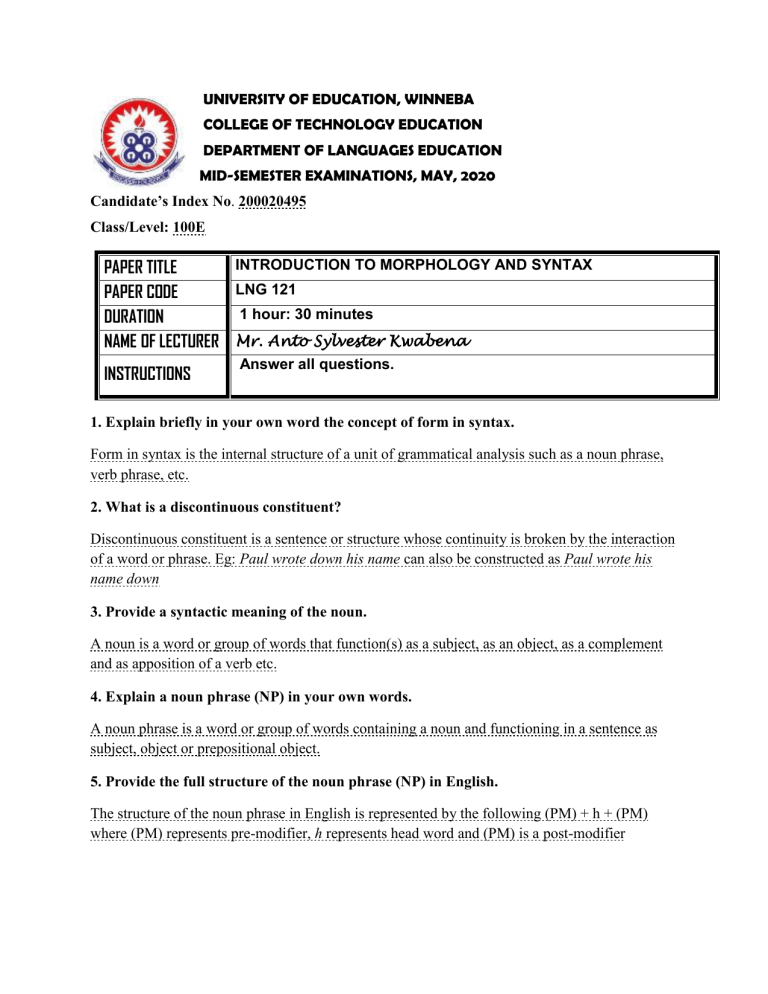 UNIVERSITY OF EDUCATION, WINNEBA
COLLEGE OF TECHNOLOGY EDUCATION
DEPARTMENT OF LANGUAGES EDUCATION
MID-SEMESTER EXAMINATIONS, MAY, 2020
Candidate's Index No. 200020495
Class/Level: 100E
INTRODUCTION TO MORPHOLOGY AND SYNTAX
PAPER TITLE
LNG 121
PAPER CODE
1 hour: 30 minutes
DURATION
NAME OF LECTURER Mr. Anto Sylvester Kwabena
INSTRUCTIONS
Answer all questions.
1. Explain briefly in your own word the concept of form in syntax.
Form in syntax is the internal structure of a unit of grammatical analysis such as a noun phrase,
verb phrase, etc.
2. What is a discontinuous constituent?
Discontinuous constituent is a sentence or structure whose continuity is broken by the interaction
of a word or phrase. Eg: Paul wrote down his name can also be constructed as Paul wrote his
name down
3. Provide a syntactic meaning of the noun.
A noun is a word or group of words that function(s) as a subject, as an object, as a complement
and as apposition of a verb etc.
4. Explain a noun phrase (NP) in your own words.
A noun phrase is a word or group of words containing a noun and functioning in a sentence as
subject, object or prepositional object.
5. Provide the full structure of the noun phrase (NP) in English.
The structure of the noun phrase in English is represented by the following (PM) + h + (PM)
where (PM) represents pre-modifier, h represents head word and (PM) is a post-modifier
6. Form a construction, either a sentence or phrase that has the following syntactic
structure in English:
Asked the volunteers to stay within the corridor
V +
NP
+
PP
7. Provide an example of a construction that has an adjective phrase (AdjP) post-modifying
a noun phrase (NP) head in English.
The persons much concerned are the foreigners.
NP
+
AdjP
8. Write down a sentence in which a noun phrase (NP) functions as a complement of a
preposition.
My children ran into the house
9. What is the function of the underlined word in the following sentence?
Mary is extremely happy this morning.
'Extremely' is used as a modifier to the adjective 'happy'
10. Provide a sentence or phrase that has the following syntactic structure in English:
Is he very stubborn that you cannot control?
V+
AdjP +
Cl (where Cl is finite that-clause)
11. Write down the syntactic structure of the underlined group of words in the following
sentence:
The lecturer was surprised to see John.
'Was surprised' is a verb phrase and 'to see John' is a prepositional phrase.
12. Identify the function of the prepositional phrase (PP) in the following sentence:
The dog is in the room.
The prepositional phrase 'in the room' is a complement to the verb 'is'
13. What is a transitive verb?
A transitive is a verb that requires an object to receive an action.
14. What type of transitive verb is underlined in the following sentence?
Thomas bought the students some candies.
'Bought' is a ditransitive verb.
15. What is the basic underlying principle of Immediate Constituent Analysis (ICA)?
Immediate Constituent Analysis in linguistics is a system of grammatical analysis that divides
sentences into successive layers or constituents until in the final layer. Each constituent consists
of only a word or a meaningful part of the word.
16. (a) What is a morpheme?
A morpheme is the smallest syntactical and meaningful linguistic unit that contains a word, or
element of the word such as the use of –s at the end of the word.
(b) Give an example of a morpheme in English.
(i) regard
17. What is a zero element in morphological studies?
In linguistics, a zero or nil is a segment which is not pronounced or written and usually with no
phonetic form. Examples are nouns with identical singular and plural form such as sheep.
18. Explain briefly why sheep, yam, paper, chalk, and property are regarded as zero
elements in English.
These are zero elements because they all have no phonetic form and their plurals are formed with
a null or zero affix; thus plural of sheep remains the same just that of yam, paper, chalk and
property.
19. Name the two main branches of morphology.
(i) The study of the breaking apart (analytic side)
(ii) The resembling (synthetic side) of words
20. Identify the morphemes in the following words:
(a) dictatorship
(i) dictator
(ii) ship
(b) butcher
butcher
GOOD LUCK.