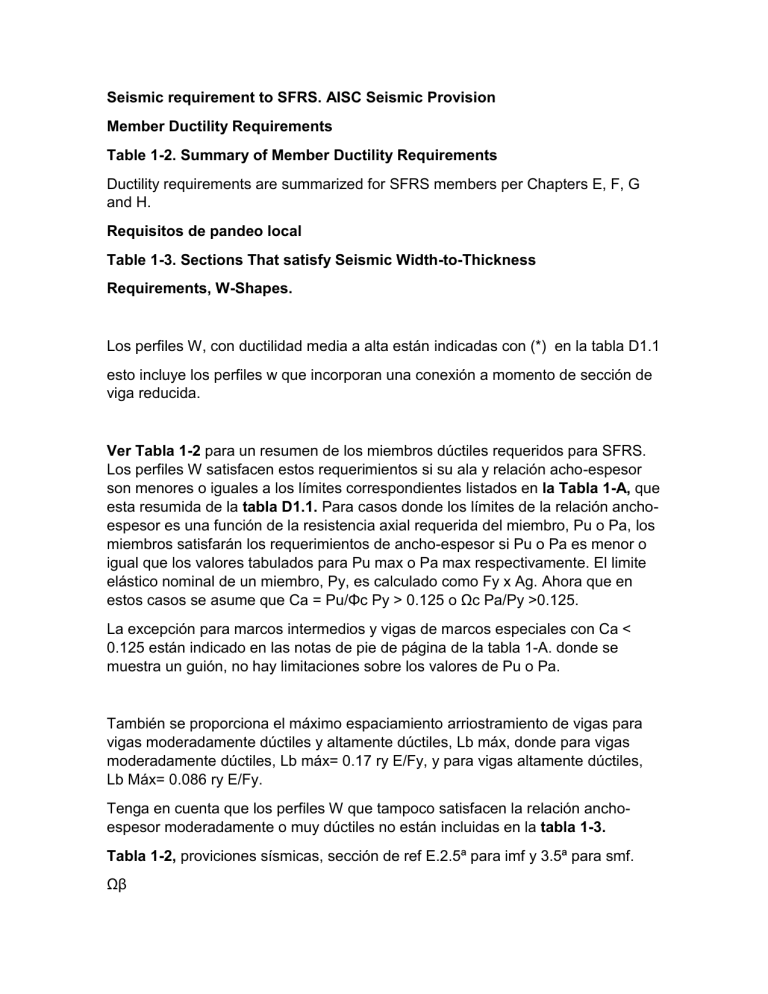 Seismic requirement to SFRS. AISC Seismic Provision
Member Ductility Requirements
Table 1-2. Summary of Member Ductility Requirements
Ductility requirements are summarized for SFRS members per Chapters E, F, G
and H.
Requisitos de pandeo local
Table 1-3. Sections That satisfy Seismic Width-to-Thickness
Requirements, W-Shapes.
Los perfiles W, con ductilidad media a alta están indicadas con (*) en la tabla D1.1
esto incluye los perfiles w que incorporan una conexión a momento de sección de
viga reducida.
Ver Tabla 1-2 para un resumen de los miembros dúctiles requeridos para SFRS.
Los perfiles W satisfacen estos requerimientos si su ala y relación acho-espesor
son menores o iguales a los límites correspondientes listados en la Tabla 1-A, que
esta resumida de la tabla D1.1. Para casos donde los límites de la relación anchoespesor es una función de la resistencia axial requerida del miembro, Pu o Pa, los
miembros satisfarán los requerimientos de ancho-espesor si Pu o Pa es menor o
igual que los valores tabulados para Pu max o Pa max respectivamente. El limite
elástico nominal de un miembro, Py, es calculado como Fy x Ag. Ahora que en
estos casos se asume que Ca = Pu/Φc Py > 0.125 o Ωc Pa/Py >0.125.
La excepción para marcos intermedios y vigas de marcos especiales con Ca <
0.125 están indicado en las notas de pie de página de la tabla 1-A. donde se
muestra un guión, no hay limitaciones sobre los valores de Pu o Pa.
También se proporciona el máximo espaciamiento arriostramiento de vigas para
vigas moderadamente dúctiles y altamente dúctiles, Lb máx, donde para vigas
moderadamente dúctiles, Lb máx= 0.17 ry E/Fy, y para vigas altamente dúctiles,
Lb Máx= 0.086 ry E/Fy.
Tenga en cuenta que los perfiles W que tampoco satisfacen la relación anchoespesor moderadamente o muy dúctiles no están incluidas en la tabla 1-3.
Tabla 1-2, proviciones sísmicas, sección de ref E.2.5ª para imf y 3.5ª para smf.
Ωβ
Información de perfiles.
Las relaciones λr de los perfiles se dan en la tabla B4.1a del código AISC.
Miembros a flexión.
Miembros compactos, arriostrados. Esta arriostrado cuando Lb<Lp, y es
compacto cuando λ<= λp, la flexión debe ser considerada en la resistencia a
momento nominal de los miebros, de acuerdo con los requerimientos del capitulo
F del AISC.
Pandeo local.
Detemrinando la relación ancho espesor en la sección transversal.