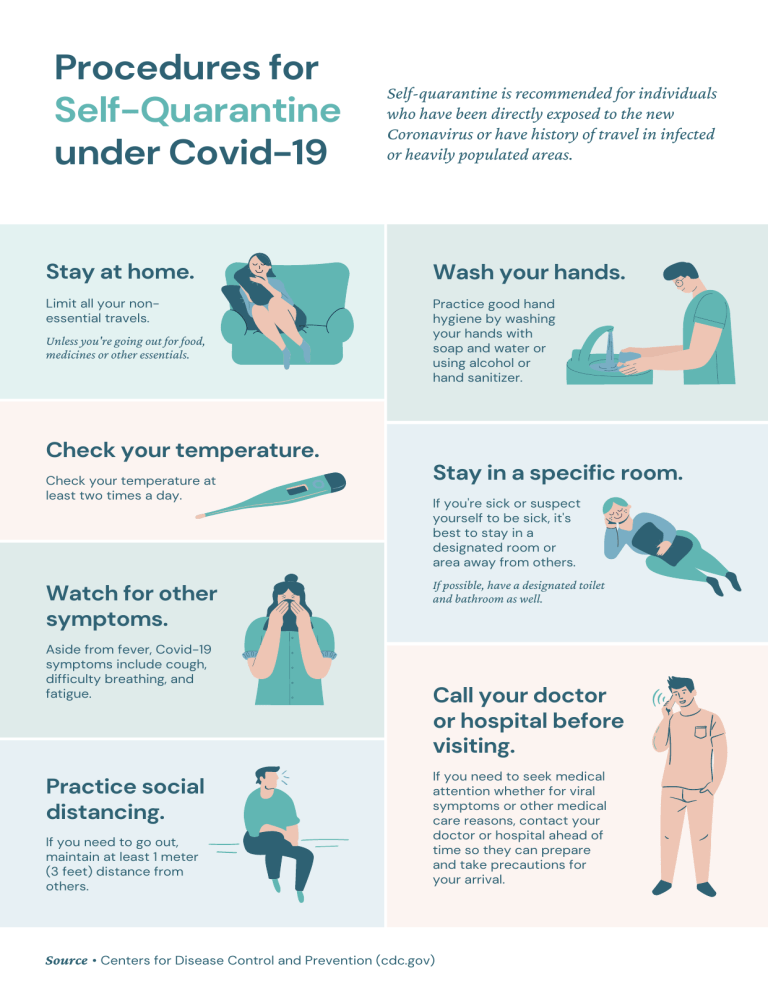 Procedures for
Self-Quarantine
under Covid-19
Self-quarantine is recommended for individuals
who have been directly exposed to the new
Coronavirus or have history of travel in infected
or heavily populated areas.
Stay at home.
Wash your hands.
Limit all your nonessential travels.
Practice good hand
hygiene by washing
your hands with
soap and water or
using alcohol or
hand sanitizer.
Unless you're going out for food,
medicines or other essentials.
Check your temperature.
Check your temperature at
least two times a day.
Watch for other
symptoms.
Aside from fever, Covid-19
symptoms include cough,
difficulty breathing, and
fatigue.
Practice social
distancing.
If you need to go out,
maintain at least 1 meter
(3 feet) distance from
others.
Stay in a specific room.
If you're sick or suspect
yourself to be sick, it's
best to stay in a
designated room or
area away from others.
If possible, have a designated toilet
and bathroom as well.
Call your doctor
or hospital before
visiting.
If you need to seek medical
attention whether for viral
symptoms or other medical
care reasons, contact your
doctor or hospital ahead of
time so they can prepare
and take precautions for
your arrival.
Source • Centers for Disease Control and Prevention (cdc.gov)
Procedure For Plant
Restart After
Lockdown Due To
COVID-19
PROTECTING ASSETS.
PROTECTING BORDERS.
01
Messages
from A-1
1.1 MESSAGE FROM THE DIRECTOR
To my dear A-1 family,
I hope you and your loved ones are safe and healthy. These have been crisis
like none other faced by mankind for a long long time. However, history also
tells us, whenever humanity has faced crisis of this proportion, it fights back,
and eventually prevails over the circumstances. And this will be no different.
Mankind will overcome this, there is no doubt about it.
I am even more sure of A-1 Fence. The spirit I have seen within this one large
family of A-1, is remarkable. Through these last few weeks, I have spoken to
so many of you, and the courage I have witnessed has inspired me.
After the lockdown, the time has come for A-1 Fence to rise and get back to
work, and get the engines of our company, our country, ignited.
While we are all relieved to be back to our favorite place, and back to what
we love doing, we have to pay utmost care to health and safety. I can not
overemphasize the importance of taking this with utmost seriousness. Our
team has prepared very minutely every step that needs to be taken to keep
ourselves safe. It has to be followed to perfection. There is no room for error
here. With folded hands, I request you all to follow every instruction that is
being published by the plant management. Our Prime Minister said "Every
person must act as if he or she is infected, and has to protect all others
from the infection". If we can keep this in mind, we will automatically follow
every instruction very very carefully.
LET THE MACHINES ROAR AGAIN !
SAURABH GUPTA
Messages
from A-1
01
1.2 MESSAGE FROM THE PLANT HEAD
Dear Colleagues,
First of all, I want to thank each and every one for your patience and courage
in this one of the rare and difficult times ever we lived. This Covid -19
pandemic situation in the country and world has forced all of us to live a
never before lifestyle. " Away from the routine work for 4 weeks, isolated
inside houses, no access to markets and malls, taking care of kids without
letting them go out in playgrounds and parks and of course not in schools
and much more". Dear Friends this all needs different levels of discipline and
self control. This was a test for all of us where we had to participate
in a fight against the invisible, a fight with the next level of rules, we never
practiced ever. I congratulate you for passing this test of resilience and I am
sure all of you have become New You.
Risk of Pandemic has not ended and war is still on. Administration has given
flexibility in industrial operations with some rules and regulations. Which are
non negotiable and breaching of these rules can impact our permission to
operate and will take our society at risk of a boost of this pandemic
situation. We all need to practice these rules in our way of working while at
shop floors, travelling and at our homes. Our team members have put in a
tremendous amount of effort to understand these regulations and made a
draft of the way of working according to these requirements.
Now it is again the time for showing the same discipline at work. Only our
Discipline is going to help us keep our colleagues safe, our society at no risk
and our country respect at a higher level. Don't
forget our attitude towards our nation will help us respect these set rules.
Lets come together to win the game!!
NEERAJ TYAGI
02
Purpose
PURPOSE
Protection and Safety of plant employees, contractual workers, vendors and
other stakeholders from Novel Corona virus Disease (Covid-19) pandemic.
Smooth startup of plant machinery and equipment after lock down to avoid
any business risk.
To ensure no person who is infected enters in company premises.
03
Scope
SCOPE
Includes Man, Machine, Material & Methods (or exiting systems) inside &
outside the plant having direct or indirect involvement in plant operations.
Manpower includes all direct & indirect Manpower working in factory which
includes all employees, Contractors, Vendors & Visitors.
04
Responsibility
RESPONSIBILITY
Plant Head is responsible for implementing this entire procedure in their
respective plants.
However, for certain activities the primary responsibility is assigned to
individual leaders that is mentioned in section 4 of procedure.
05
Procedure
PROCEDURE
The procedure shall be applicable to COVID-19 pandemic currently
prevailing in our country due to which the plant had to halt its operations.
The outbreak has led to a declaration of nationwide lock down for 21 days by
the Prime Minister. Following requirements are to be fulfilled before opening
the plant premises for regular operation.
05
Procedure
5.1 PLANT FUMIGATION, PEOPLE HYGIENE &
SANITIZATION: RESPONSIBILITY: PLANT HR,
PLANT PPC AND PLANT EHS
5.1.1 Fumigation of Plant (Offices, Shops Floors, Toilets, Lunchrooms, Tea areas
etc.) followed by cleaning and sanitization. This activity needs to be carried
out one day prior to re-start - to avoid virus spread due to residual virus if
any.
5.1.2 Ensure High Frequency Cleaning for common areas, canteen, canteen
tables-chairs, door, door handles, tables, chairs, knob & handles, cubicles,
desks, toilets, water taps, flap barriers etc. with external service provider. This
has to be completed two days prior to the re-start and shall continue till
COVID-19 risk persists, frequency can be reduced based on the direction of
on-site doctor.
05
Procedure
51.3 Ensure availability of 2 Masks for Each Employee, soap solutions,
sanitizers, regular medicine etc. as per Company Medical Officer – Follow
OHC guidelines till the COVID-19 risk persists.
5.1.4 Ensure availability of sufficient Personal Protection equipment
(hereinafter called as PPE's)
5.1.5 Ensure that all people who enter the plant are compulsorily wearing
masks.
5.1.6 Hand wash system to be provided in shop floor premises, office areas &
at entry gate. Hand sanitizers to be kept near the attendance punching
machines, canteen entrance, water centers, bio-metric doors etc. HR to
ensure availability of soap solutions/ sanitizers for housekeeping staff 2 days
prior to re-start.
05
Procedure
5.1.7 Daily fumigation of company buses, vehicles and parking areas till the
risk persists.
Note: Plant can use any of the above chemical for preparing Sodium
Hypochlorite solution based on availability.
05
Procedure
5.1.8 Seating plan with Alternate/special seating arrangement across plant in
Tea break areas / canteens / Offices to be ensured by admin team.
5.1.9 Ensure social distancing during mass movement at time office, shop
floor, canteen, tea breaks, entry, exit by security team and respective HOD's.
ie: Movement via separate Entry & Exit route for incoming and outgoing
shifts to be ensured by Security and HR.
5.1.10 Stock of groceries and dairy products two days prior to re-start in
plants where cooking is done in-house.
5.1.11 Release of N+3 Day Production plan two days prior to re-start by plant
PPC.
5.1.12 Have the stock review of consumables conducted by Respective Shop
/ department. This information should be forwarded to concerned Team for
procurement (Oils / PPE Etc.) 5 days prior to re-start.
5.1.13 Open Consumable Store to issue consumables etc. two days prior to
re-start.
05
Procedure
5.2 MANPOWER AVAILABILITY &
COMMUNICATION STRATEGY:RESPONSIBILITY:
PLANT HR HEAD
5.2.1 Ensure members of the Safety Committee (EHS, Plant HR, Maint., SCM,
Production) & Operational Committee members (Production, Maint., HR, ME,
SCM, Security, EHS, Canteen, Housekeeping) are decided and communicated
one day prior to Plant Operations.
5.2.2 State wise manpower demography and interstate transportation status
to be considered while deciding manpower / shifts.
5.2.3 Firstly check the availability of Staff and Workmen situated near the
plant – Check who can move in for startup purposes in 24 hrs. and who can
join later. This will also avoid congestion in buses and offices. Based on the
shifts decided advance intimation should be provided to the respective
team members so that they can join their duty as per schedule for startup,
trials & plant operations.
5.2.4 Inform all the Staff, workmen and contractors only after receiving clear
written communication from Management on restarting operations.
05
Procedure
5.2.5 Ensure communication to all Contract Employees by contract
Supervisors. Arrange for back up contact personnel if there is poor visibility
of availability.
5.2.6 Clearly communicate to concerned on shifts / timings of Entry /Exit
/extension to ensure required manpower for set up and production.
5.2.7 Continuous Communication with Team Members to be maintained for
information on his/her Location & Health Status of self, family members and
around. Connect Female Team member and HR female representative with
female workmen where required. Inform the Doctor of any employees with
COVID 2019 symptoms or any medical requirement for necessary action.
5.2.8 Communication to be done with Vehicle Transporters for BUS and Staff
Vehicles after ensuring proper fumigation & disinfection as mentioned in 5.1
above.
05
Procedure
5.3 EMPLOYEE THERMAL SCANNING & HEALTH
DIAGNOSIS: RESPONSIBILITY: PLANT HR
5.3.1 Certified Medical Officer to be appointed in plant for each shift to
inspect employees for Thermal Infrared Scanning & Symptomatic Scanning &
further advice.
5.3.2 All persons must declare their health (self-declaration) in prescribed
format prior to entry in plant. Information of travel history and their family
member's health condition to be gathered pertaining to symptoms of
COVID-19 during lock down period. As required by the Govt of India and
company, Everyone should declare personal information truthfully (action
track , health status), and make sure the information is true and signed after
start to work.
05
Procedure
5.3.3 All employees and Contractors will be required to make an entry in the
Plant and will have to undergo Medical Checkup before entering the plant.
Temperature limits & clinical symptoms will be checked (see table below). In
case any person is found positive as per symptoms prescribed in table
below; he / she will not be allowed to enter the Plant / company premises.
And he/ she shall be advised further steps as per local Govt. guidelines by
the Doctor and HR. Employee can resume working only on producing a
medically fit certificate.
5.3.4 Temp check will be done using a temperature gun for everyone at entry
gate by medical & security team. The temp gun should also be cleaned with
sanitizers every now and then.
5.3.5 Safety Precaution communication should be compulsorily conducted
on the first day of restarting the plant and then on regular basis to each team
member / workmen / staff. Do's and Don'ts to be briefed to all employees
regarding social distancing during work & meeting, hand hygiene, No spitting,
No hand shake, use of attendance punching machine using sanitizer & health
check procedure etc.)
5.3.6 Plant HR will communicate to all employees that "Spiting, chewing
tobacco/ gutkha, chewingum is strictly prohibited". And if incase any
employee found doing the same; he / she will be liable for disciplinary action.
Also, notices/ banners of the same shall be displayed at prominent places.
05
Procedure
5.3.7 Plant HR will also define break timings in a staggered manner to avoid
rush in canteen, toilets, water centers, tea break areas.
5.3.8 Medical Facilities in plant shall be adequately equipped with required
infrastructure to tackle any emergency. Eg: In case, it comes to notice that
even after all these precautions an infected person has gained entry in the
plant and has come in contact with plant equipment and teams – medical
checks and isolation process of all people who could be possibly infected
shall be followed. The place will be sanitized and fumigated in such instances.
Necessary government agencies will be informed.
5.3.9 Risk Assessment (HIRA) with Epidemic Hazards to be prepared by Plant
Medical Officer & EHS Officer. This HIRA document shall be approved by
Plant Head with no High-Risk Pendency.
05
Procedure
5.4 EQUIPMENT AND MACHINERY:
RESPONSIBILITY- PLANT MAINTENANCE HEAD
5.4.1 Dry Run of Machines, Robots, Conveyors, Inspection equipment etc. on a
regular basis to avoid any battery drain or program malfunction.
5.4.2 Ensure readiness for running of WTP, ETP, STP system, Cooling Tower,
Air Supply Units, Paint Shop Equipment, Burners & Pumps, HT/ LT substations
and complete setup testing to be done one day prior to production startup.
5.4.3 Ensure working of Server Room, Telephone Exchange, Emergency
Lighting, CCTV & Solar system panels and battery. IT Servers & Network
Devices testing to be done one day prior to production startup.
5.4.4 Ensure no leakage at Gas/ HSD/ Oil manifold areas, Gas/ HSD/ Oil lines,
Gas/ HSD/ Oil supply in Production areas. Inform to concern in case of any
leakage.
5.4.5 Startup & Trials for all Machines & tools in each section and
department of the plant. Equipment, machines, Maini, Lift, Part Feed
Conveyor, hand Pallet etc. a day before the plant production startup.
05
Procedure
5.4.6 Cooling Tower Water Replacement, Washing Machine tank filling &
Temperature achievement, Leak testing machine, Water tank filling &
chemical change to be done one day prior to start to ensure smooth
operations startup.
5.4.7 Plan and arrange for m/c cleaning, coolant replacement, charging of Mini
i.e. Power tools, readiness of air & fuel supply system, Testing of PLC logic,
software's , Trial of all the conveyors (Assembly Conveyors, Part feed
conveyors, paint shop conveyors, jigs, number punching, press machines,
Date & Number Punching setting, Paint Shop regular Sunday PM and cleaning,
Paint Shop Structure cleaning, Track Cleaning, Air Supply Unit filter and
structure cleaning, Furnace cleaning and trial in Heat Treatment, HT start up,
Sealed Quench Furnace, Tooling replacement and Tool Health checkup two
days in advance before the start of production.
5.4.8 Re-charging/ Battery check for all equipment like MHEs/ scissor lift/
AGV/ Maini/ Forklifts etc. to be ensured one day prior to plant production
start.
5.4.9 Plan require support from critical equipment suppliers' team like Fanuc,
Kuka, Windsor, Ferromagnet, KONE etc. for getting onsite and offsite support
in case of any emergency at the time of plant startup.
5.4.10 All safety procedures shall be taken as per prevailing plant guidelines
(LOTO, work permits etc.)
5.4.11 Two laptops should be ready with backups of all machine and
availability of point leaders for quick restoration.
5.4.12 Critical Spares, Tools and Tackles readiness and store in maintenance
area for quick changeovers and actions.
05
Procedure
5.4.13 All type of water storage shall be adequate as per defined quality.
Drinking water storage tanks and points should be cleaned and restored.
5.4.14 Cleaning and chlorination of all the water tanks (Drinking water tanks
etc.) Availability of Water, Extraction and treatment parameter establishment
Prior to kick off for re-start activities.
5.4.15 Readiness & trial of all utility services Power/ hot water/ water supply/
compressed air / DG /NG Supply/lightening etc. one day prior to re-start by
Maintenance Team
5.4.16 Cleaning and re-filling of all the cooling towers, Boiler cleaning and trial
of boiler firing, Cleaning of Gas Genset air intake filters, Chillers trial, trial for
Lighting & Ventilation system - Fan, Exhaust, VFDs, Chillers, AC functioning,
Switching on all the MDBs from Main LT Panel and ensuring smooth operation
(as per requirement), Testing and synchronizing of HSD and Gas Genset two
days prior to re-start.
05
Procedure
5.5 HOW TO MAINTAIN SOCIAL DISTANCING:
RESPONSIBILITY- EVERY INDIVIDUAL
MONITORING RESPONSIBILITY- PLANT HR AND
DEPARTMENT HEADS
5.5.1 Social distancing to be maintained & marked (Mini. 1 meter) during shop
floor activities & meeting areas. And continue the Social Distancing
measures till the time COVID -19 spread risk persists.
5.5.2 Encourage usage of hand-gloves for handling parts to maximum extent.
5.5.3 Food distribution to be performed by Canteen personnel only, selfservice will not be permitted. Further, Plant HR to ensure staggered timings
for canteen to control the rush in the canteen.
5.5.4 Employees to be encouraged to come by their own vehicles.
Carpooling is suggested with proper distancing of passengers. AC in the Car
to be switched off 10 min before arrival at the gate.
5.5.5 Respective Department Head must recommend maximum usage of
video conference (WhatsApp, Teams, Video Chat etc.) for smooth system
startup plan and strategy discussion.
05
Procedure
5.5.6 Avoid inviting visitors in company premises unless it very critical for
business. Plant head approval needed.
5.5.7 Inter-department movement to be restricted unless it's a business
requirement.
5.5.8 Stop all Town hall meetings, birthday celebration & other employee
gatherings till COVID-19 risk persists.
5.5.9 Strictly follow the company travel guideline as communicated by HR
time to time.
05
Procedure
5.6 PPE USAGE & PPE HYGIENE MAINTENANCE
RESPONSIBILITY- PLANT EHS LEAD
Picture 1
5.6.1 Compulsory usage of Masks.
5.6.2 Issue mask to employee as per colour coding system. Plant team shall
monitor adherence of system on daily basis.
5.6.3 Process specific PPEs to be updated & given to respective employees
like Housekeeping, Canteen, Security Guard, Supervisors etc.
5.6.4 Process owner must ensure availability & issuance of right quality PPE
to respective employees.
5.6.5 Place notices and educate all on how Masks are to be worn – See
Picture 1 above
05
Procedure
Picture 2
Picture 3
Picture 4
5.6.6 Place notices and educate all on how to remove Masks. People need to
hold the strip and should strictly avoid touching the front portion of the
mask. People should remove and throw the mask holding it by the strips into
the RED BIN provided at respective location at Security Gate – Picture 2 and
Picture 3.
5.6.7 Reusable mask shall be washed & dried each day by individual
employees as per Picture 4.
05
Procedure
5.7 COVID-19 EMERGENCY RESPONSE TEAM:
RESPONSIBILITY- PLANT HEAD
5.7.1 Plant head to define COVID-19 Emergency Core Response Team (Plant
Head, Plant HR Head, Plant EHS Head, HR Head & EHS Head) in writing and
they need to be fully prepared in case of any emergency for eg. If we find a
person infected it the virus at the entry gate.
5.7.2 Maintain the communication with Safety Committee & Operational
Committee for further guidance depending on situation.
5.7.3 One Senior Management member shall be present in each working
shift (Dept. Head or equivalent level) to lead the crisis resolution in case
any emergency arises.
05
Procedure
5.8 MATERIAL INSPECTION
RESPONSIBILITY- PLANT SCM HEAD
5.8.1 All incoming trucks, materials, Components shall be properly sanitized &
fumigated.
5.8.2 Employee must wear minimum rubber hand-gloves & mask while
opening the boxes.
5.8.3 Overseas consignment packing must be kept for isolation for duration
as per below mentioned table in controlled manner (e.g. Placing barricades
around the consignment, display sign of "Do Not Touch" etc.)
05
Procedure
5.9 MATERIAL AVAILABILITY
RESPONSIBILITY- PLANT SCM HEAD
5.9.1 Stores, SCM and PPC to Check and ensure stock of available material
and its quality in WIP, Stores and Finish. (Raw Materials, BOP Part Availability
as per PPC plan on Day 1 min 8 Hrs. & as per lead time of supplier)
5.9.2 Issuance of PPE / Consumables one day in advance must be ensured
by Stores and shall be collected by the shop to ensure no startup loss on
Re-start day.
5.9.3 Ensuring of material availability as per plan & for first 2 Hrs. for Feeder
Lines.
5.9.4 Communication to all vendors/ ancillaries/ Tier 2 vendors etc. regarding
material requirement well in advance by SCM.
5.9.5 Line-up for GRN activities/ availability of trucks based on the decision
to re-start plant.
05
Procedure
5.9.6 Line up with vendors for material (Taking in account the 2 hrs. waiting of
material at Gate for Fumigation) till the truck, material fumigation process is
applicable.
5.9.7 In case of JIT customer, ensure Plant start production in advance of
Customer based on product lead time.
5.9.8 SCM to keep a regular check on manpower availability at Vendor side
and input of same shall be integrated in Production planning.
5.9.9 Petrol / Diesel /Propane/ oils Stock Monitoring & Requirement Trigger
Based on Consumption to concerned department. Availability check on a
weekly basis at the respective stage by respective department to be
ensured.
05
Procedure
5.10 QUALITY ASSURANCE
5.10.1 Ensure QUALITY OK Product a day in advance for critical operations for
which inspection time/ setup- adjustment time is high. e.g. Machining &
Induction Hardening. For others Machine wise Quality Check to be done with
enough WIP inventory.
5.10.2 Verification of inspection jigs, measuring & testing instruments &
POKA-YOKE of required processes & products.
5.10.3 Verification of finish goods at plant premises, transit & customers'
stock.
06
Records
1. Annexure 1 – Checklist "Plant Re-Start Check Sheet" to be ensured &
checked in each production shop and support department based on the
applicability and a plant level complete check list result availability wit HR &
EHS team.
2. Annexure 2 – Health Record Sheet of all person coming inside plant.
3. Annexure 3 – Self Health declaration format
All the Health Records & self-declaration to be maintained by Plant HR.
Record retention period will be declared soon.