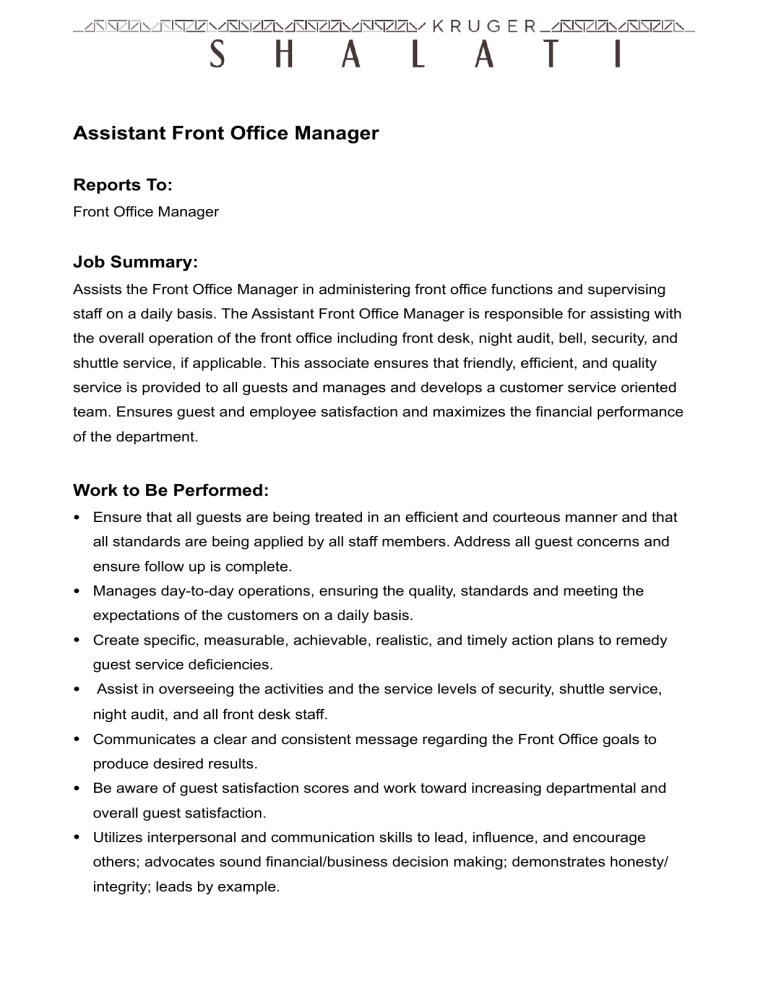 Assistant Front Office Manager
Reports To:
Front Office Manager
Job Summary:
Assists the Front Office Manager in administering front office functions and supervising
staff on a daily basis. The Assistant Front Office Manager is responsible for assisting with
the overall operation of the front office including front desk, night audit, bell, security, and
shuttle service, if applicable. This associate ensures that friendly, efficient, and quality
service is provided to all guests and manages and develops a customer service oriented
team. Ensures guest and employee satisfaction and maximizes the financial performance
of the department.
Work to Be Performed:
•
Ensure that all guests are being treated in an efficient and courteous manner and that
all standards are being applied by all staff members. Address all guest concerns and
ensure follow up is complete.
•
Manages day-to-day operations, ensuring the quality, standards and meeting the
expectations of the customers on a daily basis.
•
Create specific, measurable, achievable, realistic, and timely action plans to remedy
guest service deficiencies.
•
Assist in overseeing the activities and the service levels of security, shuttle service,
night audit, and all front desk staff.
•
Communicates a clear and consistent message regarding the Front Office goals to
produce desired results.
•
Be aware of guest satisfaction scores and work toward increasing departmental and
overall guest satisfaction.
•
Utilizes interpersonal and communication skills to lead, influence, and encourage
others; advocates sound financial/business decision making; demonstrates honesty/
integrity; leads by example.
•
Communicates critical information from pre- and post-convention meetings to the Front
Office staff.
•
•
•
•
•
•
Support the administration of Performance Evaluations according to company policy.
Functions in place of the Front Office Manager in his/her absence.
Encourages and builds mutual trust, respect, and cooperation among team members.
Understand and comply with security, health and safety policies and procedures.
Provide services that are above and beyond for customer satisfaction and retention.
Improve service by communicating and assisting individuals to understand guest needs,
providing guidance, feedback, and individual coaching when needed.
•
Intervene in any guest/employee situation as needed to insure the integrity of the
property is maintained, guest satisfaction is achieved, and employee wellbeing is
preserved.
•
Supervises and manages employees. Managing all day-to-day operations.
Understanding employee positions well enough to perform duties in employees'
absence.
•
•
Develops specific goals and plans to prioritize, organize, and accomplish your work.
Handles complaints, settling disputes, and resolving grievances and conflicts, or
otherwise negotiating with others.
•
Strives to improve service performance.
Required Education / Skills:
•
•
•
High school or equivalent education required.
Minimum two years working in a luxury, or boutique hotel guest services department
Must be proficient in hospitality revenue management, guest services and team
development
•
•
•
•
•
Previous guest service and reservations experience preferred.
Excellent written and oral communication skills required.
Strong leadership skills and interpersonal communication skills.
Must be fluent in verbal and written English.
Excellent computer and typing skills are required. Microsoft Office proficiency and
Opera.
•
Excellent listening and comprehension skills required.