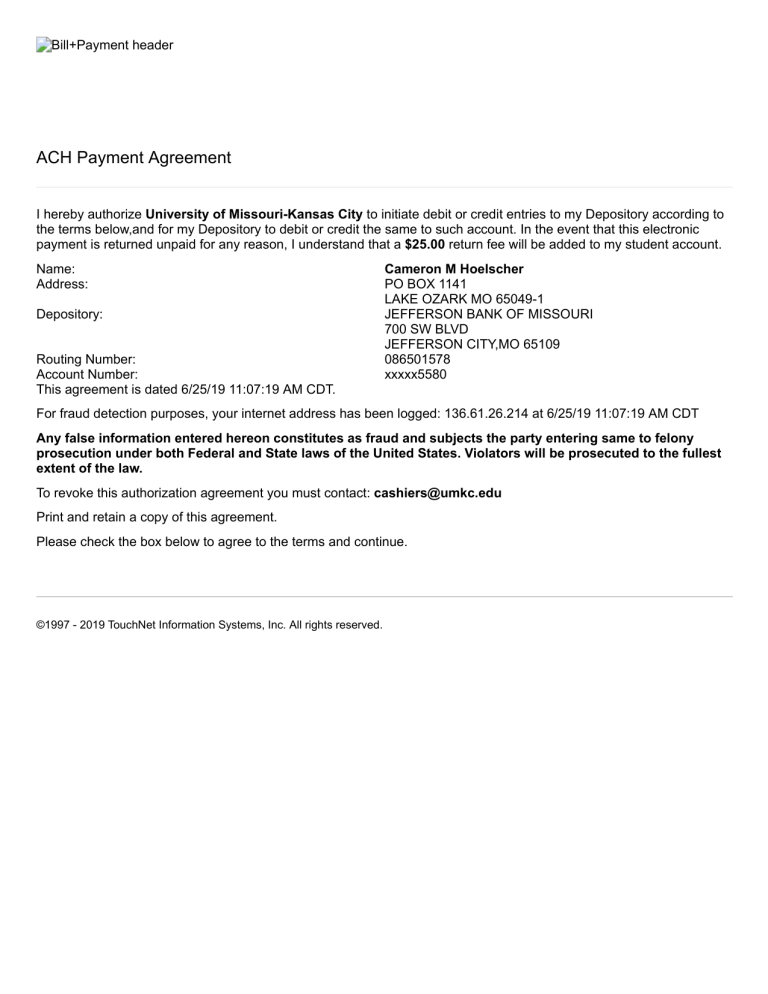 Bill+Payment header
ACH Payment Agreement
I hereby authorize University of Missouri-Kansas City to initiate debit or credit entries to my Depository according to
the terms below,and for my Depository to debit or credit the same to such account. In the event that this electronic
payment is returned unpaid for any reason, I understand that a $25.00 return fee will be added to my student account.
Name:
Address:
Depository:
Routing Number:
Account Number:
This agreement is dated 6/25/19 11:07:19 AM CDT.
Cameron M Hoelscher
PO BOX 1141
LAKE OZARK MO 65049-1
JEFFERSON BANK OF MISSOURI
700 SW BLVD
JEFFERSON CITY,MO 65109
086501578
xxxxx5580
For fraud detection purposes, your internet address has been logged: 136.61.26.214 at 6/25/19 11:07:19 AM CDT
Any false information entered hereon constitutes as fraud and subjects the party entering same to felony
prosecution under both Federal and State laws of the United States. Violators will be prosecuted to the fullest
extent of the law.
To revoke this authorization agreement you must contact: cashiers@umkc.edu
Print and retain a copy of this agreement.
Please check the box below to agree to the terms and continue.
©1997 - 2019 TouchNet Information Systems, Inc. All rights reserved.