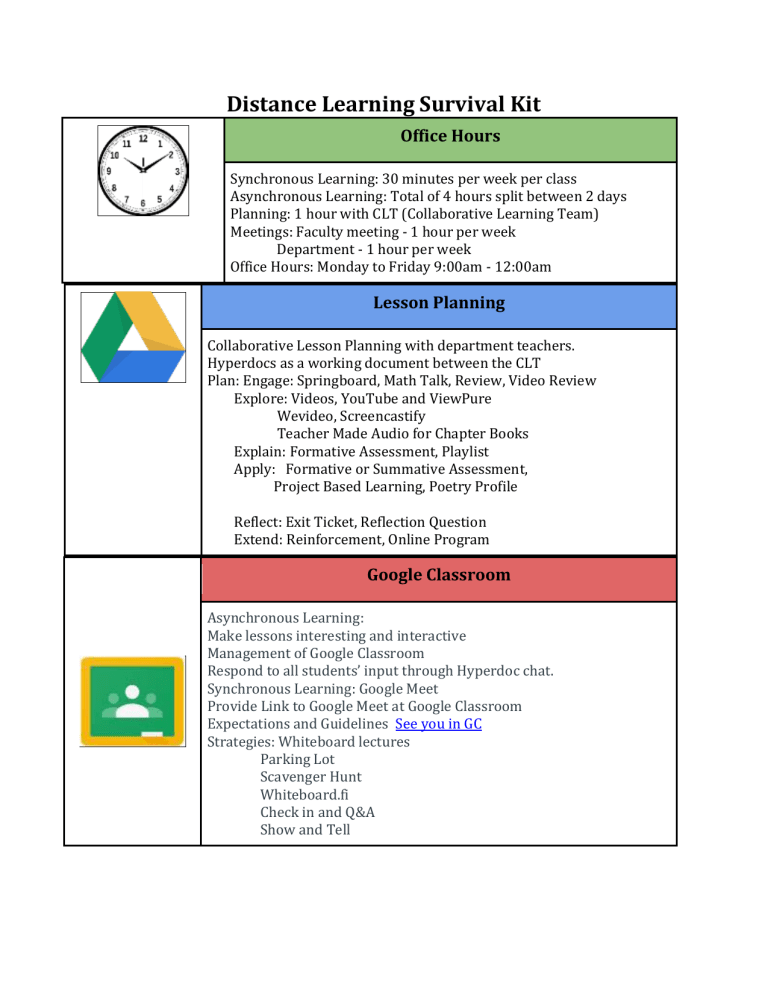 Distance Learning Survival Kit
Office Hours
Synchronous Learning: 30 minutes per week per class
Asynchronous Learning: Total of 4 hours split between 2 days
Planning: 1 hour with CLT (Collaborative Learning Team)
Meetings: Faculty meeting - 1 hour per week
Department - 1 hour per week
Office Hours: Monday to Friday 9:00am - 12:00am
Lesson Planning
Collaborative Lesson Planning with department teachers.
Hyperdocs as a working document between the CLT
Plan: Engage: Springboard, Math Talk, Review, Video Review
Explore: Videos, YouTube and ViewPure
Wevideo, Screencastify
Teacher Made Audio for Chapter Books
Explain: Formative Assessment, Playlist
Apply: Formative or Summative Assessment,
Project Based Learning, Poetry Profile
Reflect: Exit Ticket, Reflection Question
Extend: Reinforcement, Online Program
Google Classroom
Asynchronous Learning:
Make lessons interesting and interactive
Management of Google Classroom
Respond to all students' input through Hyperdoc chat.
Synchronous Learning: Google Meet
Provide Link to Google Meet at Google Classroom
Expectations and Guidelines See you in GC
Strategies: Whiteboard lectures
Parking Lot
Scavenger Hunt
Whiteboard.fi
Check in and Q&A
Show and Tell
Google Helps
Google Slides: Present lessons - Powerpoint like, Peardeck
Math Mystery, Mad Libs,
Google Forms: Create test, survey etc
Function Adventure
Google Keep: Notes, list and write
Show work
Google Extension:
Read and Write
Equatio
Bitmoji
Custom Cursor
Mote
Emoji Keyboard
Online Assessment
All areas: Quizizz, ,Kahoot, Padlet, Flipgrid, Nearpod, Whiteboardfi
Math: Mathgames, Prodigy, Mathplayground, Khan Academy,
English: Newsela, Dreamscape, Starfall, Read Theory
Last, but not least….
While these are unique times, the last thing we want is for teachers to
feel stressed or overwhelmed so don't be afraid to reach out for help if
you need it or to collaborate with others. Be patient as we figure out the
"new normal" and work the bugs out of distance learning. We'll get
through this!